Miami office market reports
Q3 2021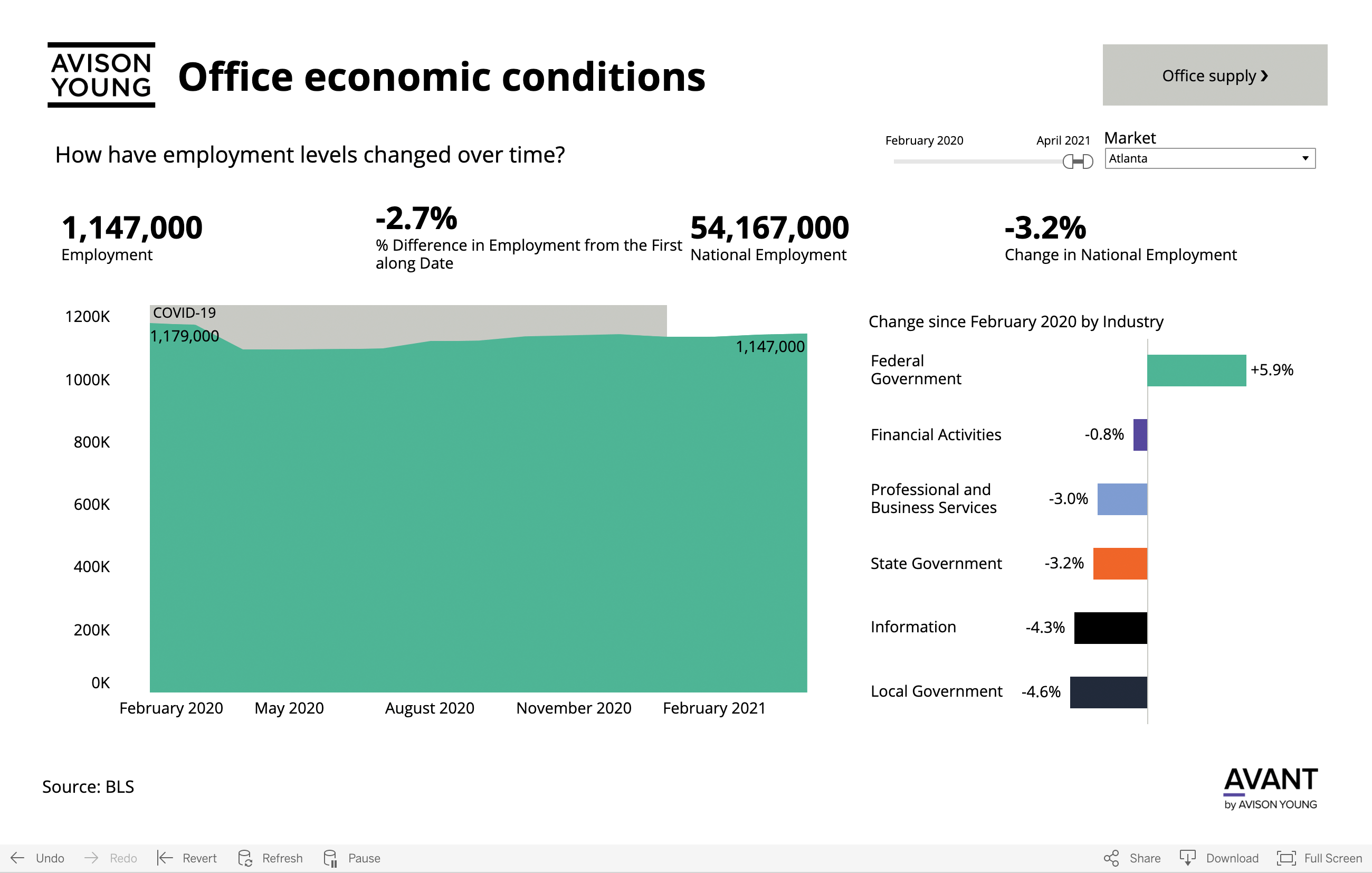 This dashboard is best viewed in a wider browser window.
Miami's "open for business" attitude and tax-friendly environment has spurred a wave of activity from new-to-market tenants from the Northeast and the West Coast, particularly from financial services and tech companies. Sublease space has remained in check and office rents are reaching new highs in the CBD. Pent-up demand will lead to future growth near the end of the year.
5.6%
Economic conditions
South Florida's economy showed continued resiliency with the unemployment rate declining to 5.6% as of July 2021, a substantial drop from 13.7% in May 2020.
62.1%
Recovery rate
The overall post-COVID rate of recovery based on extrapolated cell phone data across industry sectors in Miami including office, retail, transit, healthcare, education, hospitality and tourism, government, and residential is 62.1%.
21.8%
Office demand
Banking and finance tenants accounted for 21.8% of all post-COVID leasing activity in Miami, up significantly from 16.4% prior to the pandemic.
16.6%
Office supply
Miami's overall vacancy remained flat at 16.6% when compared to vacancy at year-end 2020. However, vacancy remains at its highest point since 2013.
7.5%
Pricing trends
Base rents increased by 7.5% from pre-pandemic levels to an overall average of $43.66 per sf. The increase is partly attributable to new construction deliveries in 2020 and 2021, but also to a wave of new-to-market tenants willing to pay premium rates for space.
$1.3B
Capital markets
Office investment has been booming in Miami with year-to-date transaction volume reaching $1.3B, its highest point since 2016.
Your source for the latest Miami office market reports
Get in-depth office market reports from commercial real estate experts in the Greater Miami area. Avison Young advisors look at Miami commercial real estate activities and the latest Miami statistics to provide you expert market research on Miami's office properties.
Explore different topics like the latest office market pricing trends and analysis of Miami's current office real estate market conditions. Gain a better understanding of Miami's office real estate outlook and stay ahead of current office space trends. Make smart decisions when it comes to investing in office properties in Miami's competitive office real estate market. Avison Young is your trusted source for commercial real estate office market insights in Miami.
The dashboard was delivered through AVANT by Avison Young: leveraging real-time data and analytics to make cities and location-based decisions more transparent and efficient. Learn more about AVANT.
Get the latest
Miami

office market reports right in your inbox