Miami office market reports
Office insights Q2 2021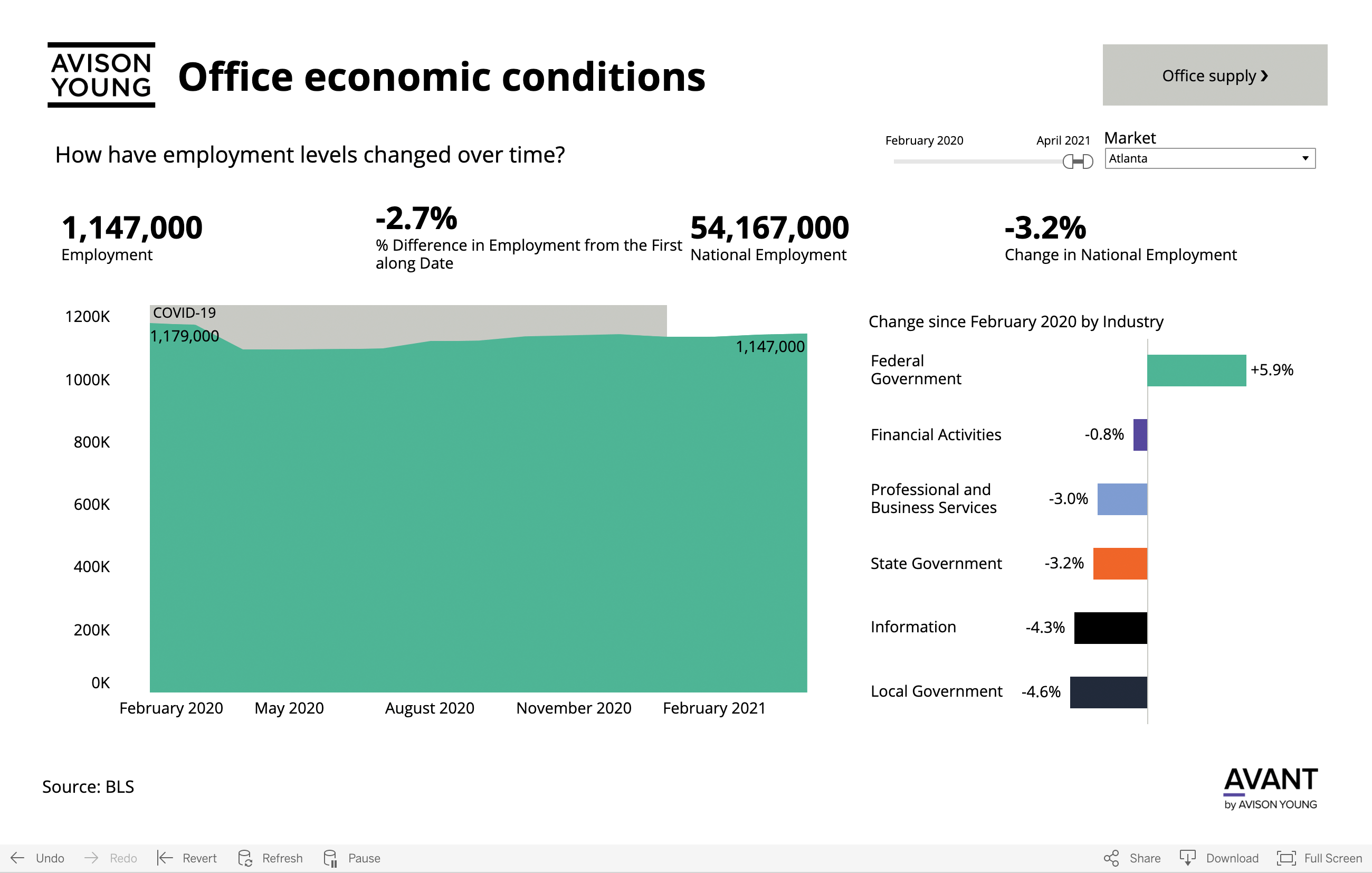 This dashboard is best viewed in a wider browser window.
Total vacancy in Miami is at an eight-year high, totaling 16.9%, however leasing momentum is strong and sublease space is beginning to moderate. Asking rents are up significantly as the amount of activity and tenants in the market has landlords confident that they can achieve premium rates.
5.9%
Economic Conditions
Unemployment rate in South Florida, down 790 bps from the height of the pandemic.
#4
Recovery Rate
Florida's rank in a WalletHub study of the top U.S. states for their rates of recovery, with industries gaining the most jobs over the year including leisure and hospitality, professional and business services, and trade, transportation and utilities.
55.4%
Office Demand
Leasing activity totals over half of the total activity recorded in 2020 and is expected to grow through year-end 2021 at the same pace it has occurred year-to-date.
464K
Office Supply
Total amount of vacant sublease space (in square feet) on the market in Miami, comprising only 4.7% of total vacant space. Some blocks placed on the market early in the pandemic by proactive landlords were opportunistic in nature and have either been leased or taken back by occupiers.
$75
Pricing Trends
Rents have spiked significantly in the last year in Miami largely due to new construction deliveries and competition with a new trophy office tower, and some landlords are now asking $75 - $80.
$1B
Capital Markets
Total office investment volume (in billions) in Miami for the period from Jan 2020 through Jun 2021. The largest sale during Q2 was Cardone Capital's $93 million acquisition of Harbour Centre at Aventura.
Your source for the latest Miami office market reports
Get in-depth office market reports and insights from commercial real estate experts in the Greater Miami area. Avison Young advisors look at Miami commercial real estate activities and the latest Miami statistics to provide you expert market research on Miami's office properties.
Explore different topics like the latest office market pricing trends and analysis of Miami's current office real estate market conditions. Gain a better understanding of Miami's office real estate outlook and stay ahead of current office space trends. Make smart decisions when it comes to investing in office properties in Miami's competitive office real estate market. Avison Young is your trusted source for commercial real estate office market insights in Miami.
The dashboard was delivered through AVANT by Avison Young: leveraging real-time data and analytics to make cities and location-based decisions more transparent and efficient. Learn more about AVANT.
Get the latest
Miami

office market reports right in your inbox