Minneapolis-St. Paul office market reports
Q2 2021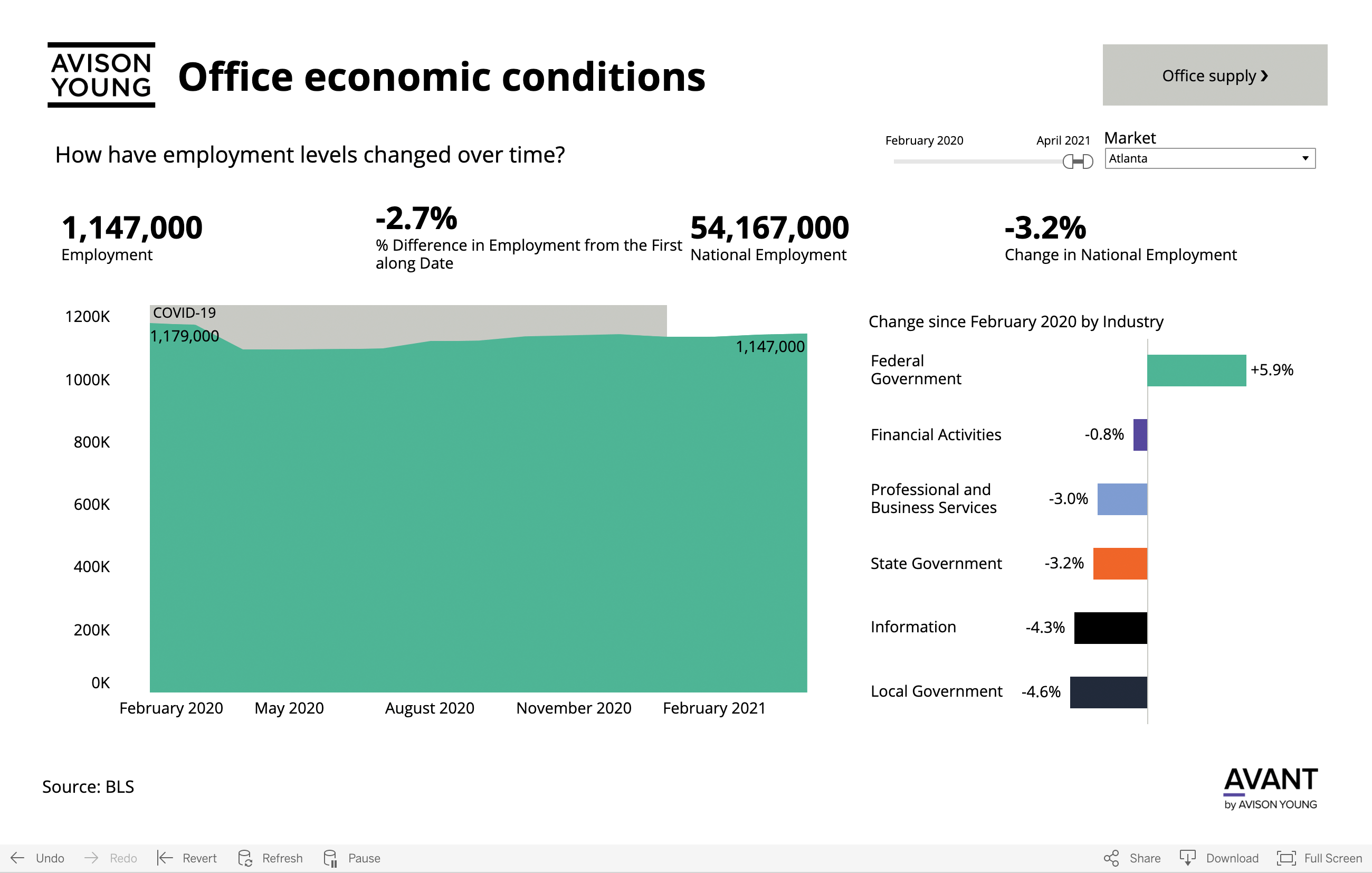 This dashboard is best viewed in a wider browser window.
The impacts of COVID-19 have persisted in the Minneapolis-St. Paul office sector as reopening plans continue alongside ongoing vaccination and economic stimulus efforts.
Though leasing activity has reduced by 45.0%, increased demand was apparent in west suburban submarkets showing signs of initial office recovery. Sublease activity continues to drive Minneapolis-St. Paul inventory availability with 2.0 msf of available sublease space, 50% of which is vacant.
Employers continue to strategize around return-to-office models; office-using employment decreased by -4.5% during the pandemic. As the job market accelerates, Minneapolis-St. Paul's white-collar talent pool has been targeted by big tech and coastal-based companies, which will continue to shape the long-term local office recovery.
4.1%
Economic conditions
Minneapolis-St. Paul unemployment rate as of April 2021, down from a pandemic-high rate of 12.8% in April 2020.
54.5%
Vaccination rate
Vaccination rates across Minneapolis-St. Paul continues to outpace total U.S. numbers as 54.5% have received a COVID-19 vaccine.
-4.5%
Office sector job gains and losses
Change in office sector employment during the pandemic.
-45.0%
Office leasing activity
2020-pro-rated 2021 vs. prior 20-year annual average leasing activity. Leasing activity remains stagnant as Minneapolis-St. Paul-based employers continue a "wait-and-see" approach office strategy.
10.2%
Office supply
Record high Minneapolis-St. Paul vacancy as of Q2 2021. The current vacancy rate surpasses that of the Great Recession when it reached 8.6% in 2009.
1.05 msf
Vacant sublease space
Sublet space continues to drive supply throughout the market.
Your source for the latest Minneapolis–St. Paul office market reports
Get in-depth office market reports and insights from commercial real estate experts in the Greater Minneapolis–St. Paul (Twin Cities) area. Avison Young advisors look at Minneapolis–St. Paul commercial real estate activities and the latest Minneapolis–St. Paul statistics to provide you expert market research on Minneapolis–St. Paul's office properties.
Explore different topics like the latest office market pricing trends and analysis of Minneapolis–St. Paul's current office real estate market conditions. Gain a better understanding of Minneapolis–St. Paul's office real estate outlook and stay ahead of current office space trends. Make smart decisions when it comes to investing in office properties in Minneapolis–St. Paul's competitive office real estate market. Avison Young is your trusted source for commercial real estate office market insights in Minneapolis–St. Paul.
The dashboard was delivered through AVANT by Avison Young: leveraging real-time data and analytics to make cities and location-based decisions more transparent and efficient. Learn more about AVANT.
Get the latest Minneapolis–St. Paul office market reports right in your inbox