Nashville office market reports
Q2 2021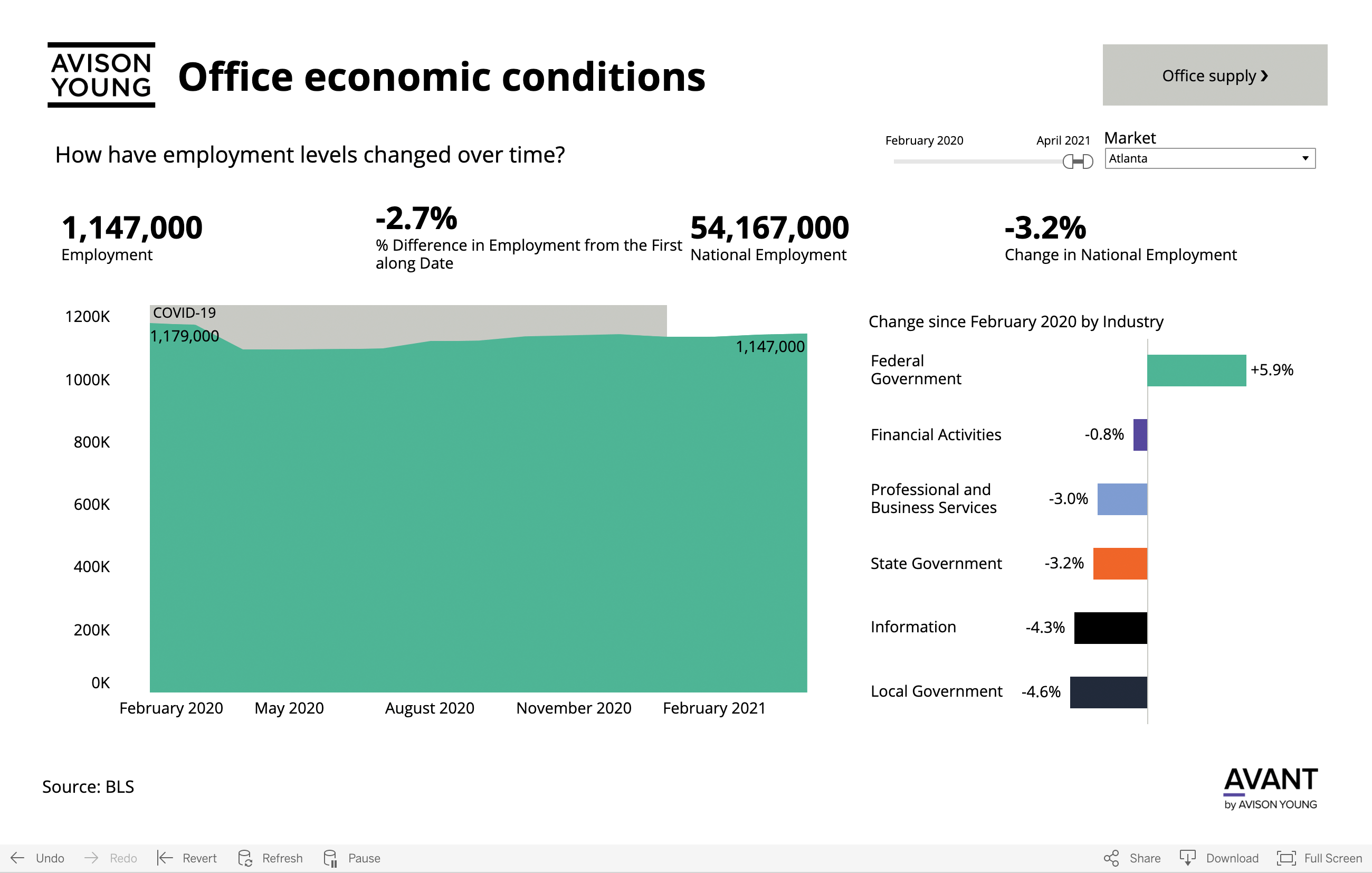 This dashboard is best viewed in a wider browser window.
Incremental signs of positive recovery are evident as the Nashville office market reopens. After demand temporarily paused last year, supply was able to reach record levels. As leasing activity begins to pick back up, tenants are now navigating the market with more conviction.
4.1%
Nashville unemployment rate
Reopening efforts and positive job growth have allowed Nashville's unemployment to rebound from a high of 15.8% to 4.1%.
15.4%
Direct office vacancy
Vacancy continues to trend upwards, reaching an all-time high. Nashville's office vacancy reached 15.4% at the end of the quarter, an increase of 402 basis points year-over-year.
1.86msf
Total available sublease space
Sublease space has also reached record levels with total available space on the market hovering at just under 1.9 msf.
2.7msf
Under construction
At the end of the quarter, the Nashville office market had 2.7 msf under construction, of which 45% is preleased.
$33.44psf
Class A asking rent
New construction and coinciding tenant demand continue to uphold rents across the market. Class A rents ended the quarter at $33.44 psf, seeing no movement from the previous year.
24%
Nashville asset pricing increase
The pandemic has had no effect on Nashville's overall asset pricing, with the market seeing a 24% increase in psf pricing since late 2019.
Your source for the latest Nashville office market reports
Get in-depth office market reports and insights from commercial real estate experts in the Greater Nashville area. Avison Young advisors look at Nashville commercial real estate activities and the latest Nashville statistics to provide you expert market research on Nashville's office properties.
Explore different topics like the latest office market pricing trends and analysis of Nashville's current office real estate market conditions. Gain a better understanding of Nashville's office real estate outlook and stay ahead of current office space trends. Make smart decisions when it comes to investing in office properties in Nashville's competitive office real estate market. Avison Young is your trusted source for commercial real estate office market insights in Nashville.
The dashboard was delivered through AVANT by Avison Young: leveraging real-time data and analytics to make cities and location-based decisions more transparent and efficient. Learn more about AVANT.
Get the latest Nashville office market reports right in your inbox