Nashville office market report
Q4 2021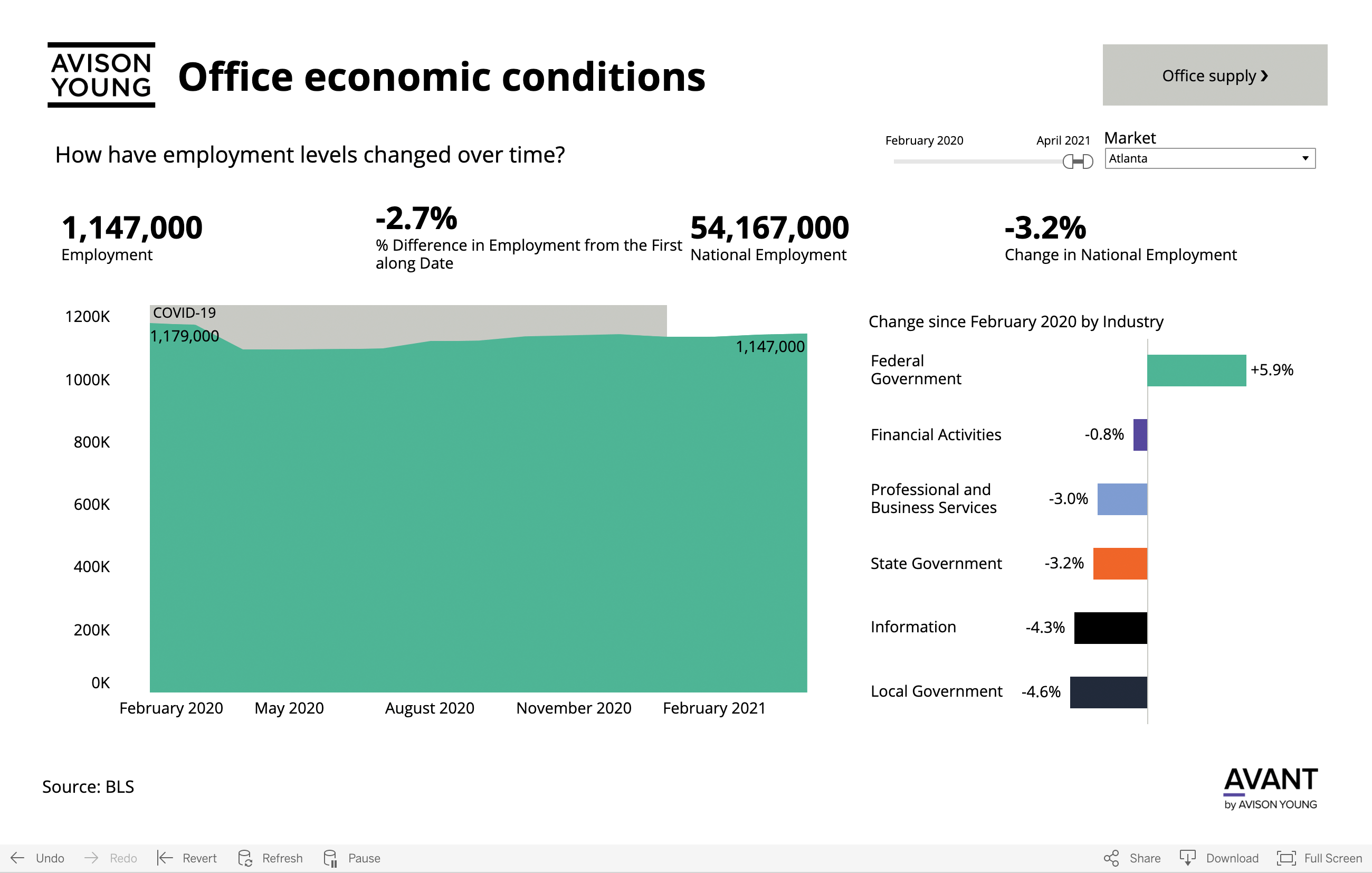 This dashboard is best viewed in a wider browser window.
Nashville office market conditions are showing positive recovery trends despite elevated vacancies across the market at year-end.
2.8%
Economic conditions
The Nashville economy has rebounded sharply from the pandemic peak with October unemployment reaching 2.8%, continuously trending towards the pre-pandemic rate of 2.5%.
61.2%
Recovery rate
With the largest population in the 13-county Nashville MSA, Davidson County vaccination rates continue to trend in line with U.S. averages, with 61.2% of the Davidson County population fully vaccinated.
4.4 msf
Demand
Office leasing activity closed the year at over 4.4 msf, far surpassing the lows seen during the global financial crisis and early 2000s.
18.0%
Supply
Nashville's total office vacancy reached 18.0% in Q4 2021, an increase of 240 basis points (bps) year-over-year.
$30.61
Pricing trends
Rising vacancies and increased sublease offerings have attributed to rent softening across the overall Nashville market.
$647M
Capital markets
Nashville office investment sales ended the year at $647M, falling just short of the previous five-year average.
Your source for the latest Nashville office market reports
Get in-depth office market reports and insights from commercial real estate experts in the Greater Nashville area. Avison Young advisors look at Nashville commercial real estate activities and the latest Nashville statistics to provide you expert market research on Nashville's office properties.
Explore different topics like the latest office market pricing trends and analysis of Nashville's current office real estate market conditions. Gain a better understanding of Nashville's office real estate outlook and stay ahead of current office space trends. Make smart decisions when it comes to investing in office properties in Nashville's competitive office real estate market. Avison Young is your trusted source for commercial real estate office market insights in Nashville.
The dashboard was delivered through AVANT by Avison Young: leveraging real-time data and analytics to make cities and location-based decisions more transparent and efficient. Learn more about AVANT.
Get the latest Nashville office market reports right in your inbox