NNN Retail Investments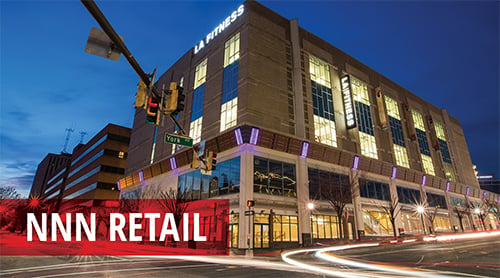 July 20, 2021
If you're looking for NNN retail leases, Avison Young US Capital Capital Markets Net Lease group will be able to help. As one of the leading net lease companies, Avison Young has forged long term relationships with single tenant leases throughout the country. If you would like to speak with one of our representatives, please call us today.
What are NNN retail leases and why should I use them?
Also known as triple net leases, NNN retail leases are commercial real estate agreements that are structurally set up to allow the tenant to pay the rent and all associated expenditures such as:
Property taxes
Property maintenance
Property insurance
In general they are single-tenant retail properties that are leased to people who have exceedingly high credit ratings. Due to the significant number of benefits, it's common for investors to add NNN lease investments to their portfolio.
The advantages have fueled an enormous amount of growth from those looking for guaranteed income and no management responsibility. As with any type of investments, there are many things to consider before structuring NNN retail lease deals.
Benefits for Investors
NNN retail properties provide a broad range of benefits to turnkey investors. In general, these types of leases carry a lower risk than other properties as well as significant returns on the investment. Popular nnn retail properties include fast food franchises, pharmacies, general dollar stores, discount stores, banks and auto part stores.
One of the most notable advantages of triple net leases is that the investor is not responsible for any major expenses, such as rent and property maintenance. These types of leases also offer various tax benefits to investors, and may be able to prevent capital tax gains on federal tax returns. A further benefit to investors is the often lowered rental costs, which can make it easier to secure tenants.
Benefits for Tenants
Tenants can also benefit from NNN retail properties. Leases may be more affordable and increase only slightly, in lieu of inflation, after a period of specified years. Tenants will take care of the property, which is a benefit to the landlord, and thereby making it more attractive to potential clients.
NNN Retail Property Considerations
If you're considering leasing NNN properties, you'll want to carefully weigh out the advantages and disadvantages. More importantly, you should discuss the terms laid out in the structure to see that they fit with your own objectives and budget. For instance, a new building might be easier rent versus an older one that could be in need of some extra maintenance. If not specified in the terms, you may be responsible for extra, often unnecessary, repair costs.
Avison Young Capital Markets Net Lease Group
Triple net leases is a smart choice for investors and prospective tenants. Whether you're completely new to NNN properties or are ready to structure a lease agreement, Avison Young is ready to help. To speak with a representative about our available NNN retail properties, please call Avison Young today at (202) 508-5987.