PRESS RELEASE: Avison Young New Jersey Project Management group completes construction work for award-winning Medical Office Building in Glen Ridge, NJ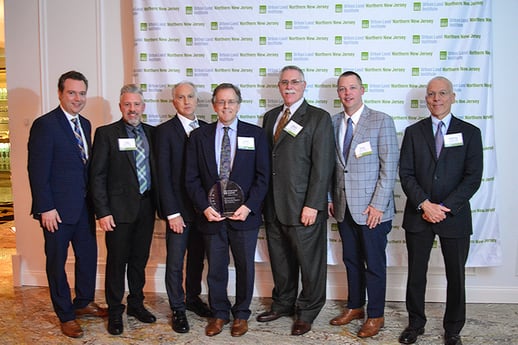 7 Aug 2020
New Jersey – The Avison Young New Jersey project management group oversaw the construction of a new ground-up 45,000-square-foot, three-story Class-A Medical Office Building located at 311 Bay Avenue in Glen Ridge, New Jersey, on behalf of the property owner, One Bay Urban Renewal LLC an affiliate of The Hampshire Companies, LLC.
An Avison Young team led by Gabe Sasso, Principal and Vice President of Construction Management, Andy Smith, Senior Project Manager, and Tony Bienert, Director, managed the comprehensive project, which included demolition of the existing buildings on the site. The project, which took less than one year to complete from start to finish, brings a brand-new medical facility with access to quality healthcare to the Glen Ridge and Montclair communities. The official opening of the completed development was celebrated in a recent ribbon cutting event held in January.
The building was also honored by the Urban Land Institute (ULI) Northern New Jersey as a recipient of the 2019 Excellence Award in the Healthcare/Medical category. The ULI Excellence Awards honor extraordinary real estate projects that have defined the region's real estate landscape over the past year. The award was presented at a special ULI Gala held in November.
"Avison Young is pleased to have managed the completion of this project on behalf of The Hampshire Companies, which brings a state-of-the-art medical facility to area residents and a brand-new Class-A building for local doctors and physicians," noted Sasso. "It was equally gratifying for Avison Young that this unique development was selected as an Excellence Awards winner by ULI Northern New Jersey. Our team has a vast amount of experience overseeing this type of construction and the extensive work we administered for this medical office building is another demonstration of our unmatched construction management expertise."
Other members of the design team included NK Architects from Morristown and Newmark Knight Frank, who served as the owner's representative. Avison Young is currently constructing the tenant spaces within the building after they're leased.
The brand-new facility features adaptable medical office units for physicians and specialists with an excellent location adjacent to Mountainside Medical Center, accessible from the Garden State Parkway and Route 280 as well as the Bay Street and Walnut Street NJ Transit Stations. Additionally, 229 parking spots and entrances/exits on both Bay Avenue and Walnut Crescent ensure that patients can easily access the property.
Avison Young is the world's fastest-growing commercial real estate services firm. Headquartered in Toronto, Canada, Avison Young is a collaborative, global firm owned and operated by its Principals. Founded in 1978, with legacies dating back more than 200 years, the company comprises thousands of real estate professionals in more than 100 offices around the world. The firm's experts provide value-added, client-centric investment sales, leasing, advisory, management and financing services to clients across the office, retail, industrial, multi-family and hospitality sectors.
Media Contacts:
Wendy Lusardi, Marketing Manager, New Jersey
Avison Young
[email protected]
973.898.4009 - direct
or
Tom Nolan | Great Ink Communications
t[email protected]
908.392.0333