New Jersey office market report
3Q 2021 quarterly report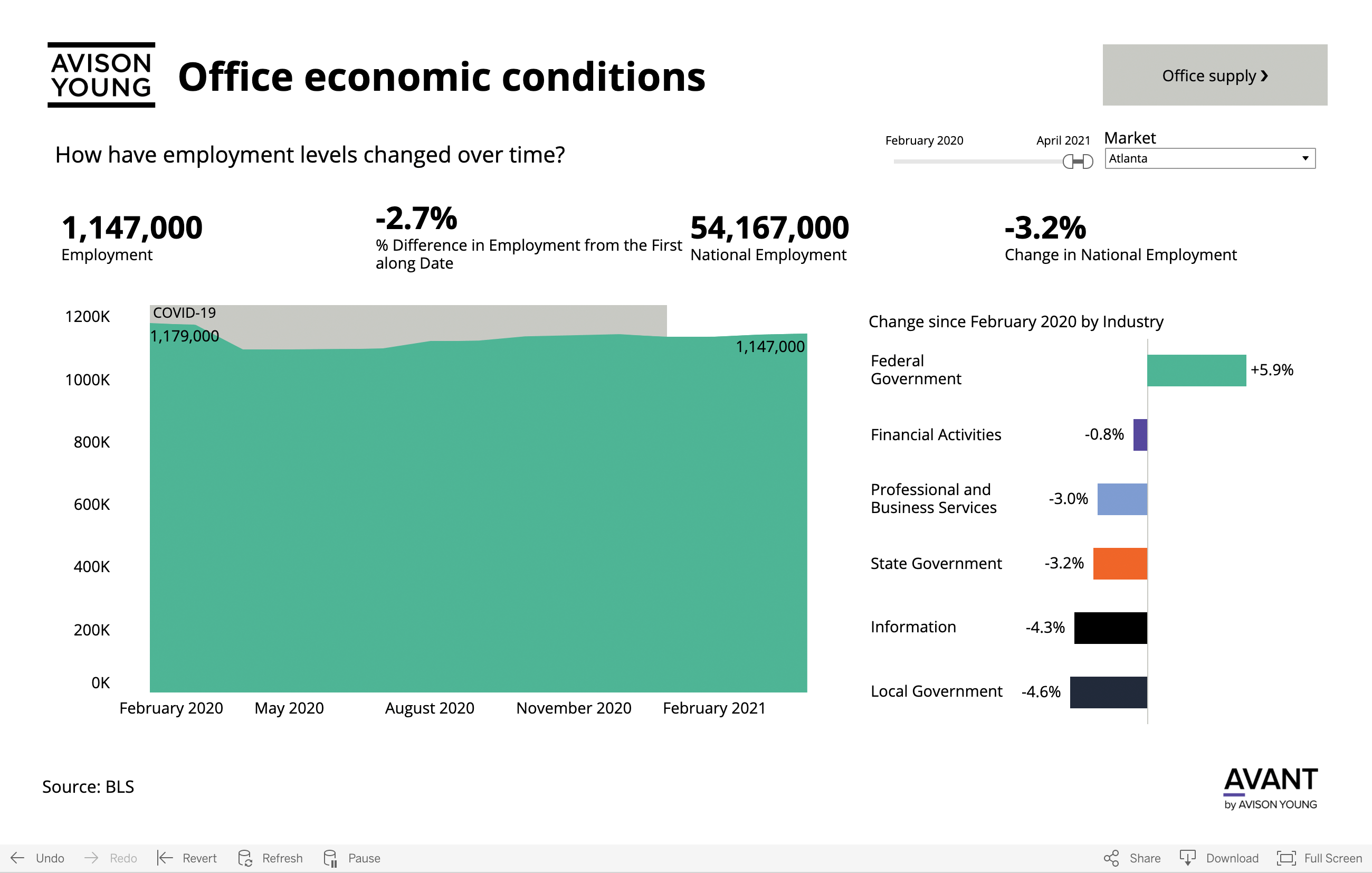 This dashboard is best viewed in a wider browser window.
New Jersey's office market hit a bump on its road to recovery even as the economy improves as a result of the Delta variant. After a promising Q2 with regards to leasing activity, leasing activity dipped in the third quarter. One of the biggest concerns of owners for the future of the office market is the high sublease availability, which puts downward pressure on rental rates. As users gain more clarity on their real estate needs, we expect the market to continue on the road to recovery.
6.7%
Economic conditions
New Jersey's unemployment rate fell to 6.7 percent in August 2021. This is a result in part due to the reopening efforts and high vaccination rates in the state.
65.0%
Recovery rate
The weekday ridership on the PATH trains is down 65.0 percent in August when compared to the ridership in August 2019.
43.9%
Office demand
Post-COVID annualized leasing activity slowed down by 43.9 percent during the pandemic when compared to the pre-covid 20-year average.
19.1%
Office supply
The total availability rate in the New Jersey office market is 19.1 percent, the highest it has been since 2005. This is driven in part by the high availability in the sublease market.
3.1%
Pricing trends
Base rents have only fallen 3.1 percent since the start of the pandemic. Rents have not fallen as expected during periods of high vacancy, as landlords have resisted lowering base rents due to increased operating costs.
2.4%
Capital markets
Asset pricing has remained relatively flat during the pandemic, only falling 2.4 percent since 2019.
Your source for the latest New Jersey office market reports
Get in-depth office market reports and insights from commercial real estate experts in the Greater New Jersey area. Avison Young advisors look at New Jersey commercial real estate activities and the latest New Jersey statistics to provide you expert market research on New Jersey's office properties.
Explore different topics like the latest office market pricing trends and analysis of New Jersey's current office real estate market conditions. Gain a better understanding of New Jersey's office real estate outlook and stay ahead of current office space trends. Make smart decisions when it comes to investing in office properties in New Jersey's competitive office real estate market. Avison Young is your trusted source for commercial real estate office market insights in New Jersey.
The dashboard was delivered through AVANT by Avison Young: leveraging real-time data and analytics to make cities and location-based decisions more transparent and efficient. Learn more about AVANT.
Get the latest New Jersey office market reports right in your inbox