New Jersey office market report
4Q 2021 quarterly report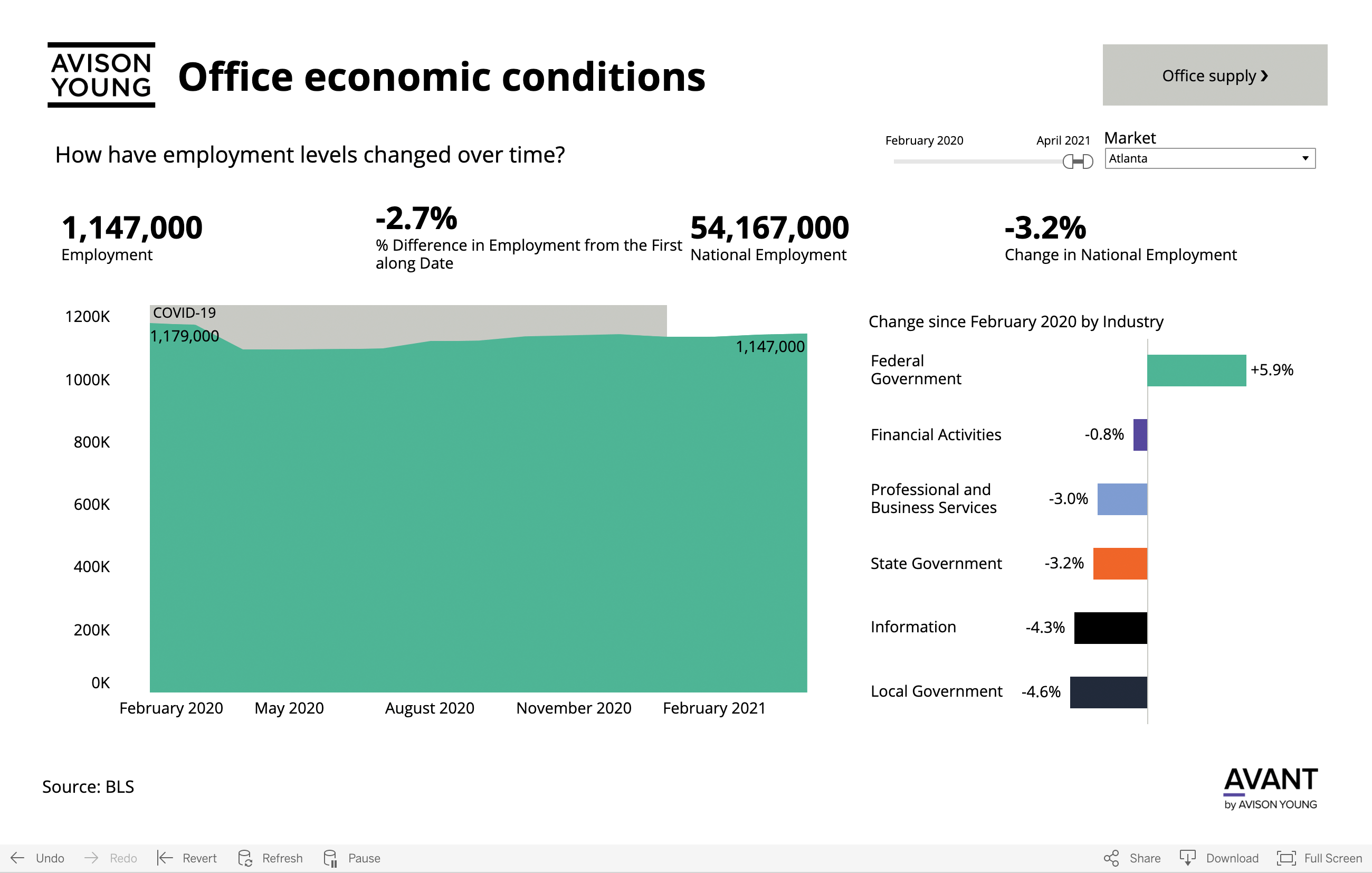 This dashboard is best viewed in a wider browser window.
Office employment conditions are continuing to trend towards pre-pandemic levels due to a strong vaccination and employment rate. However, hybrid work models have decreased office demand across New Jersey. The office market vacancy rate is at its highest level since 2015 as 9.1 msf of sublease space is available. Although investment sales have increased since 2019, office asset pricing and office base rents have seen a decline.
5.5%
Economic conditions
Reopening efforts and higher vaccination rates have allowed the New Jersey unemployment rate to rebound from a high of 16.6% in May 2020 to 5.5% in October 2021. As of October 2021, the unemployment rate in New Jersey is below the 20-year historical average of 6.3%.
68.5%
Recovery rate
New Jersey's vaccination rate is at 68.5%, a total of 8.5% higher than the national average. Weekday ridership on PATH trains has decreased by 61.8% since 2019, however, ridership has been increasing each month since February 2021. Since the start of the pandemic, office-using job losses have totaled 1.7%.
- 43.5%
Office demand
Post-COVID annualized leasing activity slowed by 43.5% compared with the prior 20-year historical average. 2020 was the second-weakest year in terms of closed deals since 2000.
13.8%
Office supply
The total office market vacancy rate in Q4 2021 has reached its highest level since 2015. Both the direct and sublease vacancy rate in 2021 was above its historical average. There is about 9.1 msf of sublease space available, which is the most recorded.
- 4.8%
Pricing trends
Since 2019, office asking rents have decreased 4.8%. This is reflective of weaker demand and increasing supply of office space. Due to this decline, concessions have continued to rise as landlords incentivize tenants to make long-term commitments.
- 7.3%
Capital markets
Office asset pricing psf has seen a decrease of 7.3% since 2019. However, the dollar volume in investment sales has increased by $500 million since 2019. A total of $2.5 billion worth of office space was transacted in 2021.
Your source for the latest New Jersey office market reports
Get in-depth office market reports and insights from commercial real estate experts in the Greater New Jersey area. Avison Young advisors look at New Jersey commercial real estate activities and the latest New Jersey statistics to provide you expert market research on New Jersey's office properties.
Explore different topics like the latest office market pricing trends and analysis of New Jersey's current office real estate market conditions. Gain a better understanding of New Jersey's office real estate outlook and stay ahead of current office space trends. Make smart decisions when it comes to investing in office properties in New Jersey's competitive office real estate market. Avison Young is your trusted source for commercial real estate office market insights in New Jersey.
The dashboard was delivered through AVANT by Avison Young: leveraging real-time data and analytics to make cities and location-based decisions more transparent and efficient. Learn more about AVANT.
Get the latest New Jersey office market reports right in your inbox