New Jersey office market reports
2Q2021 quarterly report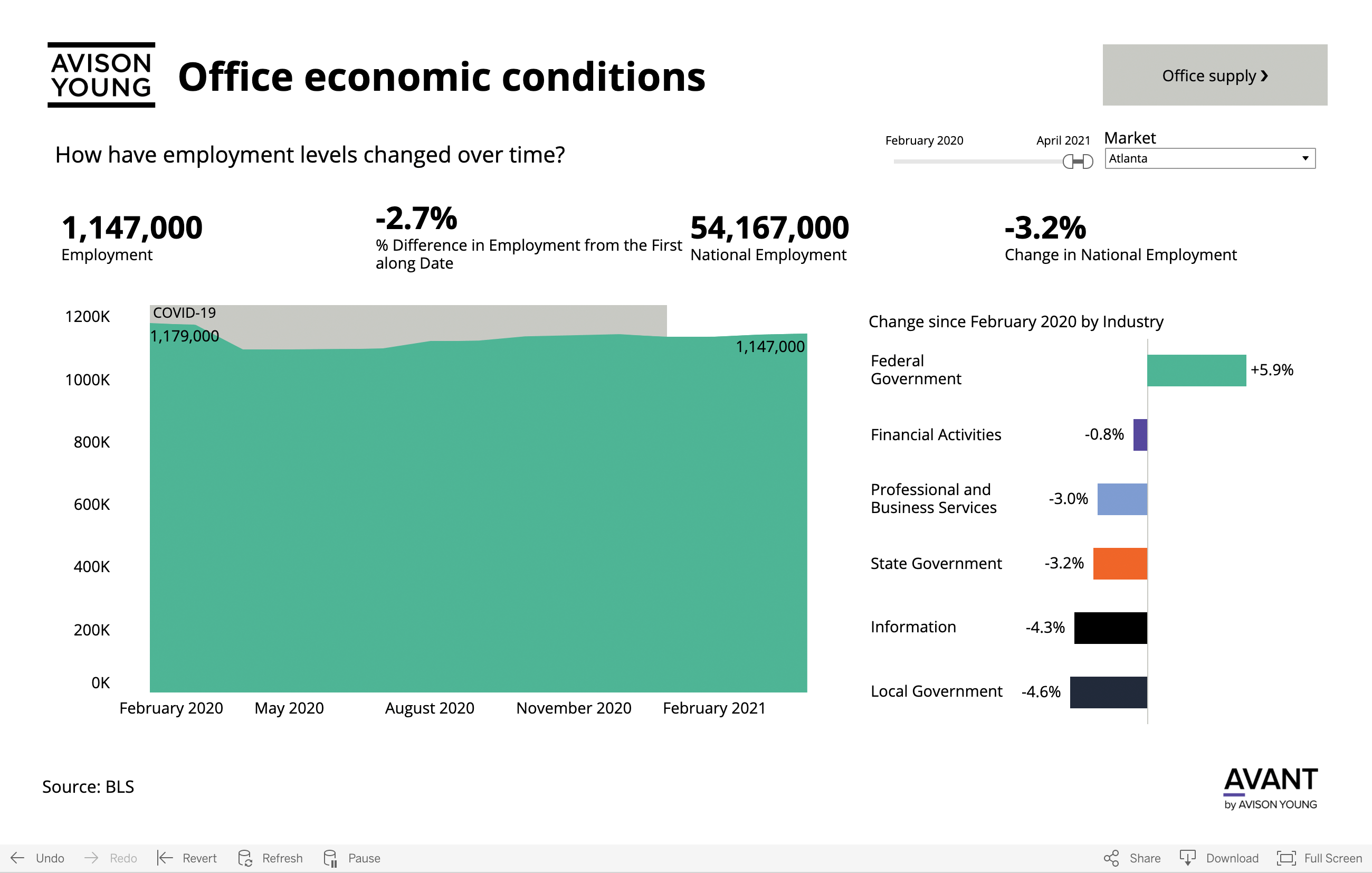 This dashboard is best viewed in a wider browser window.
The New Jersey market is on the road to recovery as it remains one of the leaders in the nation concerning vaccination rates. Employees are starting to return to their offices and the unemployment rate is continuing to fall. While the sublease market is a concern, we believe the continued increase in property inquiries will lead to an uptick in deal velocity moving forward.
6.9%
Economic conditions
As of the end of June, 54.9 percent of New Jersey's population was fully vaccinated. Reopening efforts and higher vaccination rates have allowed the New Jersey unemployment rate to rebound from a high of 16.6 percent in May 2020 to 6.9 percent in April 2021. The New Jersey labor participation rate was 62.5 percent as of May 2021, decreasing by 210 basis points since February 2020.
55%
Recovery rate
Traffic on the New Jersey Turnpike and the Garden State Parkway is up 138.8 percent and 126.1 percent respectively since April 2020. However, the traffic on these major arteries is down 13.8 percent (New Jersey Turnpike) and 10.3 percent (Garden State Parkway) when compared with April 2019. A recent survey by FocusNJ found that 55 percent of New Jersey companies have mandated that their entire staff return to work, an important first step to rejuvenate demand.
46.2%
Office demand
Post-COVID annualized leasing actively slowed by 46.2 percent compared with the prior 20-year historical average. However, demand is expected to increase modestly as more companies welcome their employees back to the office and future workplace strategies are cemented. Atlantic Health System signed a lease extension for its three-property campus in Morristown. The seven-hospital healthcare system has its headquarters as well as medical offices at 435, 465, and 475 South Street in Morristown.

24.8%
Office supply
Sublease supply in square feet increased by 65.9 percent since the end of 2019 and 24.8 percent to date in 2021. This space is concentrated in Hudson County and Bergen County, comprising 15.6 and 11.6 percent of all sublease space, respectively. The proliferation of medical office construction, which accounts for 9.5 percent of the rentable building area of under construction and proposed office properties, modestly reduces new construction-induced office supply risk.
0.4%
Pricing trends
Base rents have moderated by just 1.8 percent since the start of the pandemic and 0.4 percent year to date. Steady rents may be partially attributable to the reduced financial impact the pandemic had on local office-using employment relative to previous recessions.
$1.3 billion
Capital markets
After an initial drop in sales volume in Q2 2020, the market stabilized with regard to sales volume, with a total of $1.3 billion recorded year to date. Investors that are flush with dry powder may be shifting away from high risk-high reward urban markets to suburban alternatives. Asset pricing has softened slightly during the pandemic but seems to have stabilized over the past two quarters with an average sales price of $187 psf up from a pandemic low of $172 psf.
Your source for the latest New Jersey office market reports
Get in-depth office market reports and insights from commercial real estate experts in the Greater New Jersey area. Avison Young advisors look at New Jersey commercial real estate activities and the latest New Jersey statistics to provide you expert market research on New Jersey's office properties.
Explore different topics like the latest office market pricing trends and analysis of New Jersey's current office real estate market conditions. Gain a better understanding of New Jersey's office real estate outlook and stay ahead of current office space trends. Make smart decisions when it comes to investing in office properties in New Jersey's competitive office real estate market. Avison Young is your trusted source for commercial real estate office market insights in New Jersey.
The dashboard was delivered through AVANT by Avison Young: leveraging real-time data and analytics to make cities and location-based decisions more transparent and efficient. Learn more about AVANT.
Get the latest New Jersey office market reports right in your inbox