East Bay/Oakland office market reports
Q4 2021: The coronavirus pandemic continues to disrupt the office market. The delta variant has given way to the omicron variant which has further added to the complexities of return-to-office planning and future goals.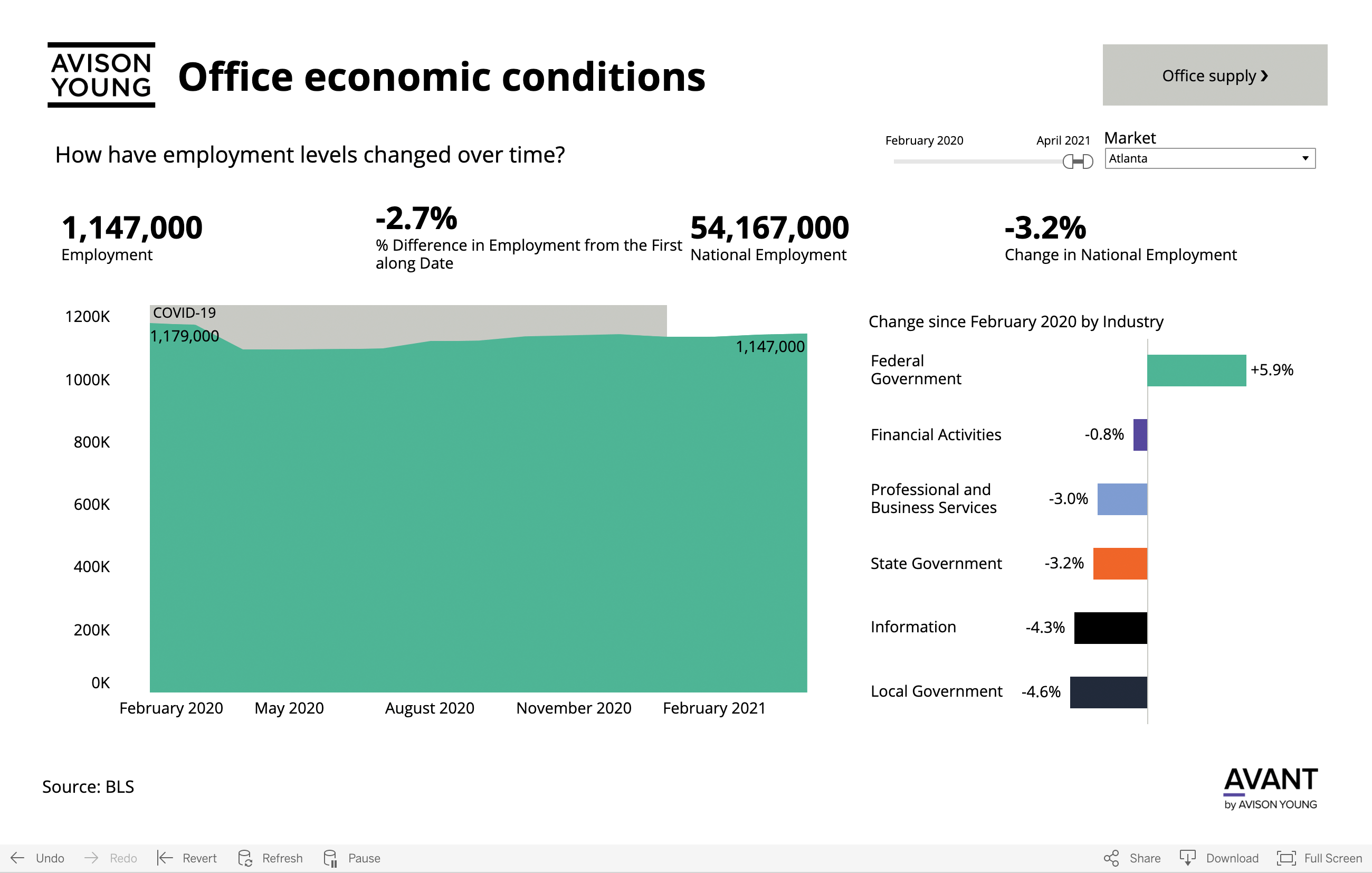 This dashboard is best viewed in a wider browser window.
As return-to-work scenarios solidify and optimism grows, transit-oriented regions like Oakland CBD are well-positioned to capture greater leasing activity and higher rents.
5.0%
Economic conditions
The East Bay/Oakland unemployment rate continues to decline from a high of 14.6 percent in April 2020 to 5.0 percent now.
-35.9%
Leasing activity
Tour activity and tenant demand had only recently begun to grow until the omicron variant slowed demand yet again.
15.7%
Vacancy
Oakland CBD contains 3.7M sf, or 69%, of the vacant square footage in the market.
734K
Sublease space
The share of sublease-to-total vacant space of 13.6% has fallen sharpy from recent the peak of 17.9% set in 2020.
-2.2%
Rental rate
East Bay/Oakland Class A average asking rents decreased by only 2.2 percent from the peak in 2020 through 4Q 2021.
$1.56B
Capital markets
Investment totals for 2021 have eclipsed 2020 by 72.3%.
Your source for the latest East Bay/Oakland office market reports
Get in-depth office market reports and insights from commercial real estate experts in the Greater East Bay/Oakland area. Avison Young advisors look at East Bay/Oakland commercial real estate activities and the latest East Bay/Oakland statistics to provide you expert market research on East Bay/Oakland's office properties.
Explore different topics like the latest office market pricing trends and analysis of East Bay/Oakland's current office real estate market conditions. Gain a better understanding of East Bay/Oaklands office real estate outlook and stay ahead of current office space trends. Make smart decisions when it comes to investing in office properties in East Bay/Oakland's competitive office real estate market. Avison Young is your trusted source for commercial real estate office market insights in East Bay/Oakland.
The dashboard was delivered through AVANT by Avison Young: leveraging real-time data and analytics to make cities and location-based decisions more transparent and efficient. Learn more about AVANT.
Get the latest East Bay/Oakland office market reports right in your inbox