Orlando industrial real estate market reports
Industrial insights Q2 2021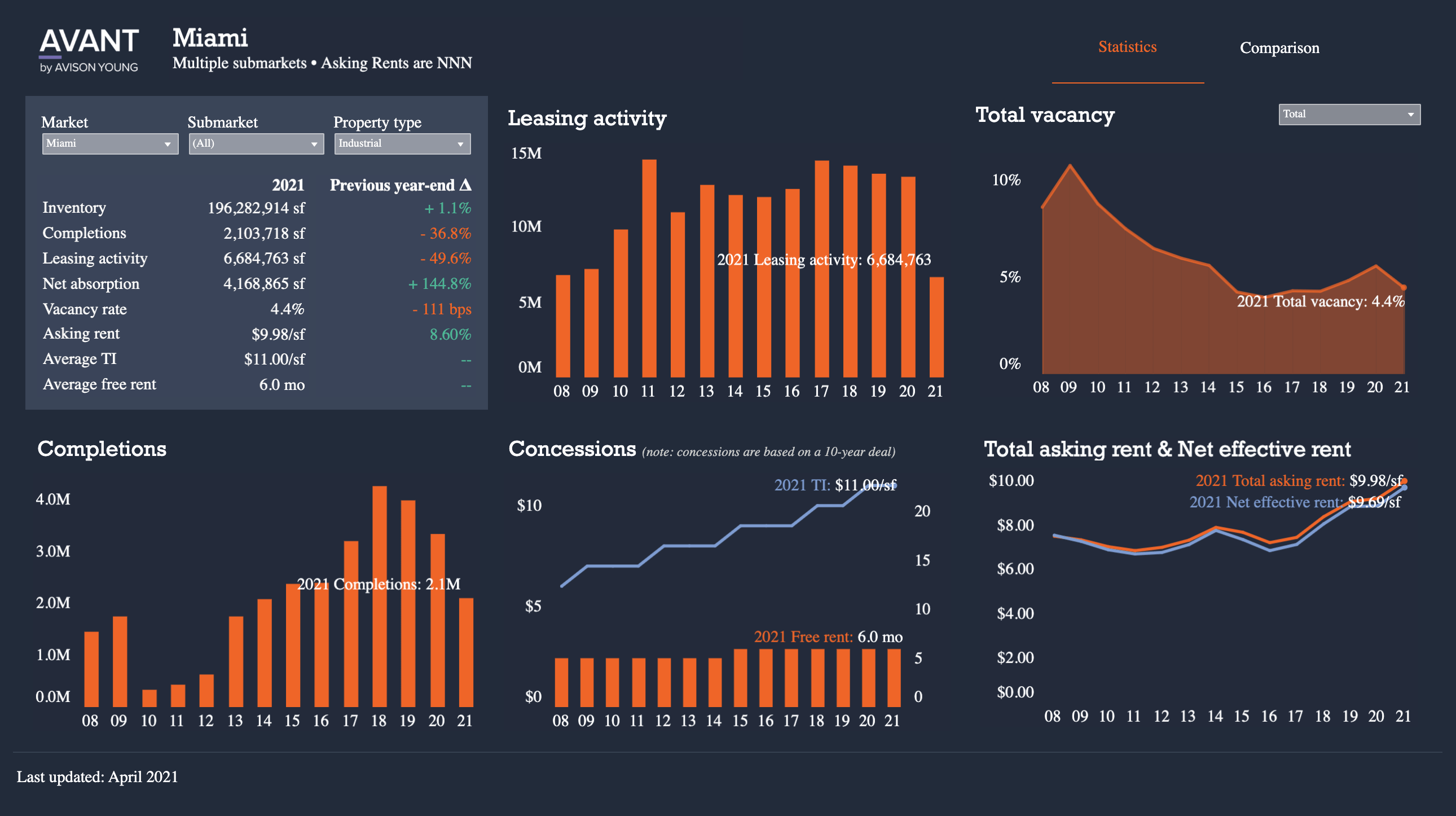 This dashboard is best viewed in a wider browser window.
Orlando's industrial market is strong, fueled by healthy leasing fundamentals, an active speculative development pipeline, and steady expansion within e-commerce and distribution. Absorption through mid-year remains healthy and has already eclipsed the total net absorption recorded in 2019.
5.4%
Economic Conditions
Orlando's current unemployment rate, which has been falling steadily and is down 1900 basis points from the height of the pandemic. The leisure and hospitality sector has contributed to more than half of all job losses to date.
1.2%
Recovery Rate
Orlando's population growth over the trailing 12-month period ending with the first quarter of 2021, a slower pace than the previous 5-year average but still notable given that not all employment losses have been replaced.
43.3%
Industrial Demand
The amount of leasing activity recorded so far during 2021 compared to all leasing volume during 2020. Demand for large bulk distribution projects remains strong, particularly along the 429 Corridor and in the Airport/Southeast submarket.
2.8M
Industrial Supply
The total amount of square footage under construction in Orlando. With an average floor plate size of 147,901 sf, many of these new developments will be well suited for e-commerce and distribution.
9.8%
Pricing Trends
The increase in base rents since the start of the pandemic, which have generally remained on an upward trajectory for the last decade. Healthy demand and tightening leasing fundamentals are placing upward pressure on asking rents.
$822M
Capital Markets
Total industrial investment volume in Orlando for the period from Jan 2020 through Jun 2021. There is still a deficit between the number of prime investment opportunities and the number of investors chasing deals.
Your source for the latest Orlando industrial real estate reports
Stay on top of current trends affecting the industrial real estate sector in Orlando. Gain an overall better understanding of Orlando's industrial real estate market conditions, so you can better formulate strategies to overcome any obstacle and know how to best invest in industrial real estate in Orlando.
Here, you'll always find the latest industrial real estate market news so you can stay ahead. Come back often to see expert insights on the current and future of Orlando's industrial real estate market.
Get the latest Orlando industrial market reports right in your inbox