Orlando office market reports
Office insights Q2 2021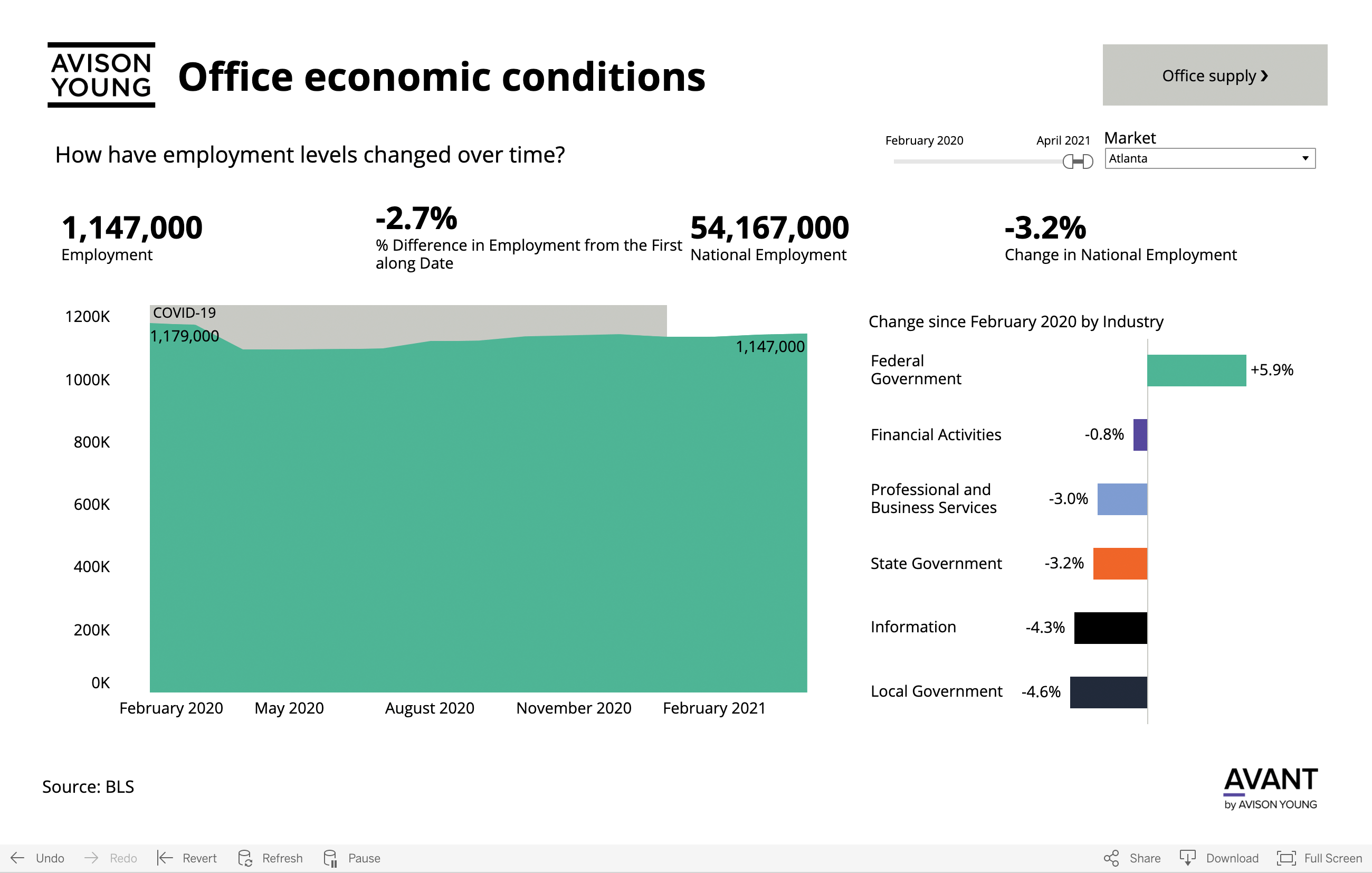 This dashboard is best viewed in a wider browser window.
Leasing momentum is building in Orlando and is expected to continue through the end of the year, which will be instrumental in contending with a saturated sublease market and a vacancy rate at a six-year high with more space on the way. Tenants that postponed their long-term occupancy strategies are re-entering the market, and average base rents have increased notably since the onset of the pandemic and the resulting recession due in part to an increased supply of class A space.
6.9%
Economic Conditions
Office-using job losses, compared with 14.2% for other industries' job losses, underscoring the disproportionate impact the pandemic had on the discretionary segments of the local economy.
#4
Recovery Rate
Florida's rank in a WalletHub study of the top U.S. states for their rates of recovery, with industries gaining the most jobs over the year including leisure and hospitality, professional and business services, and trade, transportation and utilities.
10,000 sf
Office Demand
A majority of current leasing activity is comprised of smaller deals under this threshold, requiring multiple deals to backfill larger floor plates that have been placed on the market.
760K sf
Office Supply
Total amount of vacant sublease space on the market in Orlando, one of the most saturated markets in the South with more space on the way. Many listings are opportunistic in nature and listed by tenants who have more space than they require and are not indicative of a tenant in financial distress.
6.7%
Pricing Trends
The increase in base rents from peak-to-trough as landlords have secured new tenant commitments and lease renewals through favorable lease provisions while keeping rents relatively steady.
$359.3
Capital Markets
Total office investment volume (in millions) in Orlando for the period from Jan 2020 through Jun 2021. The largest sale was DRA Advisors' $63 million acquisition of the 280,000-sf 20 N Orange building in the urban core.
Your source for the latest Orlando office market reports
Get in-depth office market reports and insights from commercial real estate experts in the Greater Orlando area. Avison Young advisors look at Orlando commercial real estate activities and the latest Orlando statistics to provide you expert market research on Orlando's office properties.
Explore different topics like the latest office market pricing trends and analysis of Orlando's current office real estate market conditions. Gain a better understanding of Orlando's office real estate outlook and stay ahead of current office space trends. Make smart decisions when it comes to investing in office properties in Orlando's competitive office real estate market. Avison Young is your trusted source for commercial real estate office market insights in Orlando.
The dashboard was delivered through AVANT by Avison Young: leveraging real-time data and analytics to make cities and location-based decisions more transparent and efficient. Learn more about AVANT.
Get the latest
Orlando

office market reports right in your inbox