News Item - Philadelphia
Avison Young arranges long-term lease for growing eye specialist practice to the Philadelphia Navy Yard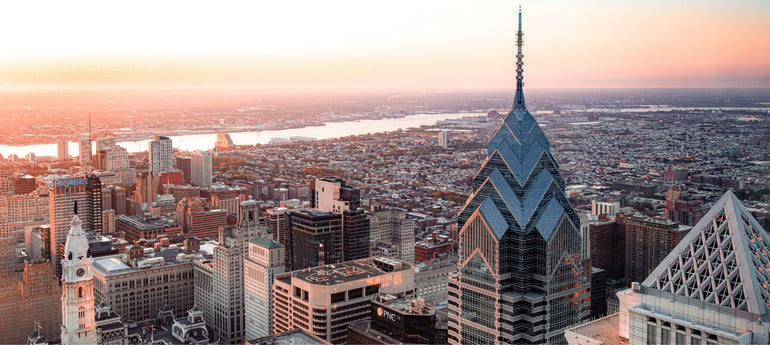 July 18, 2023
Mid Atlantic Retina grows number of clinical offices to 18 across the Northeast
Philadelphia, PA
–
Avison Young has arranged a 12,679-square-foot long-term lease on behalf of Mid Atlantic Retina, in association with Wills Eye Hospital located in the Philadelphia Navy Yard development at One Crescent Drive, Philadelphia, PA. Mid Atlantic Retina is a highly-specialized retina specialist with 18 locations throughout Pennsylvania, New Jersey, and Delaware. The new lease represents a strategic expansion for the retina specialist into the Pennsylvania region.
Mid Atlantic Retina was represented by Scott Martin, Principal, based in Avison Young's Philadelphia office. Philadelphia Navy Yard was represented by Ensemble.
"The decision to establish a prominent presence at the Navy Yard aligns with Mid Atlantic Retina's growth strategy and showcases its unwavering commitment to expanding its reach throughout the Pennsylvania region," said Martin. "This expansion positions them at the forefront of the burgeoning life science sector within the Navy Yard."
Philadelphia Navy Yard is a hub for breakthrough research, innovation, and collaborative opportunities, with cutting edge facilities. One Crescent provides state-of-the-art infrastructure designed to support medical practices.
"
Securing our next clinical office at the Navy Yard is an important part of our strategic growth and will provide our patients with exceptional accessibility," said
Rhonda Ceretelle, Executive Director, Mid Atlantic Retina.
"Scott Martin has advised us on our real estate needs for many years and has a keen understanding of healthcare, our requirements, and our objectives. He has been an invaluable part of our team as we continue to expand our services across the Northeast."
Avison Young creates real economic, social and environmental value as a global real estate advisor, powered by people. As a private company, our clients collaborate with an empowered partner who is invested in their success. Our integrated talent realizes the full potential of real estate by using global intelligence platforms that provide clients with insights and advantage. Together, we can create healthy, productive workplaces for employees, cities that are centers for prosperity for their citizens, and built spaces and places that create a net benefit to the economy, the environment and the community.
Avison Young is a 2023 winner of the Canada's Best Managed Companies Platinum Club designation, having retained its Best Managed designation for 12 consecutive years.
www.avisonyoung.com
Follow Avison Young
Twitter (News)
│
Twitter (Deals)
│
Blog
│
LinkedIn
│
YouTube
│
Instagram
Media contact:
Nathan Reyna

, Regional Media Relations & Content Specialist, Northeast: +1.917.877.1697