Phoenix office market report
Q4 2021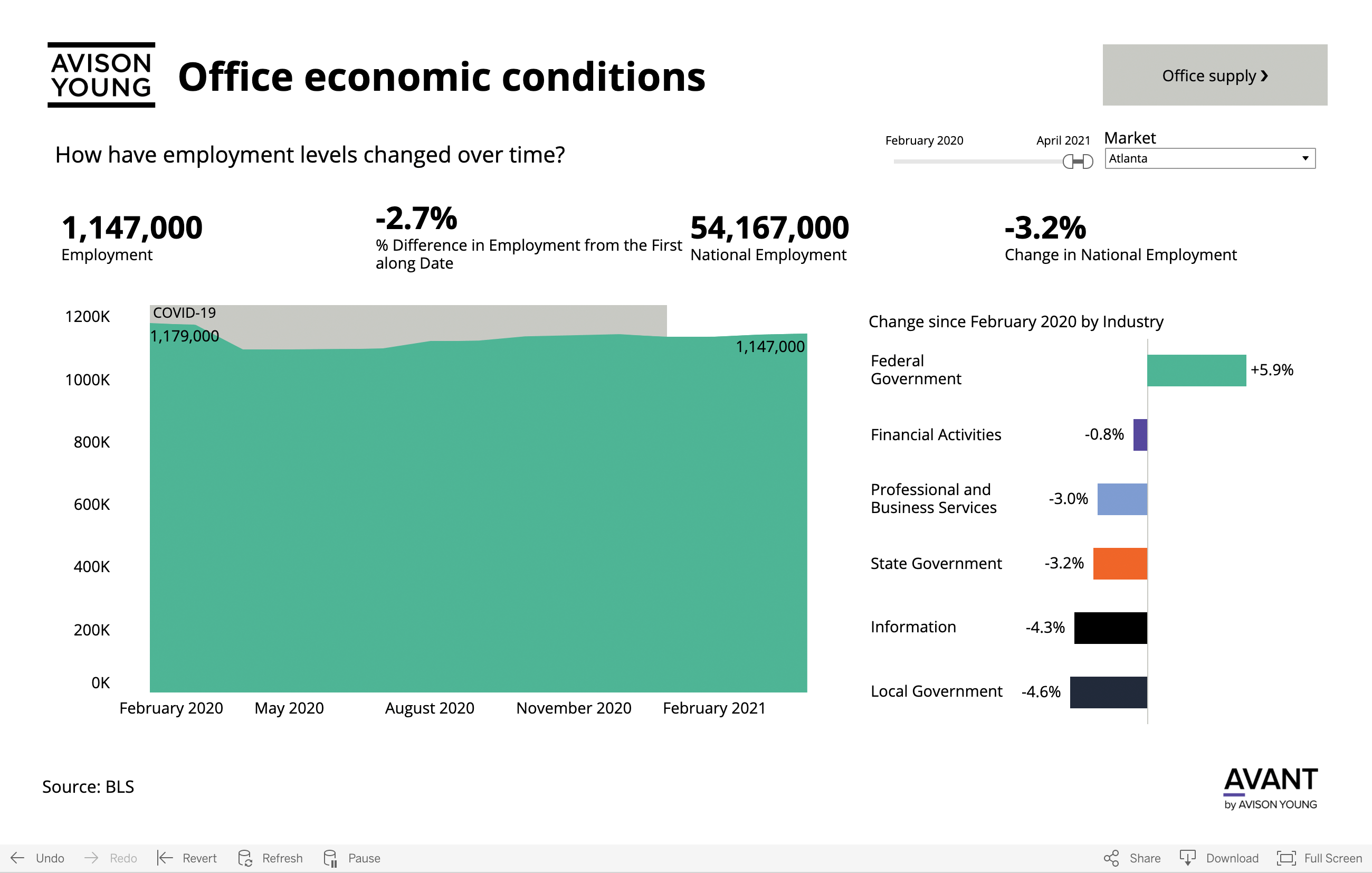 This dashboard is best viewed in a wider browser window.
3.2%
Economic conditions
Limited COVID-19 restrictions and an influx of new businesses have brought the unemployment rate in Phoenix down to 3.2%. This marks the lowest unemployment rate in the region since 2007.
52.7%
Recovery rate
The percentage of fully-vaccinated individuals living in the Phoenix MSA reached 52.7% in December. National vaccination rates reached 61.1% in the same timespan.
13.7%
Office demand
Leasing activity experienced a rebound from 2020 levels, increasing by 13.7% year-over-year to 6.9 msf, but remained 14.0% below the prior 20-year annual average.
16.7%
Office supply
The overall vacancy rate for the Phoenix office market remained elevated at a rate of 16.7% at the end of Q4. The sublease vacancy rate of 1.7% reached its highest level since 2002, when rates were 1.8%.
1.8%
Pricing trends
Base rents increased by 1.8% in 2021, up $0.52 psf on average. Rent increases have slowed in the last year, as the average annual growth rate since 2012 is 4.0%.
$2.1B
Capital markets
Investment demand strengthened in 2021 as renewed confidence in market fundamentals drove total office investment volume from $1.7B in 2020 to $2.1B in 2021.
Your source for the latest Phoenix office market reports
Get in-depth office market reports and insights from commercial real estate experts in the Greater Phoenix area. Avison Young advisors look at Phoenix commercial real estate activities and the latest Phoenix statistics to provide you expert market research on Phoenix's office properties.
Explore different topics like the latest office market pricing trends and analysis of Phoenix's current office real estate market conditions. Gain a better understanding of Phoenix's office real estate outlook and stay ahead of current office space trends. Make smart decisions when it comes to investing in office properties in Phoenix's competitive office real estate market. Avison Young is your trusted source for commercial real estate office market insights in Phoenix.
The dashboard was delivered through AVANT by Avison Young: leveraging real-time data and analytics to make cities and location-based decisions more transparent and efficient. Learn more about AVANT.
Get the latest Phoenix office market reports right in your inbox