Raleigh-Durham office market reports
3Q21 highlights and trends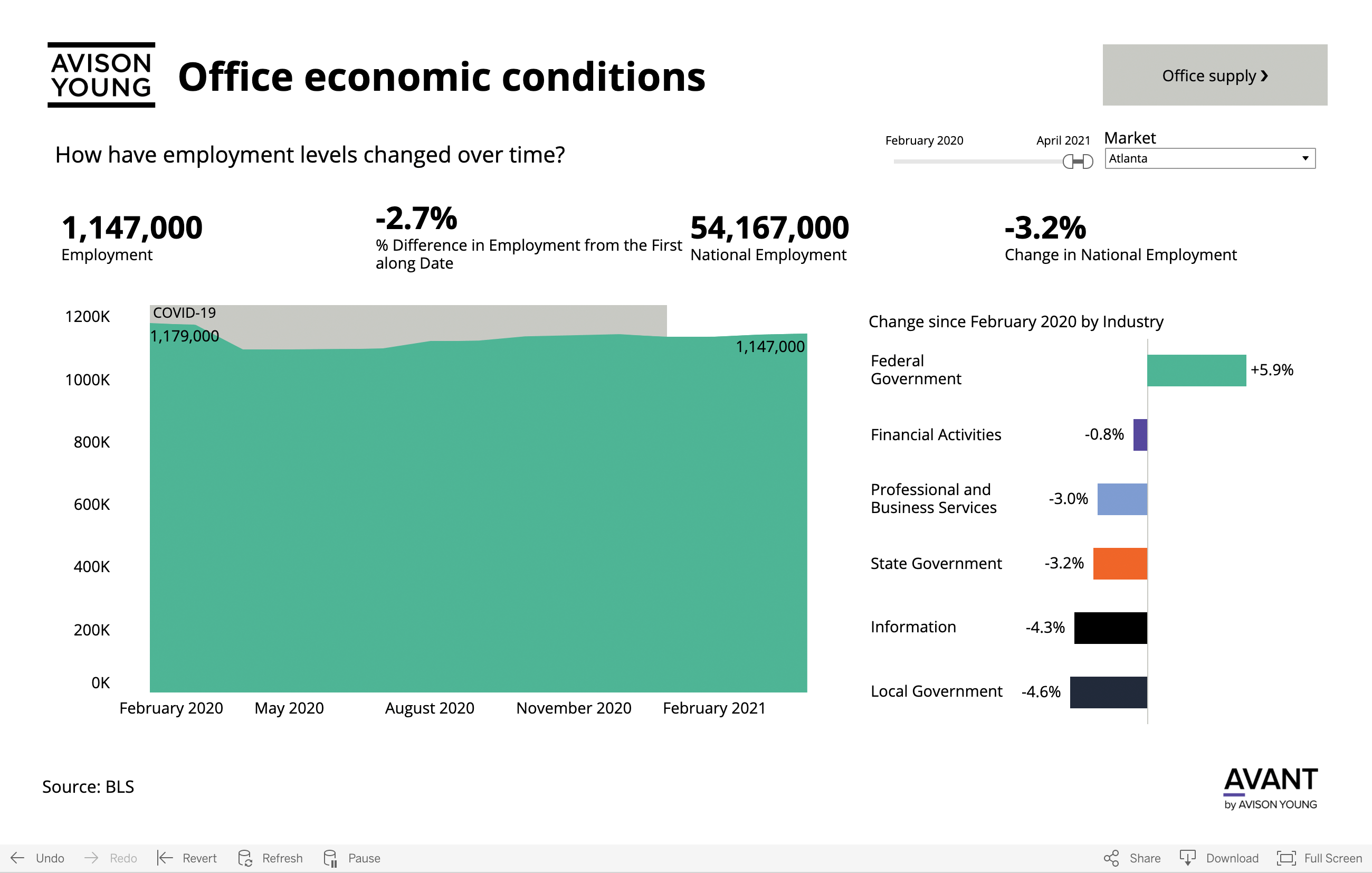 This dashboard is best viewed in a wider browser window.
The Triangle's access to talent, employment and education continue to provide key fundamentals for market recovery. Raleigh-Durham ranks #1 in the U.S. for real estate prospects in 2021 by the Urban Land Institute.
4.0%
Economic conditions
After Covid-19's impact took its toll in May of 2020, the unemployment rate has dropped to 4.0 percent as of July 2021. Office-using job totals have declined 2.4 percent, yet Raleigh-Durham's professional and business services sector gains have surpassed pre-pandemic levels, rebounding by 14.6%.
65%
Recovery rate
The overall post-COVID rate of recovery based on extrapolated mobility data is 64.8 percent suggesting that many consumers are ready to return to their pre-Covid routines, yet offices are seeing only 36.0 percent of pre-Covid mobility.
2.2 msf
Office demand
Leasing activity is gaining ground after declining in the first half of 2021. Year-to-date activity reached 2.2 msf in the Triangle.
15.1%
Office supply
Direct and sublease vacancy has achieved all-time highs, totaling 15.1 percent. Avison Young projects continued increases in vacancy for the foreseeable future.
$31.08
Pricing trends
Tenants can expect to hold leverage in most lease negotiations, excluding top-of-market properties. Concessions in NC remain highest on record, without increasing base rents. New construction and recent delivery of Class A product continues to support rents in the segment.
$1.0 B
Capital markets
Cap rates and asset pricing are expected to remain steady based on increased economic momentum and renewed investor interest. Private investors continue to dominate, representing 63.5% of total buyer composition. Trailing-12-month sales volume totaled $1.0B.
Your source for the latest
Raleigh-Durham

office market reports

Get in-depth office market reports and insights from commercial real estate experts in the greater Triangle area. Avison Young advisors look at Raleigh-Durham commercial real estate activities and the latest Raleigh-Durham statistics to provide you expert market research on Raleigh-Durham's office properties.

Explore different topics like the latest office market pricing trends and analysis of Raleigh-Durham's current office real estate market conditions. Gain a better understanding of Raleigh-Durham's office real estate outlook and stay ahead of current office space trends. Make smart decisions when it comes to investing in office properties in Raleigh-Durham's competitive office real estate market. Avison Young is your trusted source for commercial real estate office market insights in Raleigh-Durham.

The dashboard was delivered through AVANT by Avison Young: leveraging real-time data and analytics to make cities and location-based decisions more transparent and efficient. Learn more about AVANT.
Get the latest Raleigh-Durham office market reports right in your inbox