Raleigh-Durham office market reports
2Q21 highlights and trends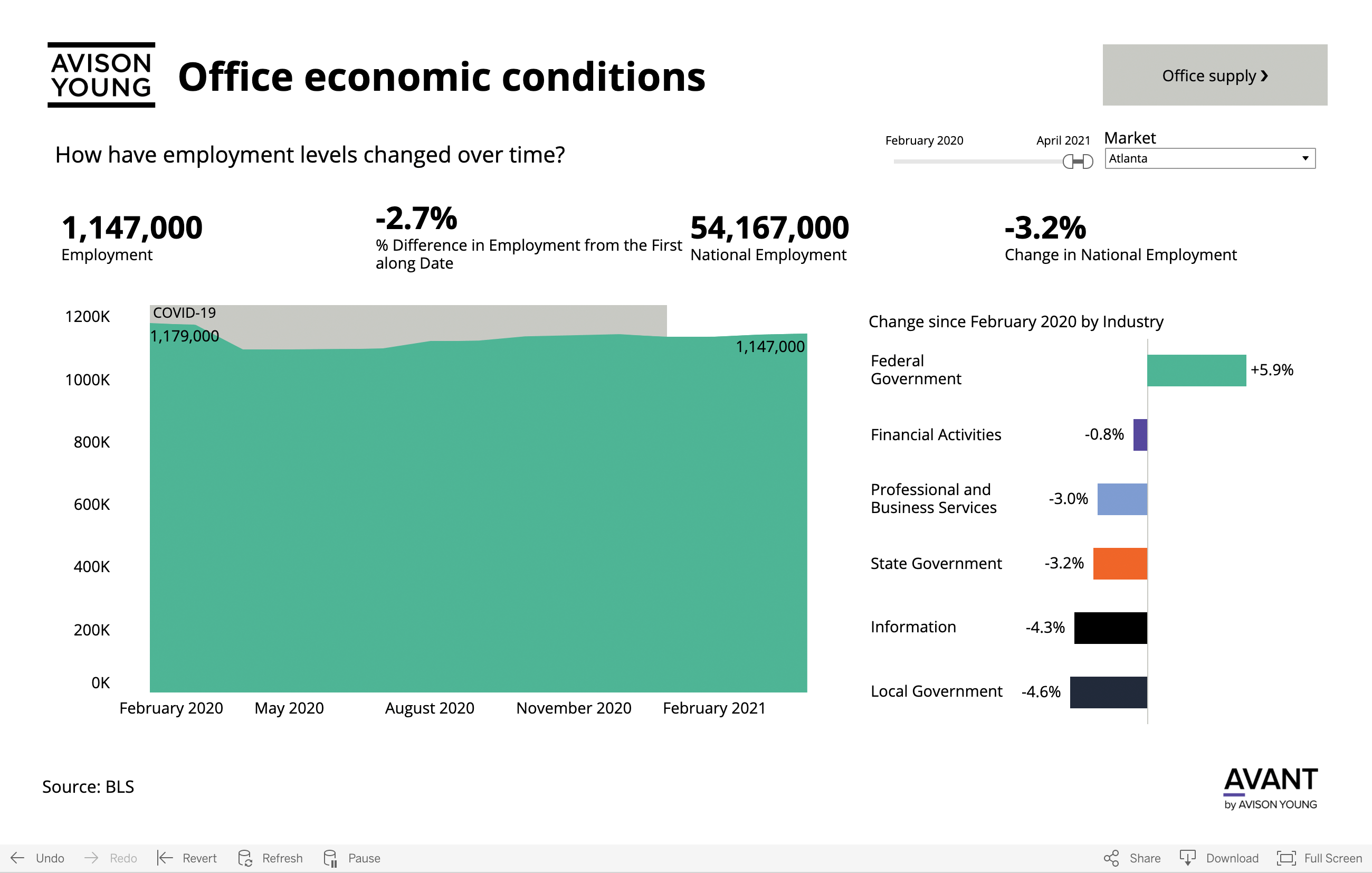 This dashboard is best viewed in a wider browser window.
Overall market fundamentals are beginning to recover, while Triangle-wide rent growth remains positive as reopening efforts and return to work models continue to evolve post pandemic.
3.7%
Economic conditions
Unemployment rate in Raleigh-Durham, down 830 bps from the height of the pandemic.
Top 10
Recovery rate
Raleigh ranked among the top 10 U.S. cities best positioned to recover from the pandemic by Moody's Analytics.
1.3 msf
Office demand
Year-to-date leasing activity and is expected to increase as the market anticipates pent-up demand after a year of uncertainty and minimal movement.
1.4 msf
Office supply
Total amount of vacant sublease space (in square feet) on the market in Raleigh-Durham, comprising 20% of total vacant space.
$29.00
Pricing trends
Average rents held steady in Raleigh-Durham posting 1.9% YoY rent growth, largely due to new construction deliveries and owners holding firm on rates.
$1.8b
Capital markets
Trailing 12-month office investment volume in Raleigh-Durham. In April, Highwoods acquired Captrust Tower and Wells Fargo Capitol Center as part of a $717-million portfolio acquisition from Preferred Office Properties in Raleigh, Charlotte and Atlanta.
Your source for the latest
Raleigh-Durham

office market reports

Get in-depth office market reports and insights from commercial real estate experts in the greater Triangle area. Avison Young advisors look at Raleigh-Durham commercial real estate activities and the latest Raleigh-Durham statistics to provide you expert market research on Raleigh-Durham's office properties. For an overview of market trends, see the Raleigh-Durham condensed Office Insights 2Q21 report.

Explore different topics like the latest office market pricing trends and analysis of Raleigh-Durham's current office real estate market conditions. Gain a better understanding of Raleigh-Durham's office real estate outlook and stay ahead of current office space trends. Make smart decisions when it comes to investing in office properties in Raleigh-Durham's competitive office real estate market. Avison Young is your trusted source for commercial real estate office market insights in Raleigh-Durham.

The dashboard was delivered through AVANT by Avison Young: leveraging real-time data and analytics to make cities and location-based decisions more transparent and efficient. Learn more about AVANT.
Get the latest Raleigh-Durham office market reports right in your inbox