Sacramento office market reports
Q3 2021: Today's leasing environment continues to favor tenants and flexibility. Expect shorter lease terms and higher concession as tenants try to determine their new occupancy path going forward.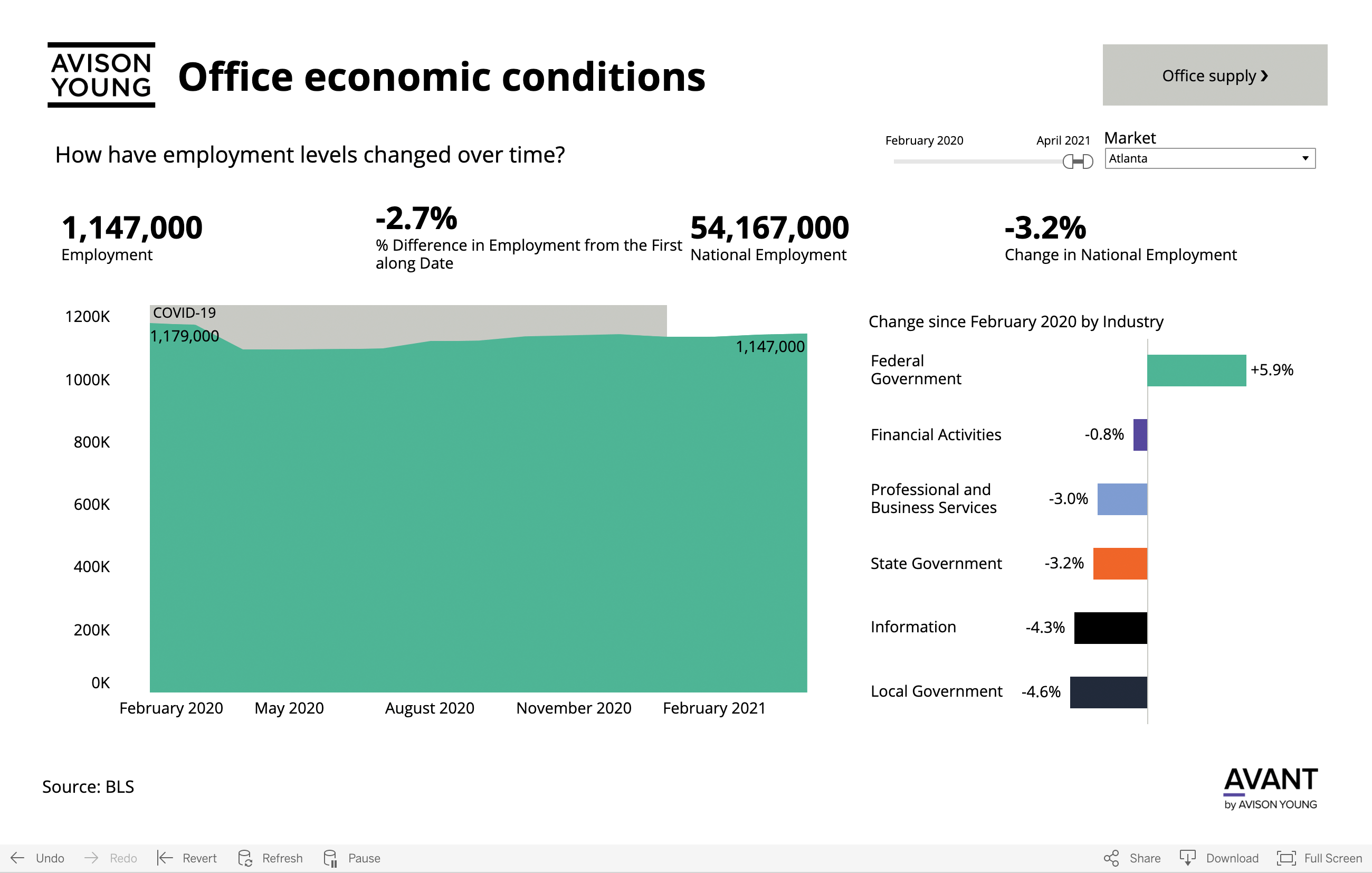 This dashboard is best viewed in a wider browser window.
As employers move toward mandated vaccinations and we see an uptick in the county's vaccination rate, office occupiers will be more decisive in making decisions around return to office strategies and provide more clarity around the future demand environment.
6.7%
Economic conditions
The Sacramento unemployment rate continues to decline as reopening efforts enabled the economy to add 112,239 more jobs since April 2020.
-51.0%
Leasing activity
With totals below the historical average, leasing activity mildly improved during Q3 after a slow first half of 2021.
10.8%
Vacancy
The mild uptick in vacancy during the quarter was partly due to the rightsizing of State of California agencies into state-owned building that have recently delivered.
537k
Sublease space
The growth of sublease space on the market has been limited since the end of 2020.
1.9%
Rental rate
Tenant-favorable market conditions persist as rent growth has remained suppressed.
-15.8%
Capital markets
Investment totals for 2021 are down by an annualized rate of 15.8% when compared with to prior five-year average dollar volume.
Your source for the latest Sacramento office market reports
Get in-depth office market reports and insights from commercial real estate experts in the Greater Sacramento area. Avison Young advisors look at Sacramento commercial real estate activities and the latest Sacramento statistics to provide you expert market research on Sacramento's office properties.
Explore different topics like the latest office market pricing trends and analysis of Sacramento's current office real estate market conditions. Gain a better understanding of Sacramento's office real estate outlook and stay ahead of current office space trends. Make smart decisions when it comes to investing in office properties in Sacramento's competitive office real estate market. Avison Young is your trusted source for commercial real estate office market insights in Sacramento.
The dashboard was delivered through AVANT by Avison Young: leveraging real-time data and analytics to make cities and location-based decisions more transparent and efficient. Learn more about AVANT.
Get the latest Sacramento office market reports right in your inbox