Sacramento office market reports
Q2 2021: Despite 2021 YTD vacancy increases resulting in negative absorption, the Sacramento office market sits in relatively good shape compared to other Northern California markets.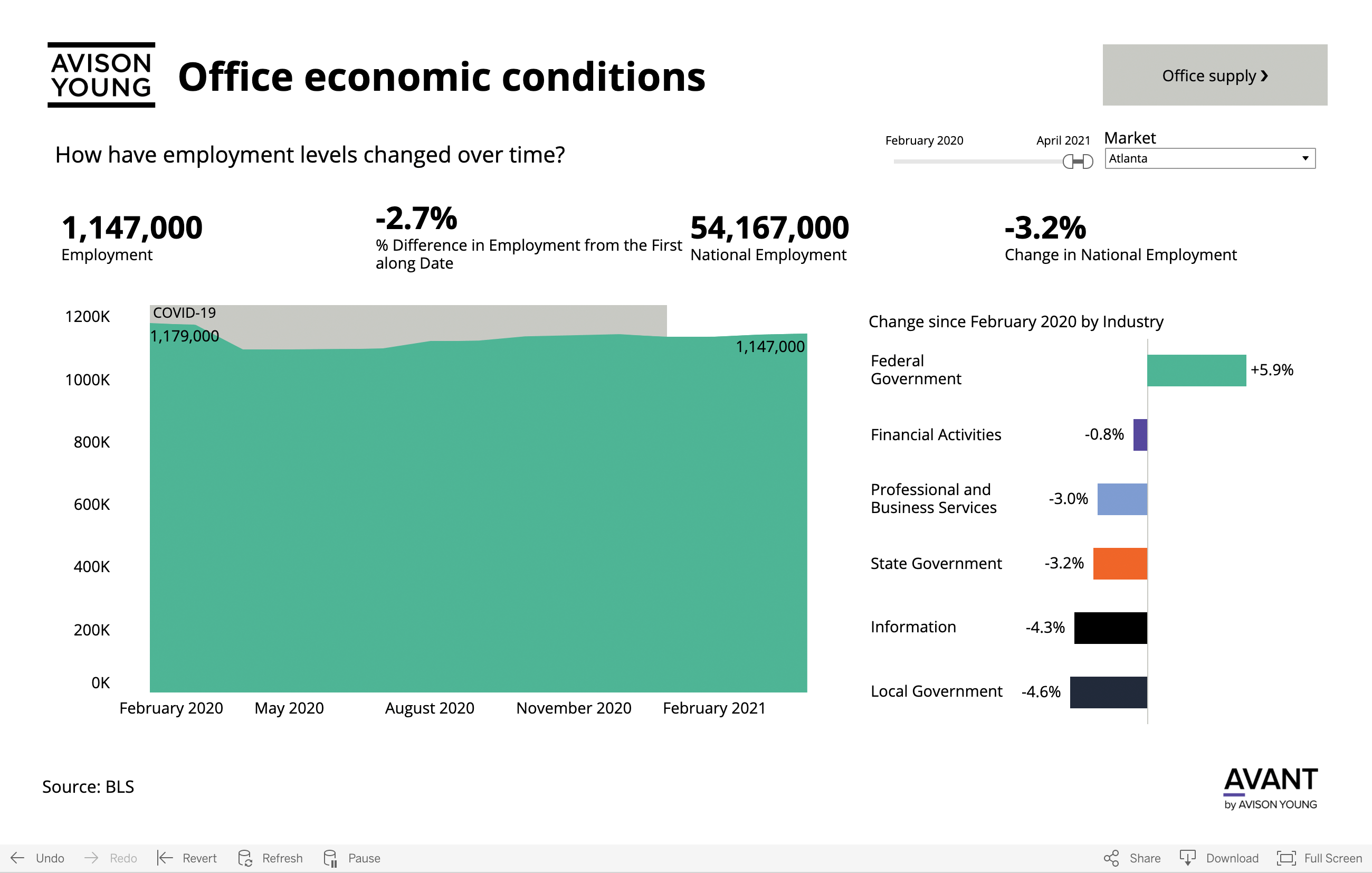 This dashboard is best viewed in a wider browser window.
Demand has been tepid as the economy reopens. Tenants, that postponed their long-term occupancy strategies, are starting to re-enter the market slowly.
6.6%
Economic conditions
Reopening efforts and higher vaccination rates have allowed the Sacramento unemployment rate to drop from a high of 14.4 percent in April 2020 to 6.6 percent now.
-60.6%
Leasing activity
Leasing activity has paused, decreasing by 60.6 percent compared with the long-term historical average.
10.8%
Vacancy
Direct and sublease vacancy have achieved levels approaching all-time highs, totaling 10.8 percent.
537k
Sublease space
The sublease market grew during 2020 but that growth has been more tempered this year, accounting for only 536,867 sf of vacant space.
0.2%
Rental rate
Landlords held firm on asking rents through the pandemic. Average class A asking rents remained relatively flat with only a 0.2% increase during the first half of 2021.
-46.8%
Capital markets
Office sales activity was dramatically affected during the risk-pricing crisis, decreasing by an annualized rate of 46.8% compared with the prior five-year average dollar volume.
Your source for the latest Sacramento office market reports
Get in-depth office market reports and insights from commercial real estate experts in the Greater Sacramento area. Avison Young advisors look at Sacramento commercial real estate activities and the latest Sacramento statistics to provide you expert market research on Sacramento's office properties.
Explore different topics like the latest office market pricing trends and analysis of Sacramento's current office real estate market conditions. Gain a better understanding of Sacramento's office real estate outlook and stay ahead of current office space trends. Make smart decisions when it comes to investing in office properties in Sacramento's competitive office real estate market. Avison Young is your trusted source for commercial real estate office market insights in Sacramento.
The dashboard was delivered through AVANT by Avison Young: leveraging real-time data and analytics to make cities and location-based decisions more transparent and efficient. Learn more about AVANT.
Get the latest Sacramento office market reports right in your inbox