San Francisco Office Insight Report Q2 2021
San Francisco office market reports
Q2 2021: The tech industry's lax return to office policies and flexible work from anywhere plans outweigh reopening efforts and higher regional vaccination rates in the Bay Area.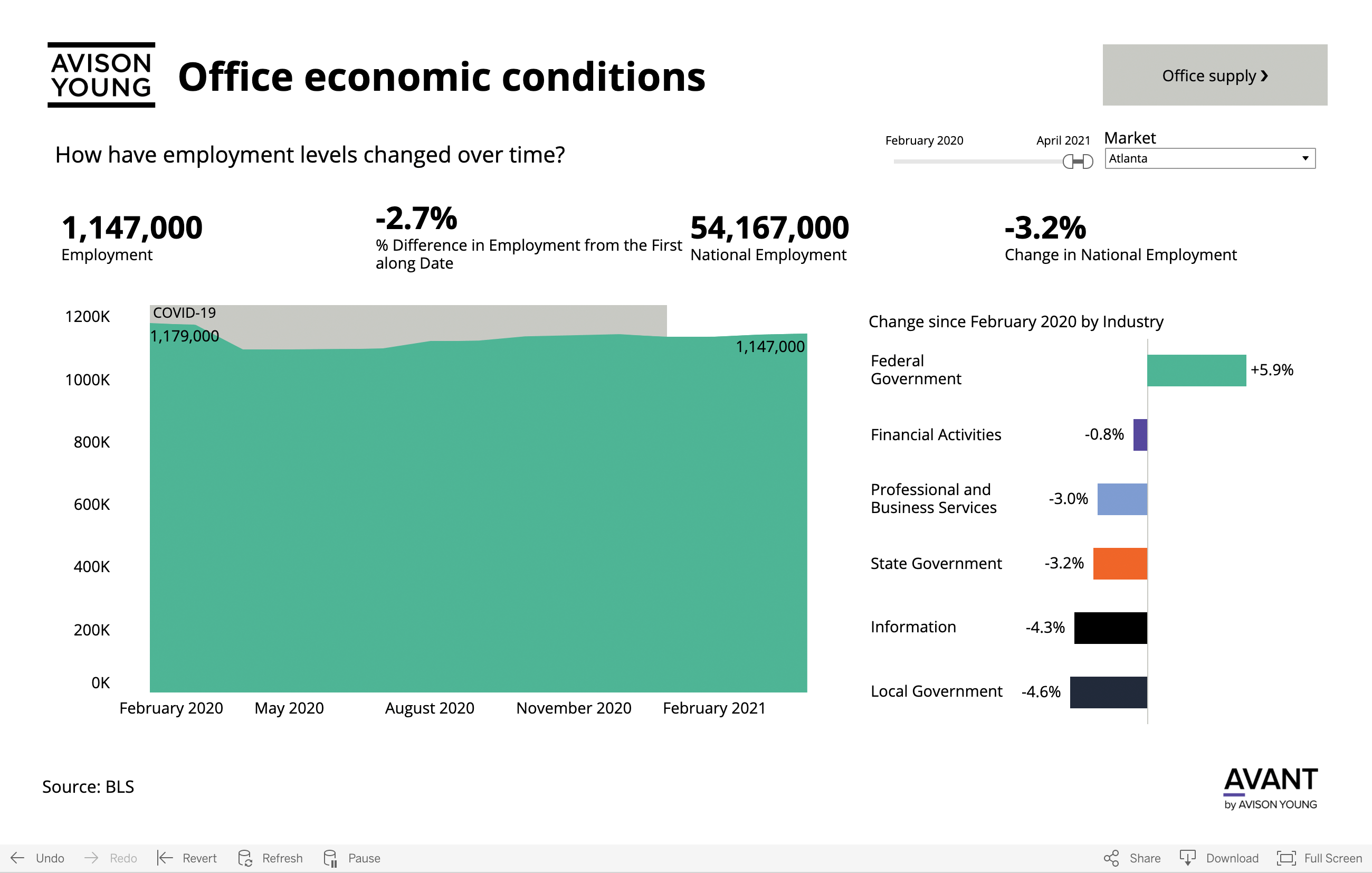 This dashboard is best viewed in a wider browser window.
Despite Bay Area-based companies beginning their workplace reopening efforts and significantly higher vaccination rates across the regional population, the Bay Area office market recovery continues to lag behind the national average. A high concentration of tech firms with flexible return to office plans is a large contributor to the less rapid rate of recovery the Bay area has experience thus far.
5.4%
Economic conditions
Reopening efforts and higher vaccination rates have allowed the San Francisco unemployment rate to rebound from a high of 13.0 percent to 5.4 percent.
65.7%
Recovery rate
The overall rate of recovery in the Bay Area (65.7 percent) is comparatively higher than the overall U.S. (49.1 percent). However, the return of Bay Area office occupiers has lagged other primary markets given the concentration of tech and a lack across the sector of requiring workers back in the office. The rate of recovery across the Bay Area office market is 10.2 percent compared to the U.S. average of 19.2 percent.
65-75%
Leasing activity
Leasing activity has paused, decreasing by 65-75 percent compared with recent historical averages.
15.4%
Vacancy
Occupancy losses have totaled almost 6 million sf over the past 18 months as vacancy has risen to 15.4 percent.
9.2m sf
Sublease space
Available sublease space has increased to 9.2 million sf, almost 3x 2019 levels.
4.3%
Rental rate
Base rents have declined by 4.3 percent since the beginning of 2021 and as concession have increased, net effective rents have dropped by 5.4 percent.
Your source for the latest
San Francisco

office market reports

Get in-depth office market reports and insights from commercial real estate experts in the Greater San Francisco Bay area. Avison Young advisors look at San Francisco commercial real estate activities and the latest San Francisco statistics to provide you expert market research on San Francisco's office properties.

Explore different topics like the latest office market pricing trends and analysis of San Francisco's current office real estate market conditions. Gain a better understanding of San Francisco's office real estate outlook and stay ahead of current office space trends. Make smart decisions when it comes to investing in office properties in San Francisco's competitive office real estate market. Avison Young is your trusted source for commercial real estate office market insights in San Francisco.

The dashboard was delivered through AVANT by Avison Young: leveraging real-time data and analytics to make cities and location-based decisions more transparent and efficient. Learn more about AVANT.
Get the latest San Francisco office market reports right in your inbox