San Francisco Peninsula office market reports
Q4 2021: The coronavirus pandemic continues to loom over the office market. While signs of positive have begun to show, the Omicron variant has created additional uncertainty around the eventual return-to-office.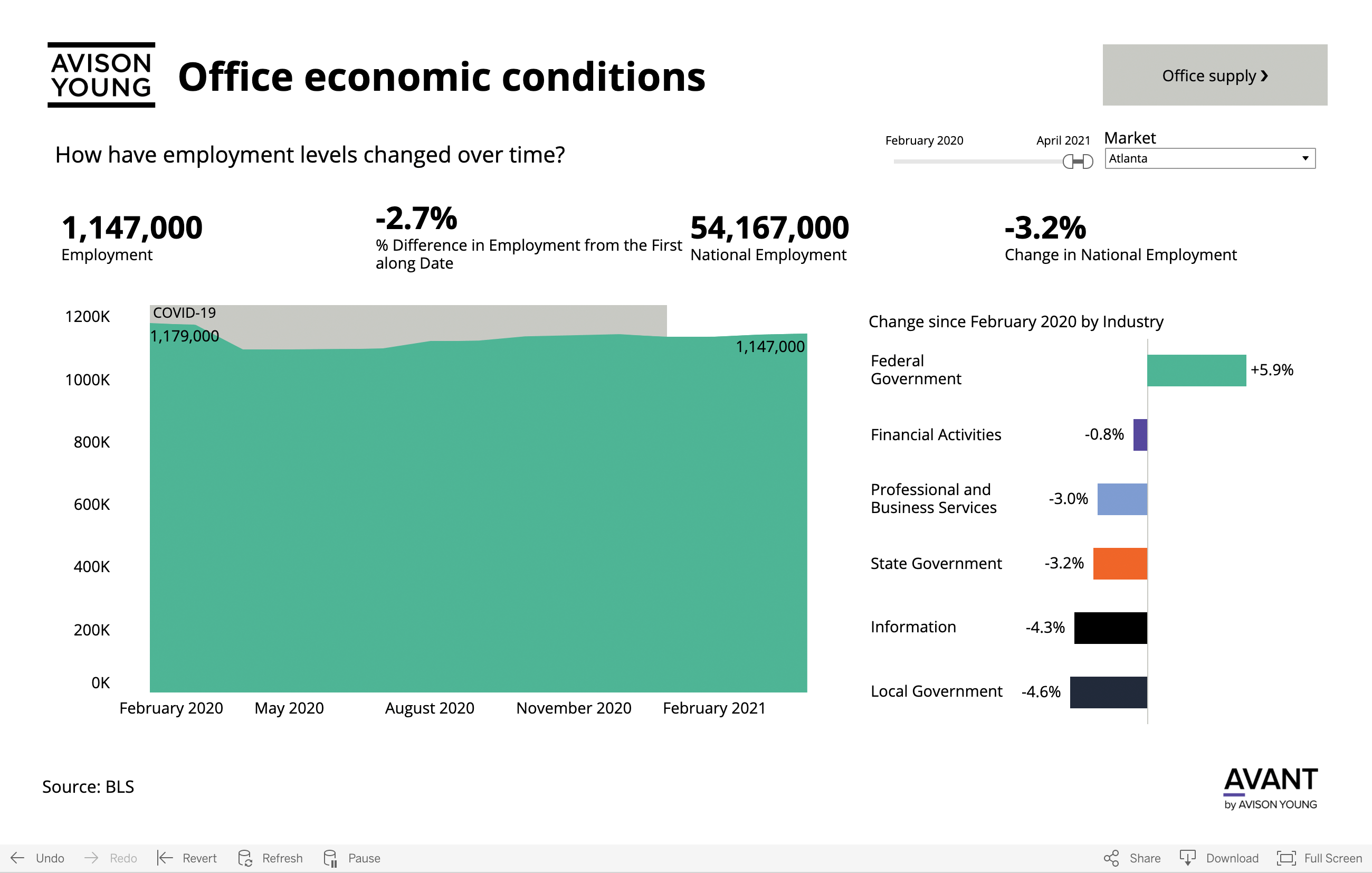 This dashboard is best viewed in a wider browser window.
As return-to-work scenarios solidify and optimism grows, major tech companies have led the charge with large purchases and leases throughout the region.
3.6%
Economic conditions
The San Francisco Peninsula unemployment rate continues to decline from a high of 11.8 percent in April 2020 to 3.6 percent now.
106.7%
Leasing activity
Total leasing increased by over 100% from the 2020 total, but still ended below historical averages.
14.4%
Vacancy rate
San Francisco Peninsula vacancy continued to rise by 1.7 percent from 2020.
1.2M
Sublease space
The share of sublease-to-total vacant space of 18.7% has fallen sharpy from 26.7% set in 2020.
-2.3%
Rental rate
San Francisco Peninsula Class A average asking rents decreased by only 2.2 percent from the peak in 2020 through 4Q 2021.
$1.2B
Capital markets
Investment totals for 2021 have eclipsed 2020 by over 70%.
Your source for the latest San Francisco Peninsula office market reports
Get in-depth office market reports and insights from commercial real estate experts in the Greater San Francisco Peninsula area. Avison Young advisors look at San Mateo commercial real estate activities and the latest San Mateo statistics to provide you expert market research on San Francisco Peninsula's office properties.
Explore different topics like the latest office market pricing trends and analysis of San Francisco Peninsula's current office real estate market conditions. Gain a better understanding of San Francisco Peninsula's office real estate outlook and stay ahead of current office space trends. Make smart decisions when it comes to investing in office properties in San Francisco Peninsula's competitive office real estate market. Avison Young is your trusted source for commercial real estate office market insights in San Francisco Peninsula.
Get the latest San Francisco Peninsula office market reports right in your inbox