News Item - Washington, DC Metro
Avison Young Selected to Market Sale of Premier Property Approved for Multifamily Complex in Coveted DC Submarket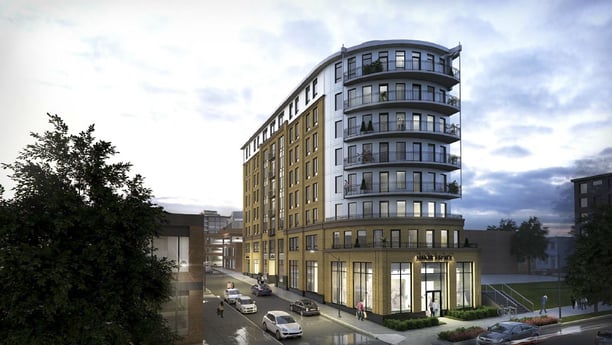 August 25, 2021
Eight-story building featuring ground-level retail is fully entitled for construction at 1109 Congress Street NE in NoMa neighborhood
WASHINGTON, DC — Avison Young's Capital Markets Group has been selected as the exclusive advisor for the sale of 1109 Congress Street NE, a marquee property in Washington that is approved for an eight-story multifamily complex.
The 10,040-square-foot (SF) lot is fully entitled for a 62-unit residential building in the coveted NoMa submarket of Washington. The site's owner, CH Congress Development LLC, has already gone through the PUD approval process and all appeals for the development.
Chosen to market the property is an Avison Young Capital Markets team led by Chip Ryan, Principal; and Matt Weber, Senior Vice President.
"The owner has created substantial value for this property by creating a premier development and shepherding it through the PUD approval process," Ryan said. "It's an ideal site for a multifamily complex, thanks to its central location and easy access to public transportation. With strong residential market conditions and a growing labor force in the neighborhood, 1109 Congress Street NE will attract a wealth of potential condo buyers or apartment renters."
The fully designed and permitted residential development will feature 45,845 SF of residential space, with 3,825 SF of ground-level retail space. Prominently situated between NoMa and the H Street Corridor, the property is near some of the best retail and entertainment options in Washington, with dozens of shopping, dining and entertainment destinations all within walking distance. Nationals Stadium, home of the Washington Nationals baseball team, is only a 20-minute Metro ride.
The area benefits from strong local demographics: The median household income surrounding the site is over $106,000, with more than 80% of residents holding a bachelor's degree or higher.
The growing workforce is driving demand for housing in the neighborhood, fueled by high-profile employers in the area. They include CareFirst, CNN, General Motors, Google and Sirius XM, as well as federal agencies such as the Internal Revenue Service, the U.S. Securities and Exchange Commission and the U.S. Department of Justice.
"This is the kind of eclectic home base that young professionials are seeking, with easy access to the Metro, dining, shopping, recreation and entertainment," Weber said. "It's a vibrant, flourishing community perfect for a distinctive new building like 1109 Congress Street NE. We expect significant interest from investors nationwide."
About Avison Young and the Avison Young Capital Markets Group
Avison Young creates real economic, social and environmental value as a global real estate advisor, powered by people. As a private company, our clients collaborate with an empowered partner who is invested in their success. Our integrated talent realizes the full potential of real estate by using global intelligence platforms that provide clients with insights and advantage. Together, we can create healthy, productive workplaces for employees, cities that are centers for prosperity for their citizens, and built spaces and places that create a net benefit to the economy, the environment and the community.

The Avison Young Capital Markets Group works in partnership with clients to provide high-quality, data-supported, integrated services that guide the strategic and financial objectives of our clients. The Avison Young Capital Markets Group includes senior professionals in Europe and every major North American market, working seamlessly and collaboratively across borders to deliver real estate solutions for our clients. We provide a full range of real estate services to local, regional, national and international clients and we have a proven track record of exceeding client expectations.

For more information:
Matt Weber, Senior Vice President, Avison Young, Washington, DC: +202.602.1012