Northern Virginia office market reports
Q4 2021 Northern Virginia office market report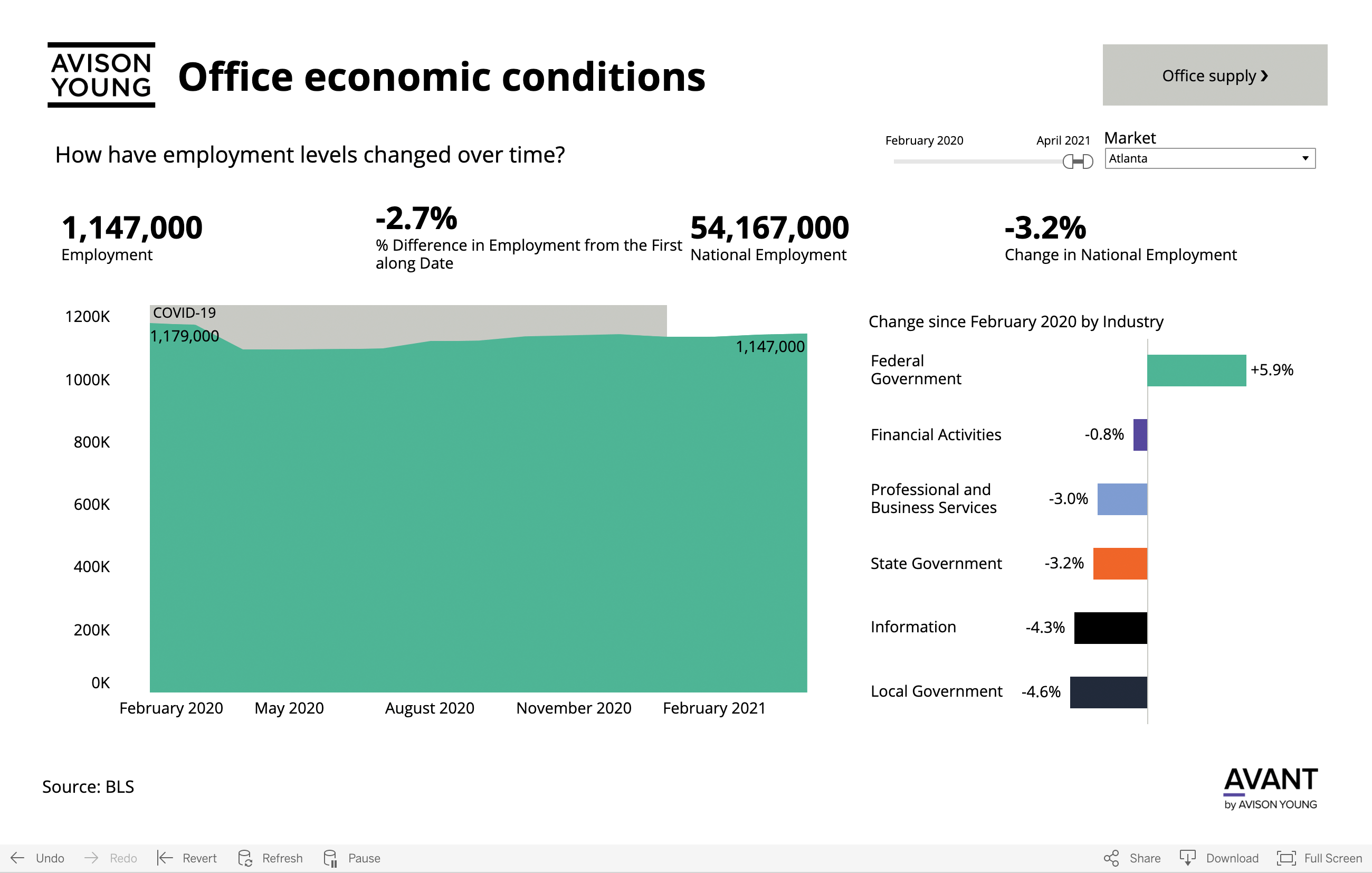 This dashboard is best viewed in a wider browser window.
As the delta variant gave way to omicron, many tenant leasing decisions remained on hold at the end of 2021. Given strong government contract awards, and interest from Big Tech, Northern Virginia is poised to perform strongly if pandemic uncertainty clears up... but that is a big "if."
3.2%
Economic conditions
The Federal Government added 3.2% more jobs since the onset of the pandemic in 2020, yet the federal footprint contracted by 1.8% over the course of 2021.
0.8%
Recovery rate
Office-using employment has increased by 0.8% when compared to pre-pandemic levels, as lingering job losses are accounted for in non-office using sectors such as retail and hospitality.
-38.8%
Office demand
Overall leasing activity has been suppressed throughout the pandemic, currently sitting at -38.8% of the long-term annual average of the last 20 years of historical data.
44.0%
Office supply
While sublease vacancy remains relatively low (1.2%), it has increased 44% YoY when compared to 2020.
0.4%
Pricing trends
Base rents have remained flat, rising only 0.4% since the start of 2021, though this is not purely a pandemic-related trend as rents have been stagnant over the past five years.
$2.3B
Capital markets
Northern Virginia office investment activity surged to $2.3B in 2021, a 17% YoY increase, showing that there is still strong interest in the overall market despite pandemic-related challenges.
Your source for the latest Northern Virginia office market reports
Get in-depth office market reports and insights from commercial real estate experts in the Washington, DC Metro area. Avison Young advisors look at Northern Virginia commercial real estate activities and the latest Northern Virginia statistics to provide you expert market research on Northern Virginia's office properties.
Explore different topics like the latest office market pricing trends and analysis of Northern Virginia's current office real estate market conditions. Gain a better understanding of Northern Virginia's office real estate outlook and stay ahead of current office space trends. Make smart decisions when it comes to investing in office properties in Northern Virginia's competitive office real estate market. Avison Young is your trusted source for commercial real estate office market insights in Northern Virginia.
The dashboard was delivered through AVANT by Avison Young: leveraging real-time data and analytics to make cities and location-based decisions more transparent and efficient. Learn more about AVANT.
Get the latest Northern Virginia office market reports right in your inbox