Northern Virginia office market reports
2Q 2021 Northern Virginia Office Insight Report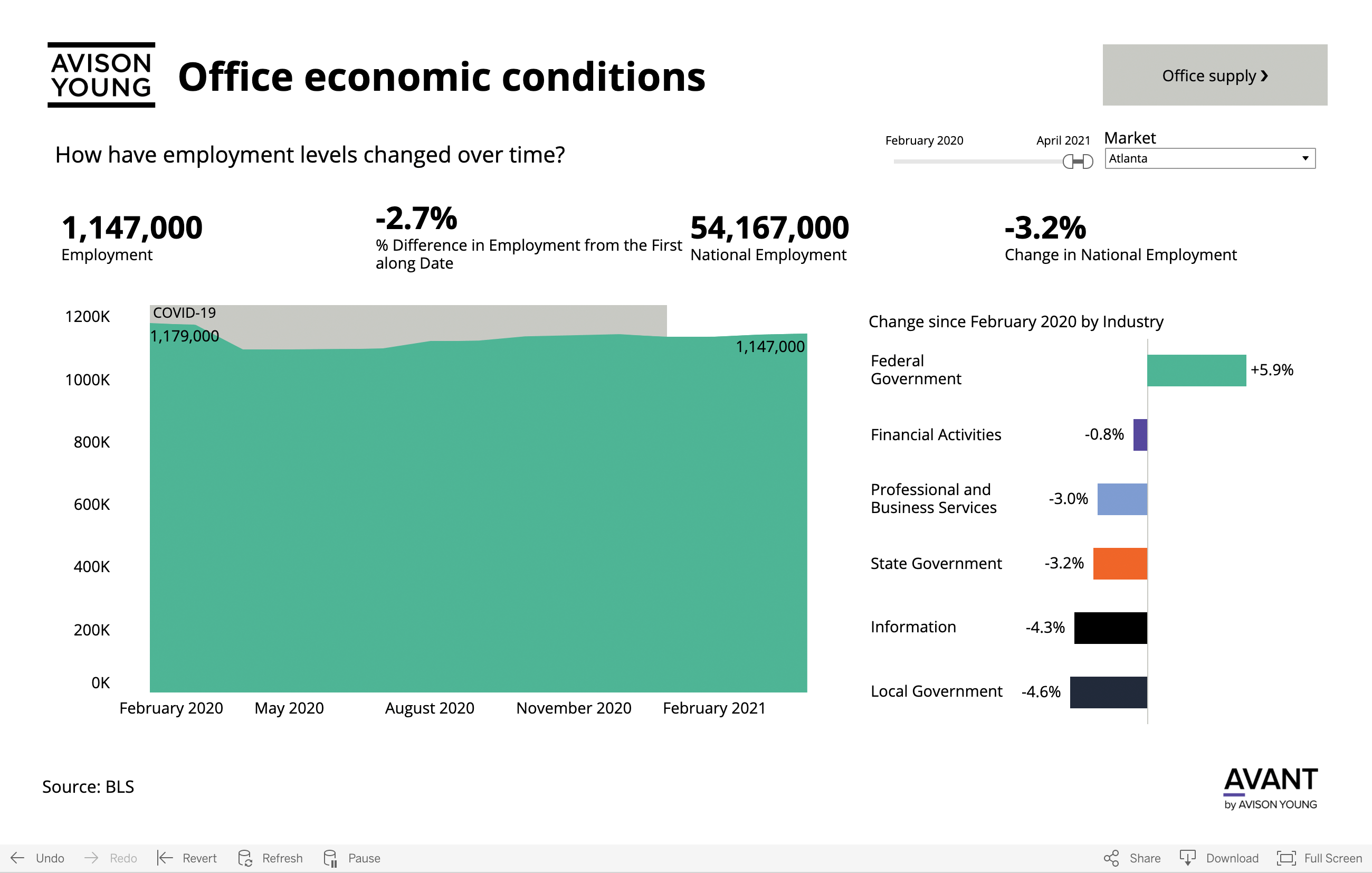 This dashboard is best viewed in a wider browser window.
In past economic downturns, Northern Virginia has proven highly resilient thanks to a tenant base of mission-critical government contractors and high-credit tenants. However, the COVID-19 pandemic forced companies out of their office space regardless of their financial health, driving record office vacancy despite minimal impact on employment in office-using sectors. While this market has strong and reliable drivers of growth in the long term, those drivers may be dampened in the near term as each tenant rethinks the way in which it consumes office space.
0.5%
Economic conditions
Office-using jobs have only declined by 0.5 percent compared with 3.6 percent across all sectors, underscoring the resilience of the office sector and the vulnerability of discretionary segments of the economy.
48.7%
Recovery rate
Activity across the region at workplaces, shopping centers, universities, and other areas of interest is 48.7 percent of pre-COVID levels, as measured by extrapolated cell phone location data.
10.6%
Office demand
The average office lease term length has begun to recover after falling 10.6 percent at the onset of the pandemic.
121%
Office supply
Vacant sublease space increased by 121% since the end of 2019 but remains below the levels seen in either of the past two economic downturns.
20.0%
Pricing trends
Average concessions have risen sharply since February 2020, with both the average free rent period and average TI allowance up more than 20.0 percent.
41.3%
Capital markets
Value-add sales have continued to account for an increasing share of Northern Virginia's sale activity and have made up 41.3 percent of dollar volume in 2020-2021.
Your source for the latest Northern Virginia office market reports
Get in-depth office market reports and insights from commercial real estate experts in the Washington, DC Metro area. Avison Young advisors look at Northern Virginia commercial real estate activities and the latest Northern Virginia statistics to provide you expert market research on Northern Virginia's office properties.
Explore different topics like the latest office market pricing trends and analysis of Northern Virginia's current office real estate market conditions. Gain a better understanding of Northern Virginia's office real estate outlook and stay ahead of current office space trends. Make smart decisions when it comes to investing in office properties in Northern Virginia's competitive office real estate market. Avison Young is your trusted source for commercial real estate office market insights in Northern Virginia.
The dashboard was delivered through AVANT by Avison Young: leveraging real-time data and analytics to make cities and location-based decisions more transparent and efficient. Learn more about AVANT.
Get the latest Northern Virginia office market reports right in your inbox