Washington, DC office market reports
Q4 2021 Washington, DC office market report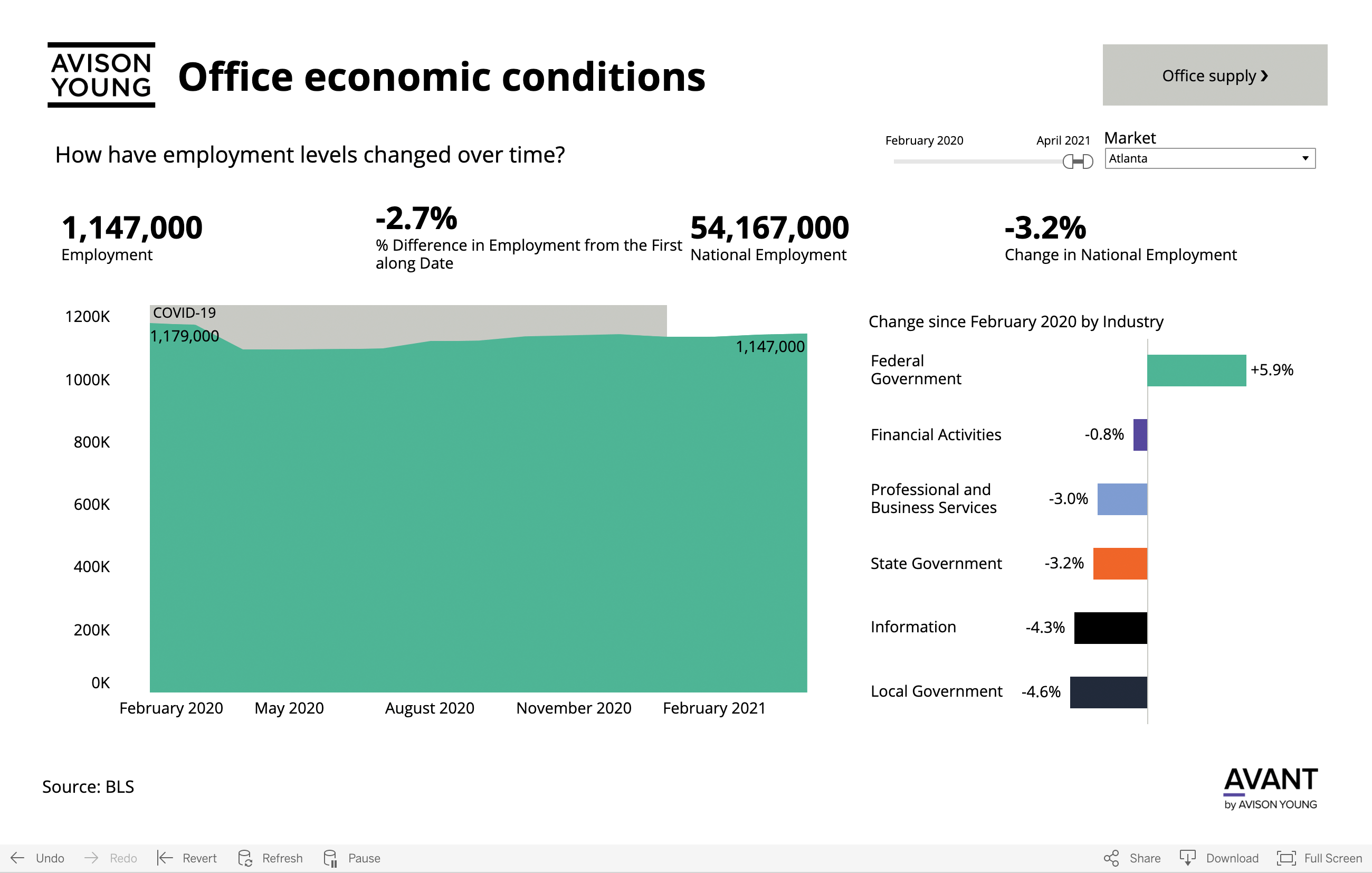 This dashboard is best viewed in a wider browser window.
DC remains a tenant's market heading into 2022 with record-high concessions and total vacancy during Q4 2021. While tour activity has picked up, it has not translated to new deals, as return-to-work efforts are postponed due to COVID-19 variants and companies invest in remote workplace solutions. Absorption as a share of office inventory declined into negative territory for the second consecutive year, giving back 1.37msf; the first time this has happened in the past two decades.
5.2%
Economic conditions
Essential and government workers accounted for 2.8% of total jobs gained since February 2021 which helped push unemployment figures down to 5.2% for the city.
0.8%
Recovery rate
Despite the slow return to office metrics, companies are adding jobs remotely with the total workforce growing by 0.8% since the beginning of the pandemic.
-3.16%
Office demand
DC's average lease size is down 3.16% when compared to the five years prior to COVID, flight to quality has persisted, and tenants have often opted to take less space in higher class buildings.
28.6%
Office supply
The total availability rate is 28.6% higher for 2021 when compared to the average over the prior five-year period, 22.96 msf - an indication vacancies are not closer to their peak.
7.1%
Pricing trends
Tenant-friendly market conditions are supported by record free rent and tenant improvements with escalations for total allowances rising 7.1% since the beginning of 2021.
$2.68B
Capital markets
DC office investment activity retreats to $2.68B, the lowest since 2017, as investors are attracted to the sector fundamentals outside of DC - largely in emerging markets outside the region.
Your source for the latest Washington, DC office market reports
Get in-depth office market reports and insights from commercial real estate experts in the Washington DC Metro area. Avison Young advisors look at Washington, DC commercial real estate activities and the latest Washington, DC statistics to provide you expert market research on Washington DC's office properties.
Explore different topics like the latest office market pricing trends and analysis of Washington DC's current office real estate market conditions. Gain a better understanding of Washington DC's office real estate outlook and stay ahead of current office space trends. Make smart decisions when it comes to investing in office properties in Washington DC's competitive office real estate market. Avison Young is your trusted source for commercial real estate office market insights in Washington, DC.
The dashboard was delivered through AVANT by Avison Young: leveraging real-time data and analytics to make cities and location-based decisions more transparent and efficient. Learn more about AVANT.
Get the latest Washington, DC office market reports right in your inbox