Washington, DC office market reports
2Q 2021 Washington, DC Office Insight Report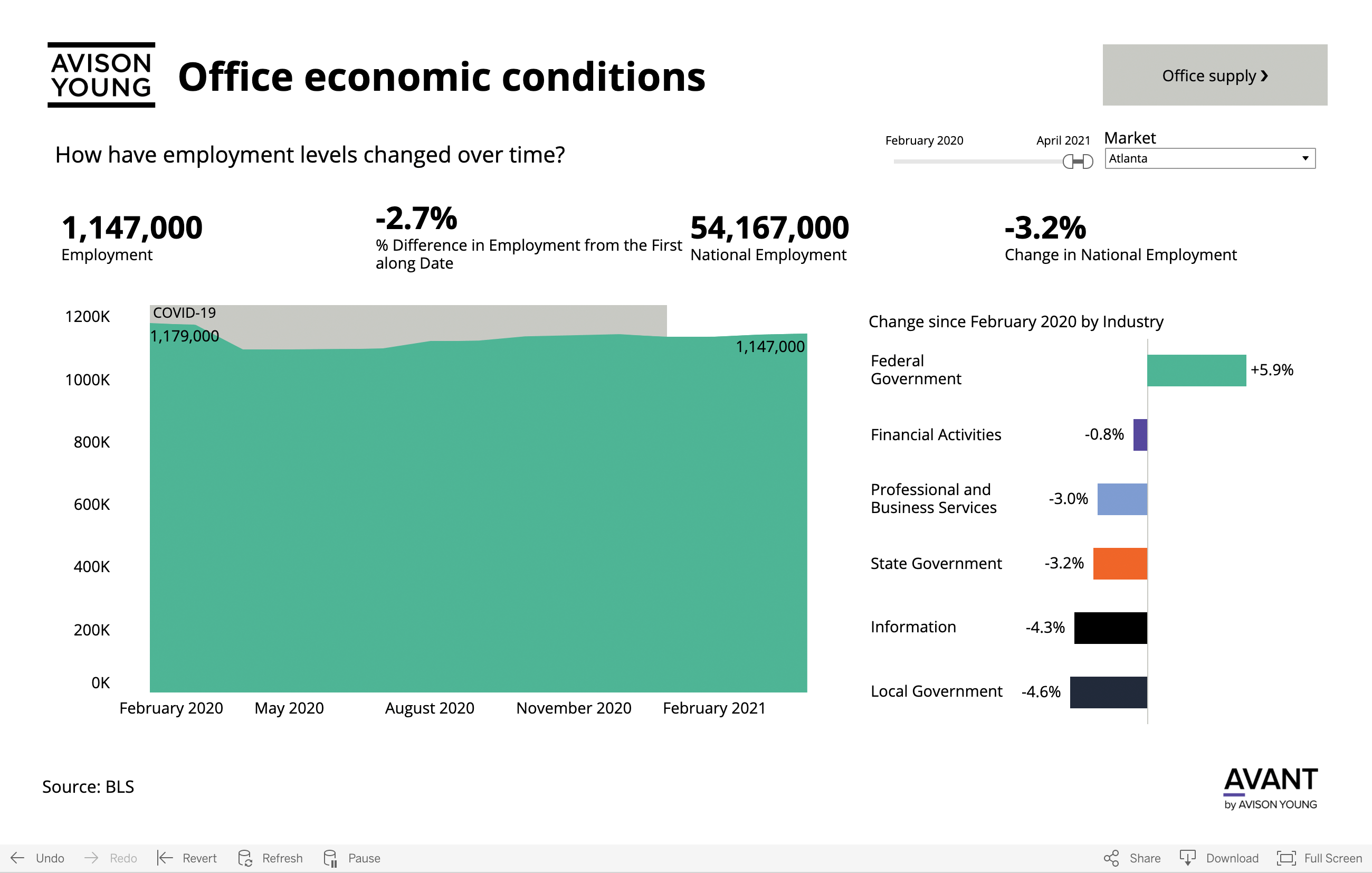 This dashboard is best viewed in a wider browser window.
Despite a strong vaccination rollout and employment gains in recent months, office market conditions in Washington, DC remain severely challenged. With only a third of office employees returning to the office in comparison to pre-COVID levels, office employers are hesitant to commit to leases, leaving landlords competing aggressively for a shrinking pool of tenants.
6.6%
Economic conditions
Reopening efforts and higher vaccination rates have allowed the DC unemployment rate to rebound from a high of 10.6 percent to 6.6 percent.
48.7%
Recovery Rate
Activity across the region at workplaces, shopping centers, universities, and other areas of interest is 48.7 percent of pre-COVID levels, as measured by extrapolated cell phone location data.
48.0%
Office demand
While many of the city's cost-conscious occupiers, such as nonprofits, were sidelined during the pandemic, the federal government continued to transact and accounted for 48.0 percent of Class B and C office leasing post-COVID.
14.2%
Office supply
Direct and sublease vacancy have achieved all-time highs, totaling 14.2 percent.
9.8%
Pricing trends
Net effective rents decreased by 9.8 percent from peak-to-trough as landlords competed for a dwindling pool of tenants via high concessions rather than reduced base rents.
80.2%
Capital Markets
While value-add purchases had been on the rise for years prior to 2020, pandemic-driven uncertainty has pushed investors back toward safer, long-term-stabilized core investments, which accounted for 80.2 percent of sale volume in 2020-2021.
Your source for the latest Washington, DC office market reports
Get in-depth office market reports and insights from commercial real estate experts in the Washington DC Metro area. Avison Young advisors look at Washington, DC commercial real estate activities and the latest Washington, DC statistics to provide you expert market research on Washington DC's office properties.
Explore different topics like the latest office market pricing trends and analysis of Washington DC's current office real estate market conditions. Gain a better understanding of Washington DC's office real estate outlook and stay ahead of current office space trends. Make smart decisions when it comes to investing in office properties in Washington DC's competitive office real estate market. Avison Young is your trusted source for commercial real estate office market insights in Washington, DC.
The dashboard was delivered through AVANT by Avison Young: leveraging real-time data and analytics to make cities and location-based decisions more transparent and efficient. Learn more about AVANT.
Get the latest Washington, DC office market reports right in your inbox