Suburban Maryland office market reports
Q4 2021 Suburban Maryland office market report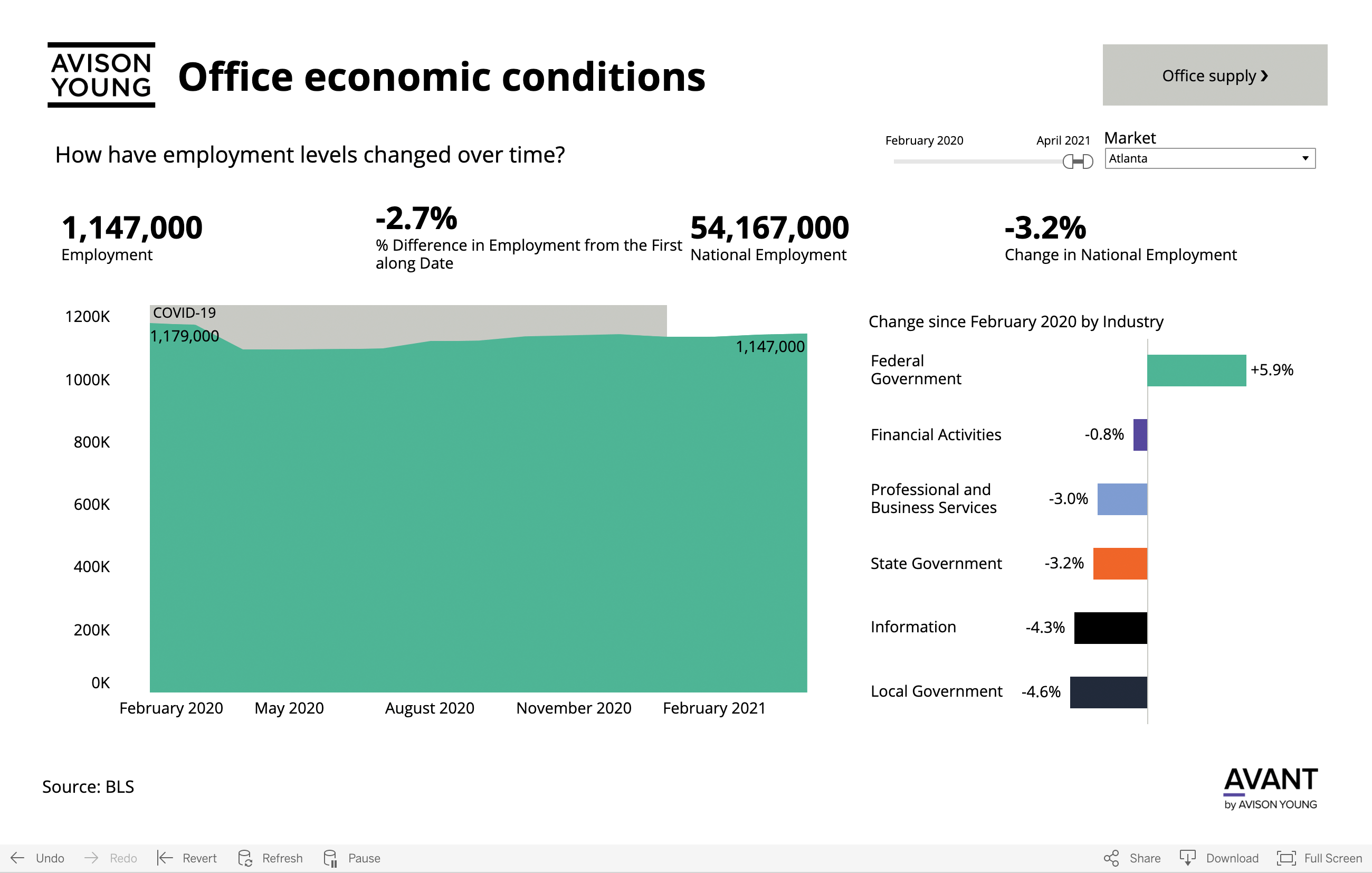 This dashboard is best viewed in a wider browser window.
Largely attributed to the pandemic, and a suburban workforce slow to return to the office, Suburban Maryland is experiencing an all-time low in leasing activity and record-high vacancies. While there are still signs of recovery, is this trend going to continue into 2022?
5.1%
Economic conditions
The unemployment rate stands at 5.1% after reaching a peak of 9.3%. This is still higher than the historic lows hovering around 3% prior to the pandemic.
34.9%
Recovery rate
Total visitor volume for Metro DC is 34.9% below the level in March 2, 2020. Office visitor volume is down 63%, lagging all other property types.
0.1%
Office demand
Net absorption totals +0.1%, turning positive for the year, after experiencing recent declines in back-to-back years.
16.0%
Office supply
The fourth-quarter 2021 total vacancy rate of 16.0% is a record-high annual figure.
2.6%
Pricing trends
The 2021 average base rent of $27.62 psf is up 2.6% year-over-year, belying the fact that net effective rates are down due to elevated concession packages.
21.5%
Capital markets
Pricing increased in 2021 by 21.5% year-over-year to about $237 psf, largely attributed to higher levels of investor interest in medical office space.
Your source for the latest Suburban Maryland office market reports
Get in-depth office market reports and insights from commercial real estate experts in the Washington, DC Metro area. Avison Young advisors look at Suburban Maryland commercial real estate activities and the latest Suburban Maryland statistics to provide you expert market research on Suburban Maryland's office properties.
Explore different topics like the latest office market pricing trends and analysis of Suburban Maryland's current office real estate market conditions. Gain a better understanding of Suburban Maryland's office real estate outlook and stay ahead of current office space trends. Make smart decisions when it comes to investing in office properties in Suburban Maryland's competitive office real estate market. Avison Young is your trusted source for commercial real estate office market insights in Suburban Maryland.
The dashboard was delivered through AVANT by Avison Young: leveraging real-time data and analytics to make cities and location-based decisions more transparent and efficient. Learn more about AVANT.
Get the latest Suburban Maryland office market reports right in your inbox