Suburban Maryland office market reports
2Q 2021 Suburban Maryland Office Insight Report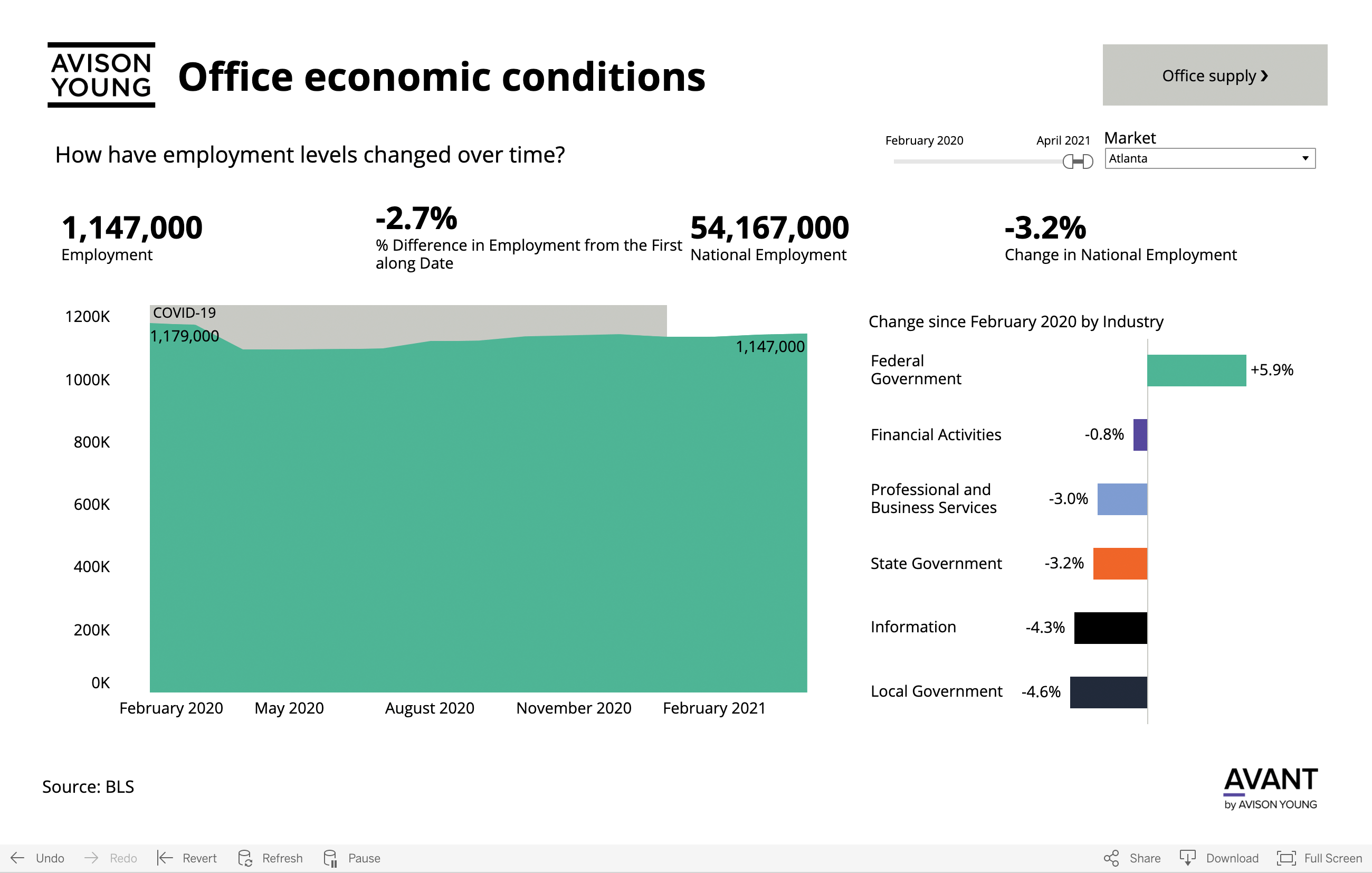 This dashboard is best viewed in a wider browser window.
While economic and office reopenings are underway, Suburban Maryland's office market fundamentals remained soft in the second quarter of 2021, with total and direct vacancy reaching record highs. The amount of vacant sublease space increased to the highest level in more than a decade, but it did not exceed the figures recorded in past recessions. The pause in leasing activity persisted, and although tour activity is picking up, leases are not being signed quickly as some tenants are still determining their long-term space needs.
6.1%
Economic conditions
Reopening efforts and higher vaccination rates have allowed the Suburban Maryland unemployment rate to rebound from a high of 9.1 percent to 6.1 percent.
33.3%
Recovery rate
Regional office activity over the past six weeks was 33.3 percent of what it was in the six weeks before COVID-19 lockdown, lagging the rate of overall activity.
48.6%
Office demand
Renewals have become more common, accounting for 48.6 percent of post-COVID activity.
1.1 msf
Office supply
While the amount of vacant sublease space has increased to 1.1 msf, the highest level since 2009, it has not surpassed the figures posted in past recessions.
3.5%
Pricing trends
Class A office base rents decreased by 3.5 percent in 2020, but have edged up again for a 0.5 percent net increase between 2019 and 2021.
3.8%
Capital markets
Asset pricing has softened by 3.8 percent since 2019, as investors have adopted more conservative underwriting approaches.
Your source for the latest Suburban Maryland office market reports
Get in-depth office market reports and insights from commercial real estate experts in the Washington, DC Metro area. Avison Young advisors look at Suburban Maryland commercial real estate activities and the latest Suburban Maryland statistics to provide you expert market research on Suburban Maryland's office properties.
Explore different topics like the latest office market pricing trends and analysis of Suburban Maryland's current office real estate market conditions. Gain a better understanding of Suburban Maryland's office real estate outlook and stay ahead of current office space trends. Make smart decisions when it comes to investing in office properties in Suburban Maryland's competitive office real estate market. Avison Young is your trusted source for commercial real estate office market insights in Suburban Maryland.
The dashboard was delivered through AVANT by Avison Young: leveraging real-time data and analytics to make cities and location-based decisions more transparent and efficient. Learn more about AVANT.
Get the latest Suburban Maryland office market reports right in your inbox