West Palm Beach industrial real estate market reports
Industrial insights Q2 2021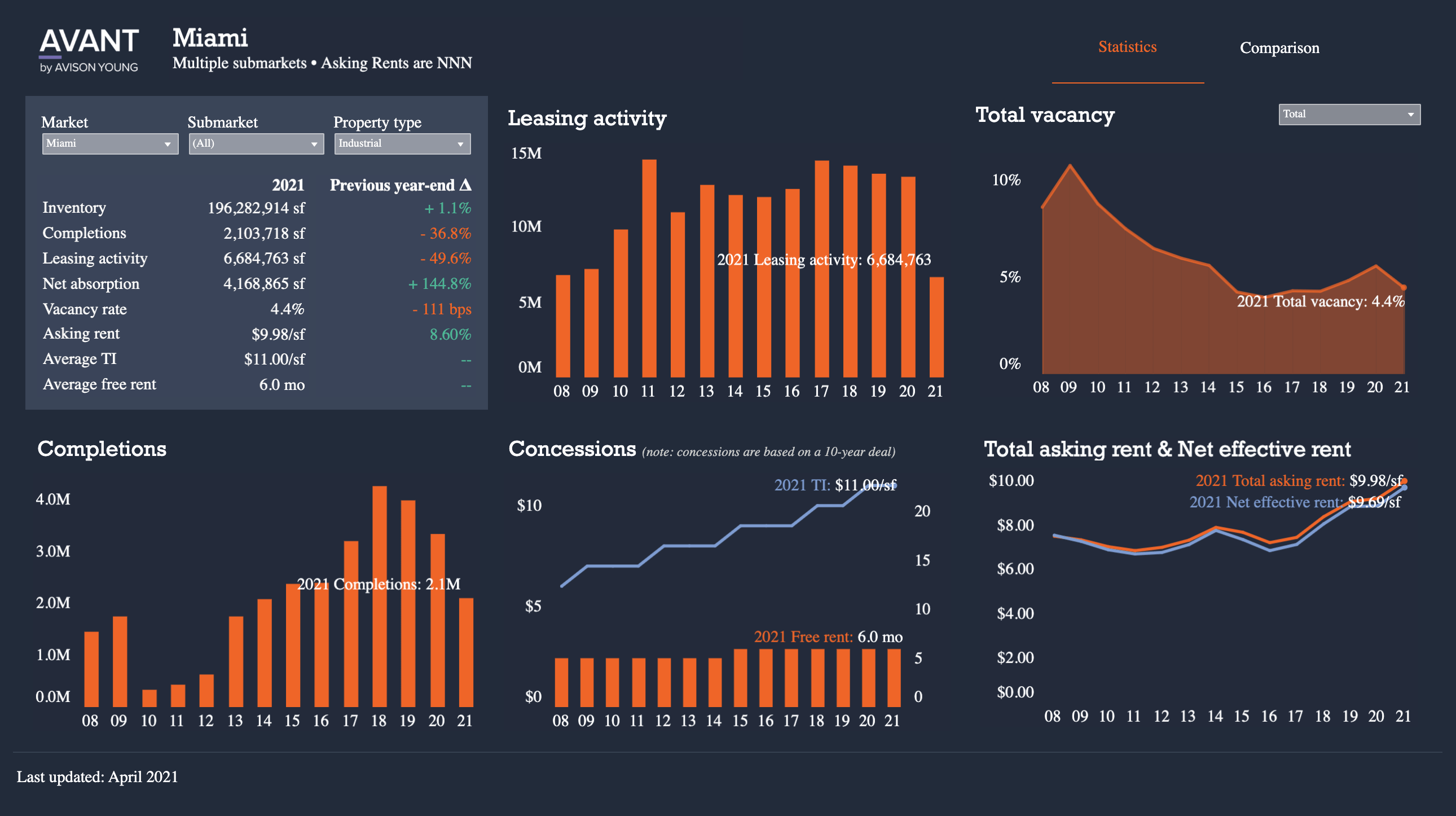 This dashboard is best viewed in a wider browser window.
E-commerce continues to have an impact on the West Palm Beach market and the dwindling availability of quality class A distribution space is creating heightened occupier demand. Absorption through mid-year has been solid and is indicative of healthy overall fundamentals.
5.7%
Economic Conditions
South Florida's current unemployment rate, aided by the steady employment of essential workers, a logistics hub and a sharp but entrenched rise in e-commerce spending.
#4
Recovery Rate
The Port of Palm Beach's ranking among Florida's 15 deep water ports. Primarily an export port and an economic engine for Palm Beach County, it's the 18th busiest container port in the United States.
58%
Industrial Demand
The amount of leasing activity recorded so far during 2021 compared to all leasing volume during 2020, indicating healthy demand and strong sector fundamentals. Activity is expected to accelerate through the end of 2021.
5.4%
Industrial Supply
Total vacancy in West Palm Beach, the lowest rate since 2019. As logistics requirements and e-commerce needs forge ahead in South Florida, developers continue to search for prime sites to stay ahead of demand.
12.8%
Pricing Trends
The increase in base rents since the start of the pandemic, which have generally remained on an upward trajectory for the last decade.
5.2%
Capital Markets
Total decline in industrial investment asset pricing since the beginning of the pandemic, due in part to fewer opportunities being marketed and is not indicative of a softening trend in pricing.
Your source for the latest West Palm Beach industrial real estate reports
Stay on top of current trends affecting the industrial real estate sector in West Palm Beach. Gain an overall better understanding of West Palm Beach's industrial real estate market conditions, so you can better formulate strategies to overcome any obstacle and know how to best invest in industrial real estate in West Palm Beach.
Here, you'll always find the latest industrial real estate market news so you can stay ahead. Come back often to see expert insights on the current and future of West Palm Beach's industrial real estate market.
Get the latest West Palm Beach industrial market reports right in your inbox