West Palm Beach office market reports
Q3 2021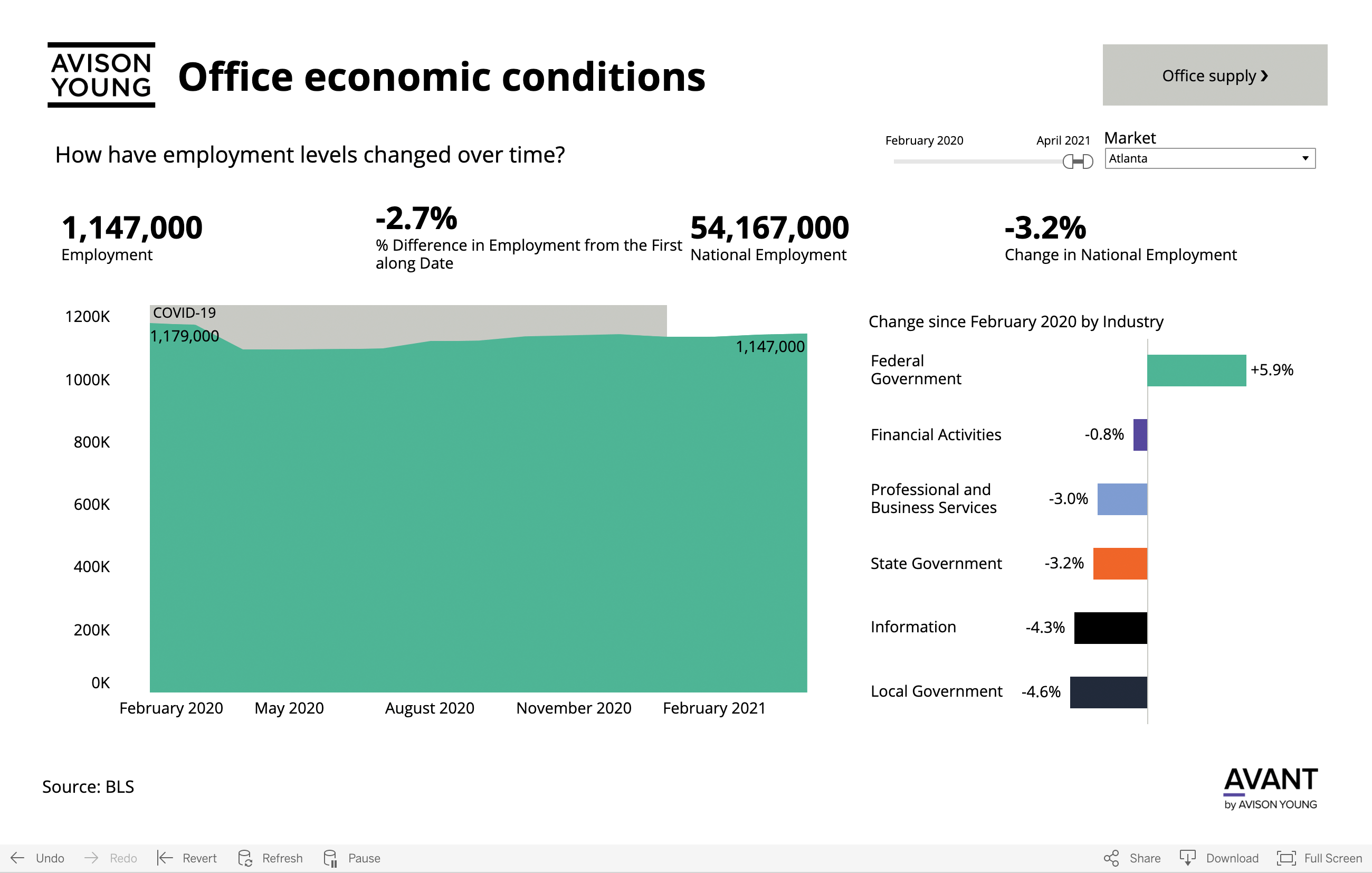 This dashboard is best viewed in a wider browser window.
Of the South Florida markets, West Palm Beach has been the least negatively impacted by the pandemic. Overall vacancy experienced a significant decline during the third quarter and strong interest from financial firms in the Northeast has boosted leasing fundamentals in the CBD. Positive absorption is expected to continue throughout the remainder of the year.
5.6%
Economic conditions
South Florida's economy showed continued resiliency with the unemployment rate declining to 5.6% as of July 2021, a substantial drop from 13.7% in May 2020.
7.0%
Recovery rate
Florida's GDP has grown by 7.0% as of the most recently released data from the U.S. Bureau of Economic Analysis, placing it among the top 10 states in the U.S. with the strongest GDP growth.
25.9%
Office demand
Banking and finance tenants have accounted for 25.9% of all post-COVID leasing activity. Biotech and life science tenants were the second largest group accounting for 18.8% of activity.
13.9%
Office supply
Overall vacancy in West Palm Beach began to decline substantially in 3Q21. Vacancy fell below pre-COVID levels to 13.9%, a 140 basis-point decrease from year-end 2020 and the lowest point since year-end 2018.
11.2%
Pricing trends
Base rents have increased by an impressive 11.2% since year-end 2019 as landlords in the CBD continue to raise rates in class A buildings, flowing the uptick in activity from new-to market tenants in the banking and finance industries who are accustomed to paying a premium on rents.
14.2%
Capital markets
Asset pricing has grown by 14.2% from November 2019 to present due to several key trades of trophy assets in the CBD throughout 2021.
Your source for the latest West Palm Beach office market reports
Get in-depth office market reports from commercial real estate experts in the Greater West Palm Beach area. Avison Young advisors look at West Palm Beach commercial real estate activities and the latest West Palm Beach statistics to provide you expert market research on West Palm Beach's office properties.
Explore different topics like the latest office market pricing trends and analysis of West Palm Beach's current office real estate market conditions. Gain a better understanding of West Palm Beach's office real estate outlook and stay ahead of current office space trends. Make smart decisions when it comes to investing in office properties in West Palm Beach's competitive office real estate market. Avison Young is your trusted source for commercial real estate office market insights in West Palm Beach.
The dashboard was delivered through AVANT by Avison Young: leveraging real-time data and analytics to make cities and location-based decisions more transparent and efficient. Learn more about AVANT.
Get the latest West Palm Beach office market reports right in your inbox