Las Vegas office market reports
Q3 2021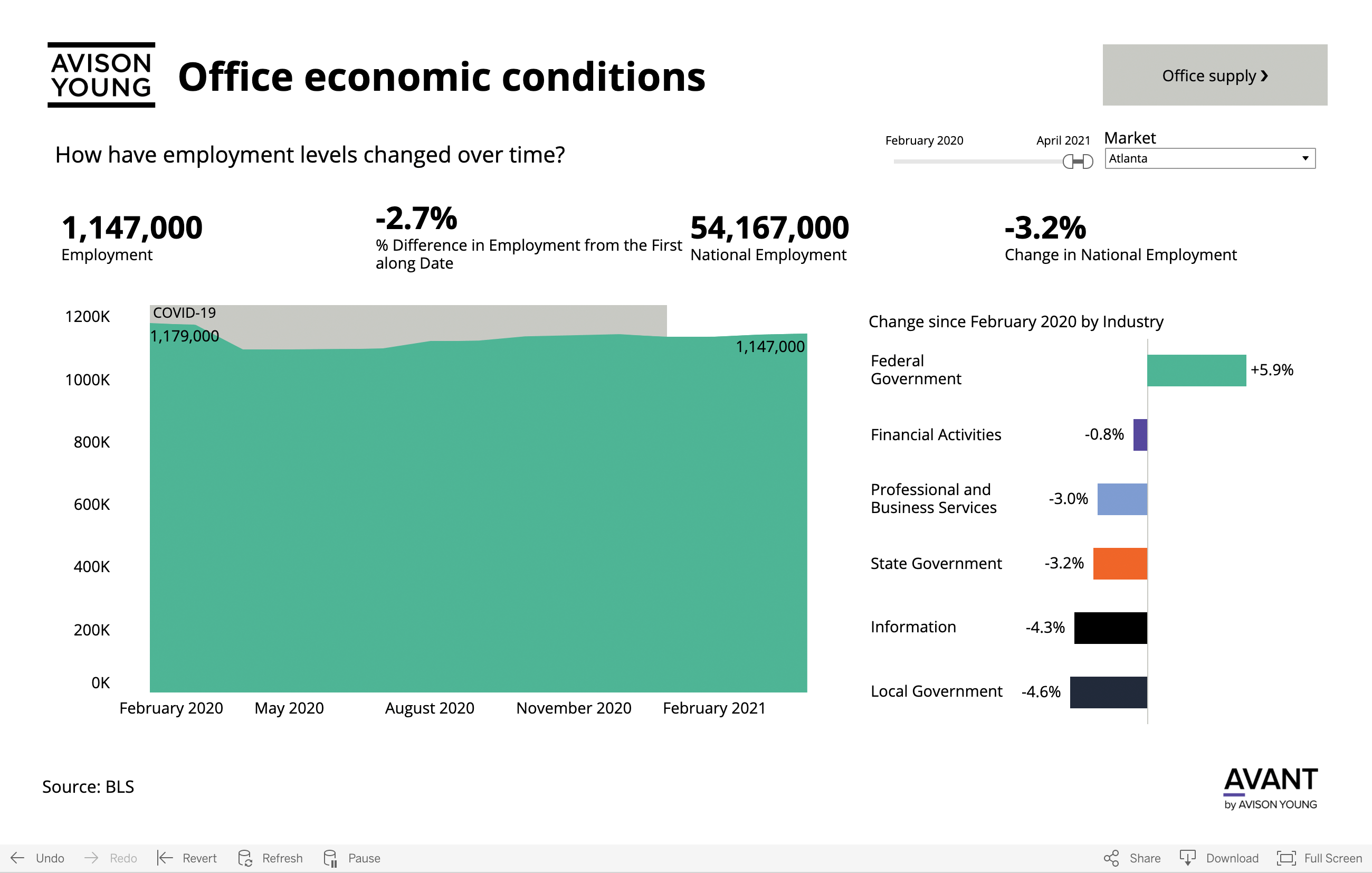 This dashboard is best viewed in a wider browser window.
The Las Vegas labor market has improved relative to 2020, but unemployment rates are still elevated relative to recent pre-pandemic rates. Despite the challenges that the pandemic has brought to Vegas there were some notable areas of strength as well. Net absorption has been positive throughout the pandemic with a 0.2% absorption rate since 2020. The total vacancy rate declined quarter-over-quarter and is only marginally higher than levels seen in the years leading up to 2020. Looking ahead, the state of tourism and return to in person work will be key drivers to watch for an expedited recovery.
9.3%
Economic conditions
The unemployment rate of 9.3% is high relative to many US markets, but this is largely due to the dependency on tourism in the region. Las Vegas had an unemployment rate of just 3.6% in February 2020.
$794M
Recovery rate
July's $794 million in monthly gambling revenues was a record for Las Vegas. Relative to July 2019 gaming revenues were up an impressive 46.2%.
2.8msf
Demand
Pro-rated office leasing activity for 2021 is 2.8msf. This amount of activity trails the average annual leasing activity in the 2010's by 13.4%.
15.5%
Supply
Direct and sublease vacancies totaled 15.5% of total supply in Q3 2021. The Q3 vacancy rate is only slightly higher than the rate from 2017-2019, which was 14.8% on average.
5.0%
Pricing trends
Net effective rents have risen by 5.0% year-to-date. Rents have not been this high since 2008, as rents dropped in the wake of the Global Financial Crisis.
$450M
Capital markets
Through Q3 of 2021 there have been $450M in transactions, trailing the total investment level in 2020 by $18M. Q4 has historically been a strong quarter for capital market activity, which should further bolster the investment level in capital markets to end the year.
Your source for the latest Las Vegas office market reports
Get in-depth office market reports and insights from commercial real estate experts in the Greater Las Vegas area. Avison Young advisors look at Nevada's commercial real estate activities and the latest Las Vegas statistics to provide you expert market research on the area's office properties.
Explore different topics like the latest office market pricing trends and analysis of Las Vegas's current office real estate market conditions. Gain a better understanding of the city's office real estate outlook and stay ahead of current office space trends. Make smart decisions when it comes to investing in office properties in Las Vegas's competitive office real estate market. Avison Young is your trusted source for commercial real estate office market insights in Las Vegas.
The dashboard was delivered through AVANT by Avison Young: leveraging real-time data and analytics to make cities and location-based decisions more transparent and efficient. Learn more about AVANT.
Get the latest Las Vegas office market reports right in your inbox