Suburban Chicago office market reports
Q2 2021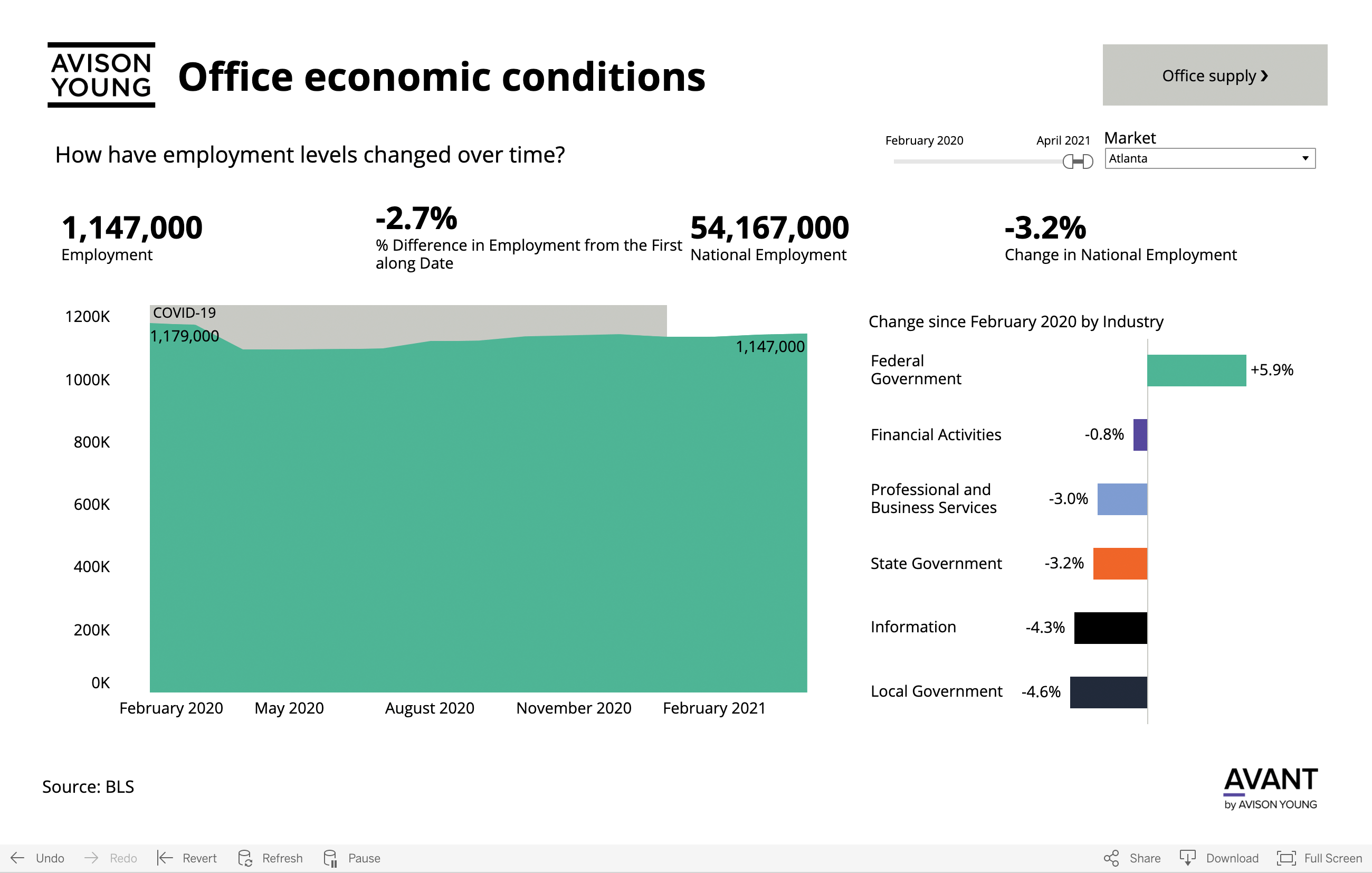 This dashboard is best viewed in a wider browser window.
COVID-19 has not spared the Chicago Suburbs in its effects on the regions office market. However, certain quantitative signs unique to this market point to a change in the market following a historic low. Suburban vaccination rates topple national averages, led by DuPage county sitting at 50.2% of its entire population being fully vaccinated. While Chicago MSA job losses have declined by -6.3%, office-using labor has only -4.1% change in employment. While still unfolding, total leasing activity by year's end is projected to top levels seen since 2017 at 9.2M sf. Many companies and industries are still understanding what returning to the office means for them. But high vaccination rates, a relatively stable labor market, and promising leasing activity, a physical office presence may play a significant role in that answer.
7.5%
Economic conditions
Reopening efforts and higher vaccination rates have allowed the Chicago Metro unemployment rate to rebound from a high of 16.5 percent to 7.5 percent.
4.1%
Office-using job gains and losses
Office-using job losses in have totaled 4.1 percent compared with 7.6 percent for other industries' job losses, underscoring the disproportionate impact the pandemic had on the discretionary segments of the local economy.
50.2%
Vaccination rate
Vaccination rates in DuPage County have reached 50.2 percent, significantly higher than the national average.
35.7%
Recovery rate
The overall post-COVID rate of recovery based on extrapolated cell phone data for the City of Chicago is 35.7 percent.
9.2 MSF
Leasing activity
While leasing activity has slowed, pro-rated activity volume for 2021 is projected to pass 9.2 MSF, levels not seen since 2017.
18.1%
Vacancy rate
Vacancy was recorded at 18.1 percent at the end of the second quarter 2021, up 230 basis points from pre-pandemic levels.
Your source for the latest Chicago Suburban office market reports
Get in-depth office market reports and insights from commercial real estate experts in the Greater Chicago Suburban area. Avison Young advisors look at Chicago Suburban commercial real estate activities and the latest Chicago Suburban statistics to provide you expert market research on Chicago Suburban's office properties.
Explore different topics like the latest office market pricing trends and analysis of Chicago Suburban's current office real estate market conditions. Gain a better understanding of Chicago Suburban's office real estate outlook and stay ahead of current office space trends. Make smart decisions when it comes to investing in office properties in Chicago Suburban's competitive office real estate market. Avison Young is your trusted source for commercial real estate office market insights in Chicago Suburban.
The dashboard was delivered through AVANT by Avison Young: leveraging real-time data and analytics to make cities and location-based decisions more transparent and efficient. Learn more about AVANT.
Get the latest Chicago Suburban office market reports right in your inbox