New York office market reports
Q3 2021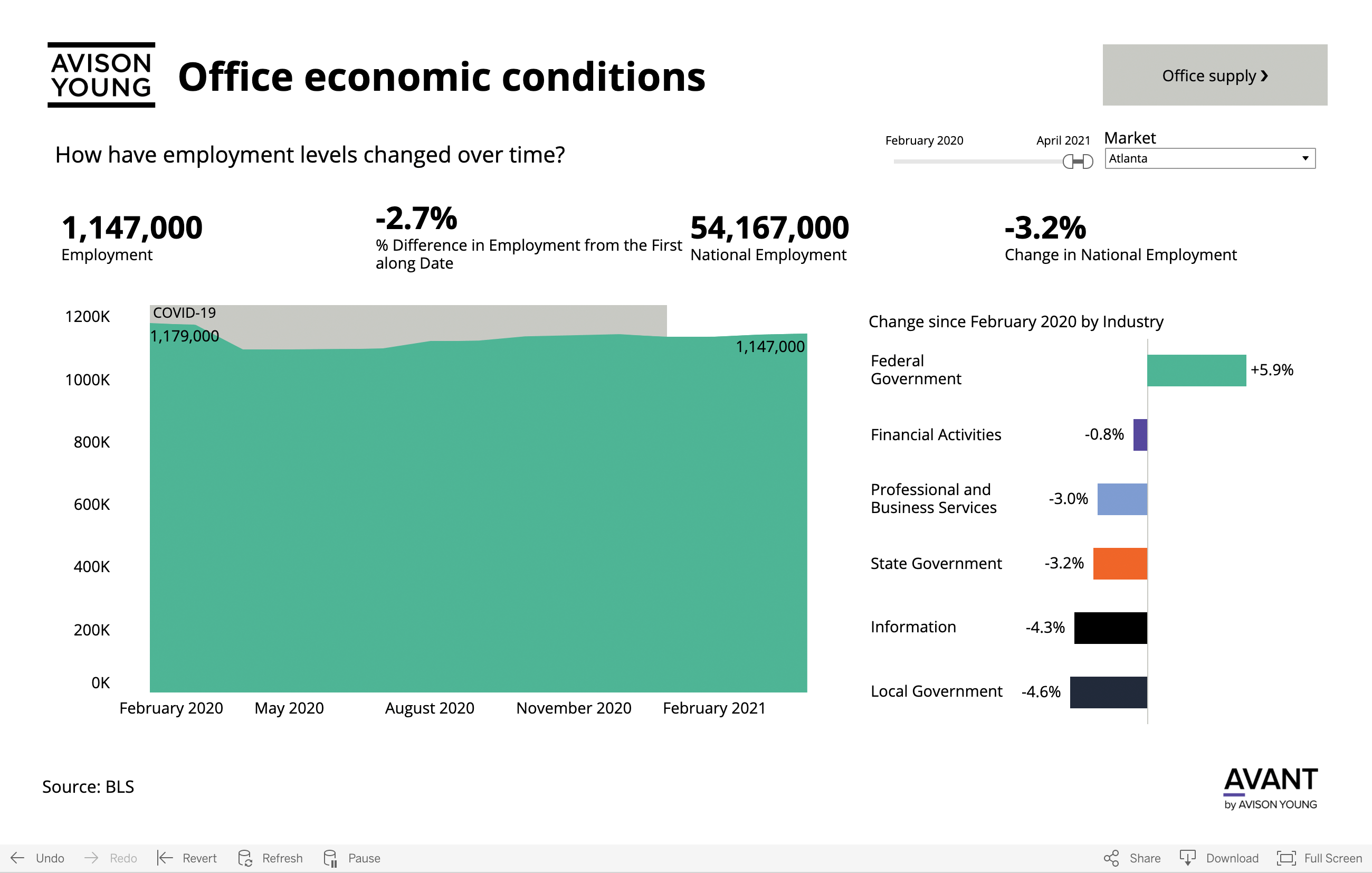 This dashboard is best viewed in a wider browser window.
Post-Labor Day return-to-work efforts remain below pre-COVID levels even as other areas of the city become more active, impeding office leasing demand. Some tenants have capitalized on these market conditions, inking long-term commitments at high-quality office properties, causing leasing activity to improve on Q1 and Q2 2021 levels.
7.8%
Economic conditions
The Manhattan unemployment rate of 7.8% nearly equals the average unemployment rate for the five-year period following the Great Recession.
-70.9%
Recovery rate
There is a significant dichotomy between Manhattan return-to-work efforts and activity levels across other representative areas of interest based on an analysis of cell phone data. Office visitor volumes are -70.0% while healthcare (-3.3%) and education (-11.6%) have largely returned to pre-COVID levels versus the same period in 2019.
7.0 msf
Demand
Closed deals totaled 7.0 msf in Q3 2021, up from a quarterly average of 5.6 msf in Q1 and Q2 2021. Large tenants have traded up when committing to relocations at new properties since April 2020, reinforcing the flight-to-quality trend and the discrepancy in market fundamentals between Trophy properties and other market segments.
18.2%
Supply
Availability rates remain at recent historical highs: the total availability rate of 18.2% represents an increase of 220 basis points compared with year-end 2020.
-9.2%
Pricing trends
Steady base rents and heightened concessions have caused net effective rents to soften, especially in the commodity sector of the market. Class A net effective rents decreased by 9.2%, or from $66.62 psf to $60.51 psf, from 2020 to Q3 2021.
-16.2%
Capital markets
Asset pricing has dipped by 16.2% since 2019, reflecting investors' more conservative underwriting assumptions, an elevated proportionate share of Class B and Class C trades and more leasehold transactions.
Your source for the latest New York office market reports
Get in-depth office market reports and insights from commercial real estate experts in the Greater New York area. Avison Young advisors look at New York commercial real estate activities and the latest New York statistics to provide you expert market research on New York's office properties.
Explore different topics like the latest office market pricing trends and analysis of New York's current office real estate market conditions. Gain a better understanding of New York's office real estate outlook and stay ahead of current office space trends. Make smart decisions when it comes to investing in office properties in New York's competitive office real estate market. Avison Young is your trusted source for commercial real estate office market insights in New York.
The dashboard was delivered through AVANT by Avison Young: leveraging real-time data and analytics to make cities and location-based decisions more transparent and efficient. Learn more about AVANT.
Get the latest New York office market reports right in your inbox