Orange County office market reports
Q3 2021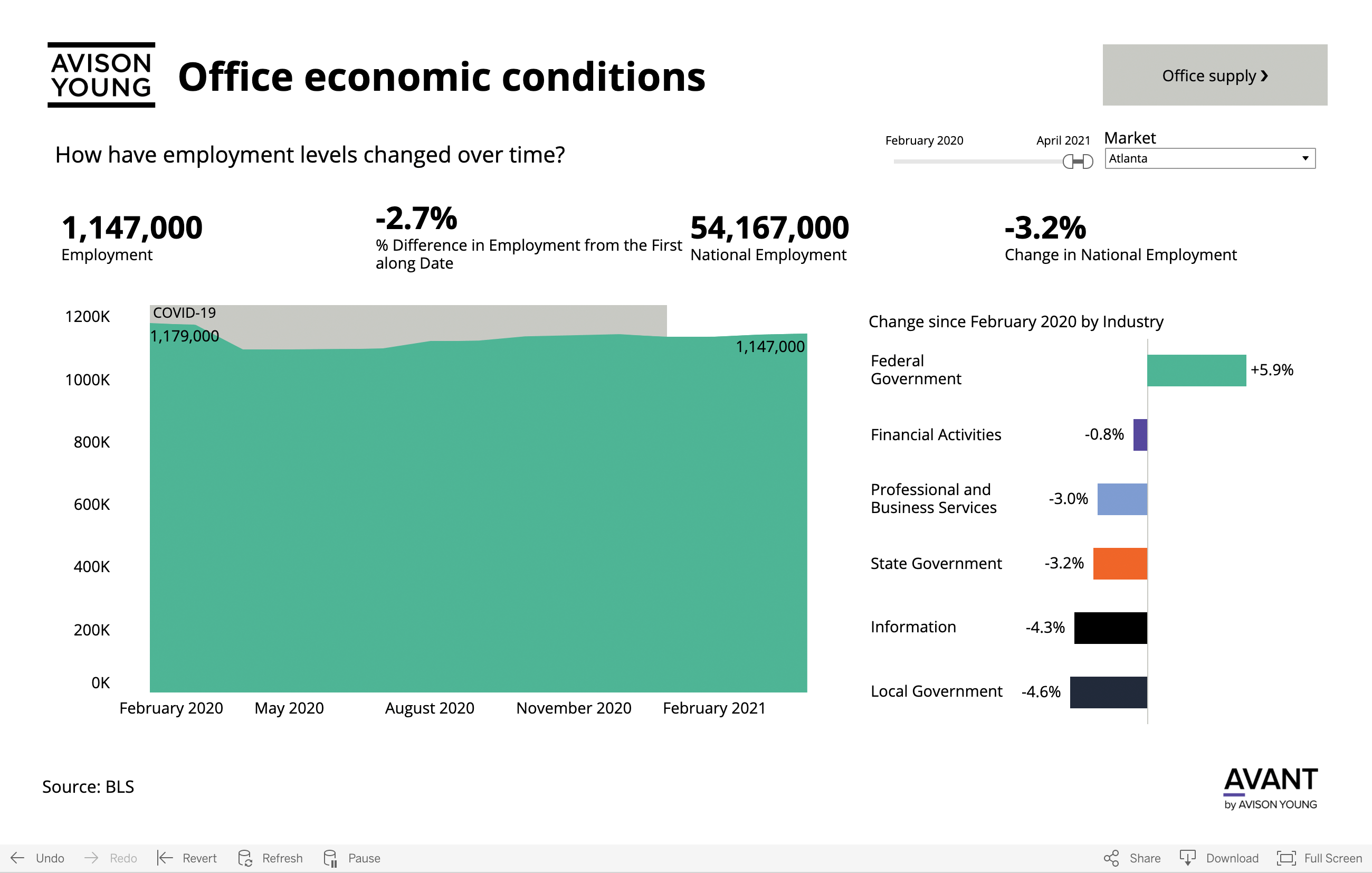 This dashboard is best viewed in a wider browser window.
Orange County's economy is bouncing back demonstrated by compressing unemployment and office-using job additions. Despite the improving labor market, vacancy should continue to rise as companies continue to navigate an evolving return-to-work and work-from-home environment, causing demand to sputter. Major office employers have, and are likely to continue to, shed excess space in Orange County as they have adopted hybrid work strategies. These occupied space contractions should cause supply risk to continue to escalate.
6.3%
Economic conditions
Orange County's unemployment rate has dipped from 7.3 percent in January 2021 to 6.3 percent in July 2021. The local labor market has been less affected by the pandemic than the Great Recession, when the unemployment rate peaked at 10.5 percent.
Office-using employment in Orange County has increased by 4.7 percent in the past twelve months.
30.7%
Office demand
The 2021 pro-rated tally of lease activity is projected to be down 30.7 percent from pre-Covid leasing volumes, this is largely due to the sudden change in office occupiers' future workplace strategies and utilization.
The number of leases year-to-date has increased by 5.2 percent from the same period one year prior but remains 35.0 percent lower than 2019 levels.
13.6%
Office supply
The total vacancy in Orange County was 13.6 percent in the third quarter of 2021, slightly higher than the previous quarter of 13.5 percent and above its twenty-year historical average of 12.1 percent.

The quarter-over-quarter sublease availability rate decreased for the first time following six-quarters of sublease additions. In the third quarter, 200,000 square feet of sublease space was absorbed.
4.2%
Pricing trends
Base rents have decreased by 4.3 percent from 2019 to 2021. The year-to-date decrease in base rents of $0.84 psf is attributable to tenant-favorable market conditions, especially in the Class A market segment.
9.4%
Capital markets
Asset pricing has dipped by 9.4 percent since 2020, reflecting investors' uncertainty when underwriting office demand in the context of new workplace strategies that remain undetermined.
Your source for the latest Orange County office market reports
Get in-depth office market reports and insights from commercial real estate experts in the Greater Orange County area. Avison Young advisors look at Orange County's commercial real estate activities and the latest area statistics to provide you expert market research on Orange County's office properties.
Explore different topics like the latest office market pricing trends and analysis of Orange County's current office real estate market conditions. Gain a better understanding of the area's office real estate outlook and stay ahead of current office space trends. Make smart decisions when it comes to investing in office properties in Orange County's competitive office real estate market. Avison Young is your trusted source for commercial real estate office market insights in the area.
The dashboard was delivered through AVANT by Avison Young: leveraging real-time data and analytics to make cities and location-based decisions more transparent and efficient. Learn more about AVANT.
Get the latest Orange County office market reports right in your inbox