null - Read Avison Young News Here | Avison Young US - United States
Avison Young news: Find out the latest industry happenings
Quarterly and topical research insights to help your business gain competitive edge in commercial real estate.
Avison Young weitet Präsenz in Asien-Pazifik-Region aus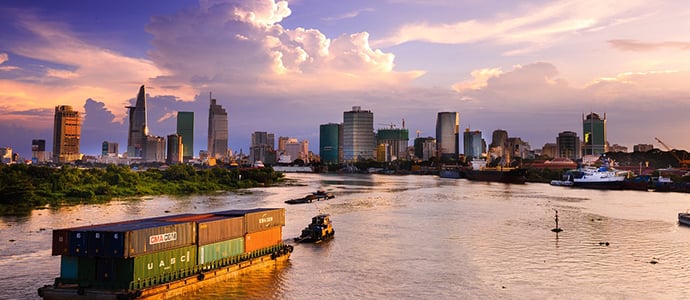 September 20, 2023
Strategische Partnerschaft mit vietnamesischem Immobilienberatungsunternehmen
Frankfurt am Main, 20. September 2023 – Avison Young weitet seine Präsenz in der Asien-Pazifik-Region aus und tritt im Rahmen einer strategischen Partnerschaft mit einem in Hanoi und Ho-Chi-Minh-Stadt ansässigen Immobilienberatungsunternehmen in den vietnamesischen Markt ein. Das Unternehmen treibt mit diesem Schritt seine Expansionspläne in der Region weiter voran.
Mit der Eröffnung seiner vietnamesischen Niederlassung, gewinnt Avison Young für die Region Südost-Asien ein erfahrenes, multinationales und aus mehr als 100 Immobilienexperten bestehendes Team. Dienstleistungen umfassen Transaktions-, Management- und Beratungsdienstleistungen für alle wichtigen Immobilientypen, Bewertung, Industrie- und Bürovermietung sowie Investmentberatung, Immobilienverwaltung und Asset Management.
Die Büros in Hanoi und Ho-Chi-Minh-Stadt werden von David Jackson und Peter Dinning geleitet, die sich Avison Young als Principals (Partner) anschließen. Jackson übernimmt dabei die Rolle des CEO, Dinning die des Chairman. Beide Immobilienexperten verfügen über fundierte Kenntnisse des vietnamesischen Marktes und blicken auf mehr als 20 Jahre Erfahrung als Geschäftsführer eines Immobilienberatungsunternehmens auf dem südostasiatischen Markt zurück. Gemeinsam mit ihrem Team können sie auf diese Erfahrung zurückgreifen und auch in einem sich so schnell entwickelnden Markt wie dem vietnamesischen, Immobilienlösungen für ihre Kund:innen anbieten. Vietnam hat mit seinem dynamischen Immobilienmarkt in den letzten Jahrzehnten ein erhebliches sozioökonomisches Wachstum erlebt. Seine junge Bevölkerung und die Vielzahl technikaffiner Arbeitskräfte begünstigen Innovationen und eine schnelle Urbanisierung.
Avison Young verfolgt eine auf organisches Wachstum ausgerichtete Expansionsstrategie und erweitert das globale Netzwerk stetig in Form von strategischen Zusammenschlüssen mit lokalen Branchenexpert:innen.
Mark Rose, Vorsitzender und CEO von Avison Young: "Vietnam ist ein schnell wachsender Markt, und wir freuen uns sehr, das Avison Young-Netzwerk durch diese Partnerschaft auf den südostasiatischen Immobilienmarkt auszuweiten. Die robuste Wirtschaft und der dynamische Immobiliensektor Vietnams bieten uns vielfältige Chancen, unseren Kunden innovative Lösungen anzubieten. Aufgrund der Führungsqualitäten und des Know-hows von David Jackson und Peter Dinning werden wir unsere Präsenz in diesem Markt etablieren und stetig ausbauen."
Jackson: "Die Niederlassung eines so dynamischen, technologisch fortschrittlichen und erfahrenen globalen Immobilienunternehmens wie Avison Young in Vietnam zu gründen und zu leiten, ist eine spannende Herausforderung. Gemeinsam mit unserem erfahrenen Team freuen wir uns darauf, uns den südostasiatischen Markt als Teil von Avison Young zu erschließen – immer mit dem Ziel, wirtschaftliche, soziale und ökologische Werte zu schaffen."
Über Avison Young
Avison Young ist ein globales Immobilienberatungsunternehmen und schafft wirtschaftliche, soziale und ökologische Werte. Als eigentümergeführtes Unternehmen sind wir ein starker Partner und investieren in den Erfolg unserer Kunden. Bei Avison Young verbinden wir lokale mit globaler Expertise und setzen intelligente Plattform-Technologien ein, mit denen wir unseren Auftraggebern entscheidende Know-how-Vorteile bieten und neue Wege aufzeigen, das gesamte Potenzial von Immobilien auszuschöpfen. Gemeinsam mit unseren Kunden entwickeln wir Konzepte für ein gesundes und produktives Arbeitsumfeld und für Orte der Begegnung, die sich positiv auf die Wirtschaft, Umwelt und Gesellschaft auswirken.
Kontakt Medien Avison Young
ROZOK GmbH
Martina Rozok
M +49 170 23 55 988
[email protected]