Sightlines - United States
Shortages abound – Tight labor markets add pressure to supply chains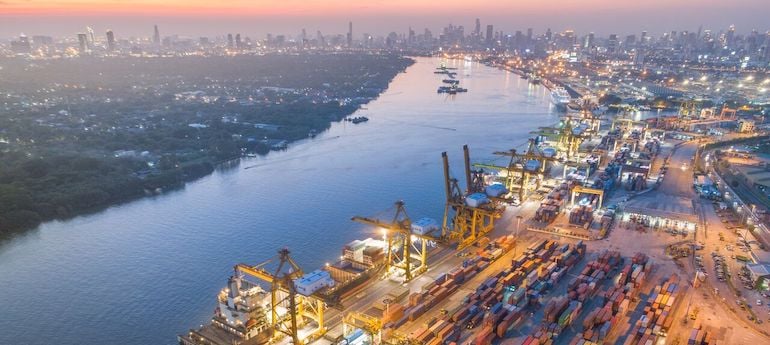 October 29, 2021
In this issue, we delve into the complex world of labor and look at how the supply/demand imbalance is impacting the many junction points along the supply chain. From ports to trucking to warehouses to parcel delivery companies, there are many chokepoints where worker shortages are causing logistics delays and consternation. We also look at how employers are getting creative to attract and retain workers during this unprecedented time.
Best,
Erik Foster
Principal
Head of Industrial Capital Markets
[email protected]
+1 312.273.9486
Warehouse workers: Bigger perks but fewer takers
As many retail and industrial businesses continue to respond to upticks in general as well as e-commerce demand, all eyes are on the employment picture and how the current labor shortage will impact the flow of goods and order fulfillment, in addition to overall sales.
While the labor shortage was a concern for the industrial sector even before the pandemic, it has become a larger and more acute issue in the past 18 months. As the economy has started to open back up, millions of workers have had time to rethink their employment prospects and look for new options. This is a troubling trend for warehouse operators, as warehouse jobs are often physically demanding and may lack long-term growth potential.
According to The Washington Post, the warehouse industry has cycled through millions of workers, with some opting out of the industry permanently. As of July, there were 490,000 warehouse and transportation job openings in the U.S., a figure that is expected to grow.
The warehouse sector was among the hardest hit by the labor shortage, but the sector is seeing some progress. Many businesses are now boosting their pay scale and adding other incentives such as assistance with college tuition in order to attract workers.
According to Supply Chain Dive, there were 1.44 million workers in the warehouse and storage industry in July, surpassing the previous record of 1.43 million set in November of 2020. This was the third consecutive month of employment gains, although the gains are not as strong as they seem, given the more labor-intensive nature of e-commerce fulfillment. Instead of needing a few workers to drive forklifts with pallets of goods, e-commerce fulfillment often requires a much larger pool of workers walking through the warehouse floor picking and packing items.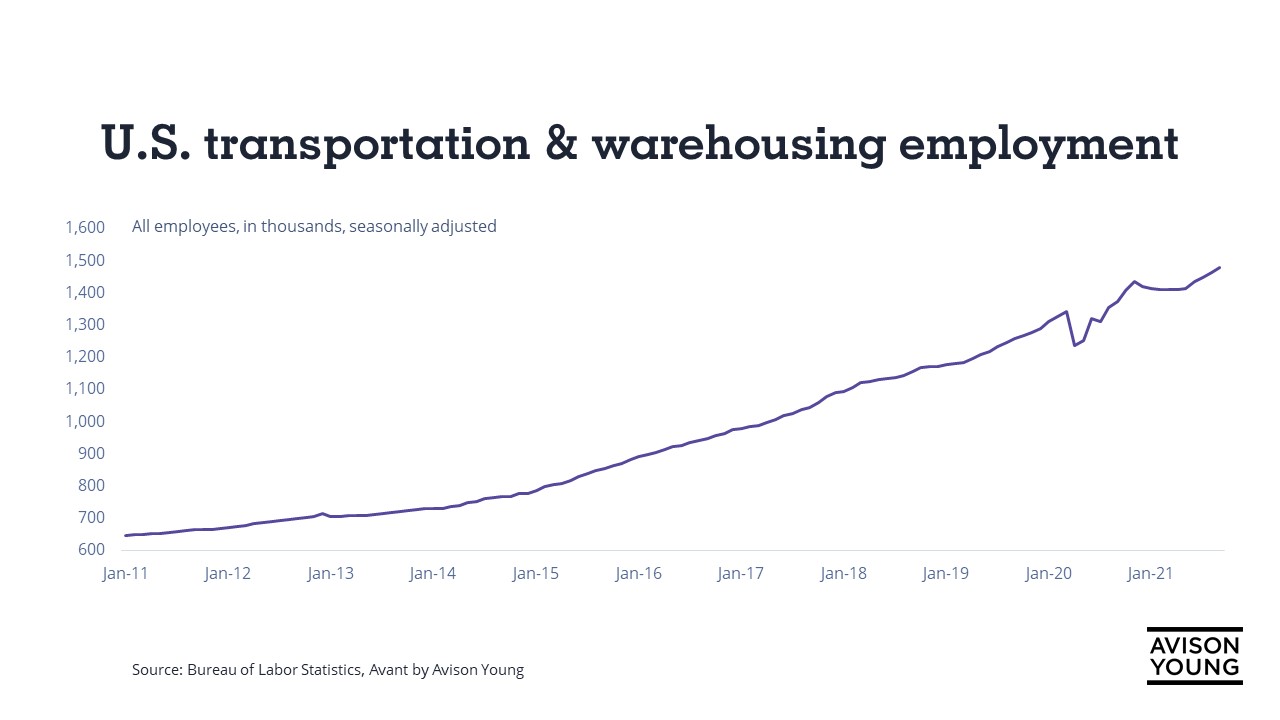 The trucking industry is also feeling the pinch, with an estimated shortage of 80,000 truckers this year. That figure has increased by more than 30% since 2018, according to the American Trucking Association. A million more truck drivers are needed to cover projected freight demand over the next decade. Higher pay and other incentives like signing bonuses are among the solutions being offered. Some industry executives are looking at immigration as another solution. An executive from C.H. Robinson told CNBC that immigration could help with truck driver shortages that have steadily increased since before the pandemic.
Package volume translates to worker demand
These labor issues are also impacting the package delivery segment of the industry. As consumers have become more and more dependent upon the convenience of ordering online, and expectations for faster delivery times more entrenched, the demand for workers to deliver those packages has grown. This has prompted businesses to raise wages, but that alone is not an instant solution. On a recent earnings call, FedEx noted difficulties hiring enough package handlers, leading to inefficiencies in its networks as existing employees filled in the gaps and worked overtime to cover shifts.
Also, some firms continue to face pandemic-related issues that are keeping workers away, such a workers' health concerns and a lack of affordable childcare.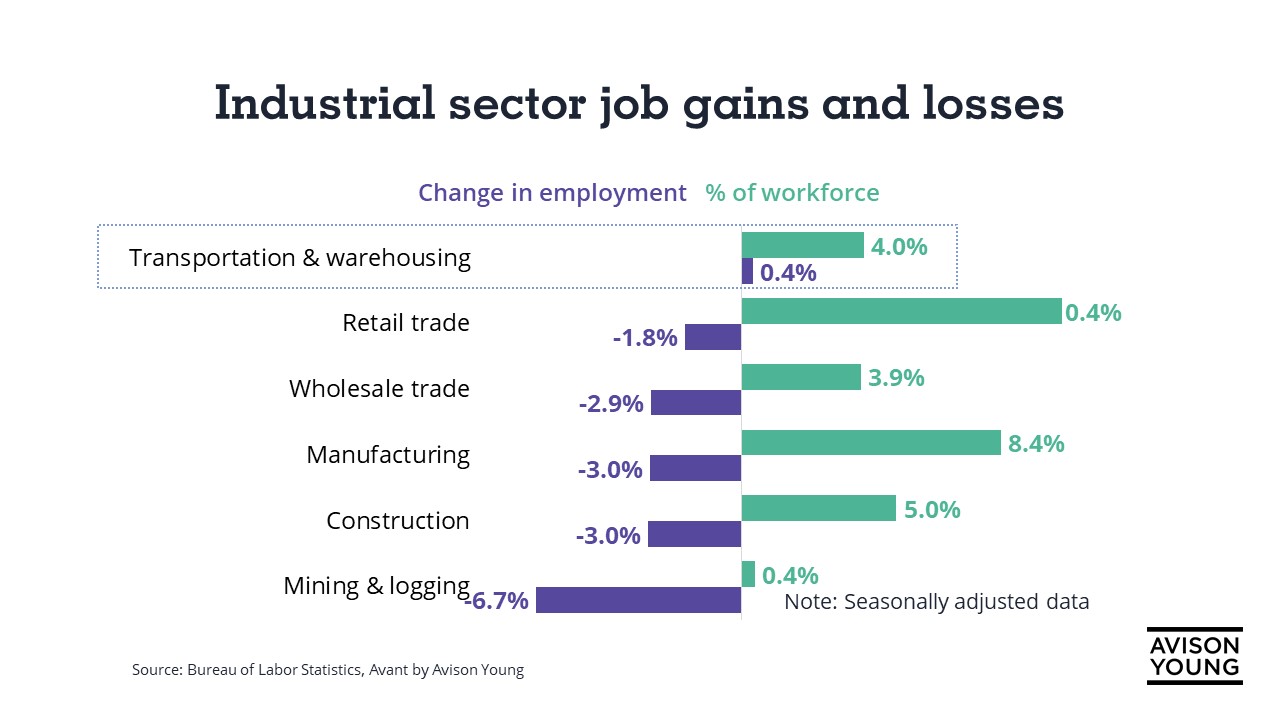 Increased demand is pushing up wages
The labor shortage has prompted many large retailers, including Walmart and Target, to increase workers' pay, as well as add perks to entice new hires. Those pay increases are problematic for the warehouse sector, however, as they could draw workers that could then easily shift to jobs with higher pay that are less physically demanding.
According to the Bureau of Labor Statistics, the average hourly earnings in the warehouse industry was $22.47 in June, up from $21.99 in March, a 2.2% increase over the course of the spring alone. Amazon, for example, increased its focus on signing bonuses and incentives as part of its effort to attract workers. Some businesses are also offering flexibility in shifts or scheduling.
A human resources executive at Radial told The Washington Post about the company's struggles finding applicants, noting the need to get creative and ramp up their employee perks. The company, which operates fulfillment centers for Cole Haan, Aeropostale and others, has added pizza parties, on-site food trucks and raffles for PlayStations and iPads in order to attract 27,000 warehouse workers this year.
Sysco noted challenges finding enough warehouse workers and drivers in key markets around the country. US Foods is also working on finding the balance of warehouse and driver staffing to meet demand.
Are robotics the answer?
While automation is often touted as the answer to labor woes, its adoption is not as widespread as many might assume. According to the Materials Handling Institute, the usage rate was 38% in 2021, nominally higher than the 35% rate in 2016. Some businesses have reported increasing their use of automation and robotics to operate with fewer floor workers and help with social distancing of employees. DHL is using robotics to assist with picking items to bring to workers, thus reducing the time employees spend walking through the warehouse looking for goods.
While robotics is easing the strain of the labor shortage, the driver of warehouse employment demand is the robust demand for e-commerce. That transformative shift in shopping habits is not going away and will continue to cause struggles in employment in the industrial sector.
Sources: CNBC, Supply Chain Dive, Washington Post, U.S. Bureau of Labor Statistics, Materials Handling Institute
Click the image for Economic Indicators