Sightlines - United States
Both retailers and consumers must balance choice, convenience and cost when it comes to sales and returns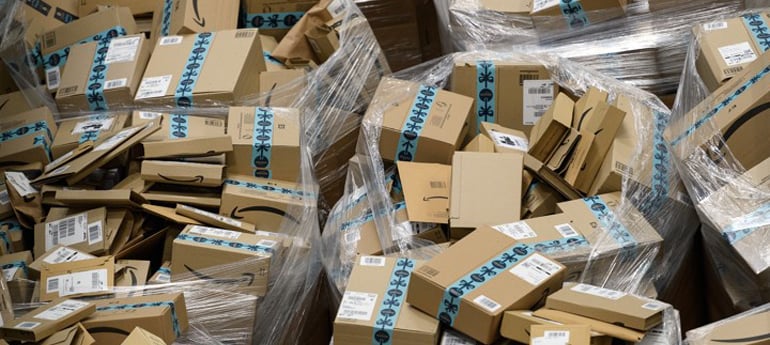 December 17, 2021
The industrial real estate sector continues to move at a frenzied pace as the Holiday shopping season nears its final days. Behind all the strong projections about Holiday sales, however, is the realization that a significant proportion of the merchandise flowing from industrial warehouses and distribution centers will be returned by consumers and have to move backwards through an already challenged supply chain. Here's a look at the issues businesses are facing with reverse logistics during this critical buying season.
Best,
Erik Foster
Principal
Head of Industrial Capital Markets
[email protected]
+1 312.273.9486
Retailers gearing up for the inevitable: Returns!
Buy three. Keep one. Return two. That's the mindset for many retail shoppers this holiday season as they try to navigate a landscape fraught with supply chain bottlenecks -- and pandemic restrictions that impact in-store buying. As fitting rooms remain shuttered in many stores, shoppers are buying multiple sizes of clothing with some items destined for the return pile. Similarly, online shoppers are also hedging their bets during this time of uneven inventory and buying more with the intent of returning.
A report from branding returns company Narvar notes that about one-third of shoppers surveyed planned to buy more of the same item because they can't try on merchandise in stores. This type of consumer behavior is continuing even in stores that have reopened dressing rooms as consumers appreciate the convenience yet remain somewhat hesitant to do shopping in-person due to continued concerns about the pandemic and the Omicron variant.
These reverse logistics trends, while not new, are seemingly creating more obvious and acerbated challenges for retailers -- as well as the warehouses and distribution centers that support them. A recent survey by the Reverse Logistics Association notes that 65% of retailers surveyed are expecting an increase in returns this holiday season. And, those returns are taking an increasingly larger financial toll on retailers. More than half of survey respondents anticipate the cost of returns to increase in today's supply chain environment where rising freight and labor costs, capacity constraints and overall delays are common.
The return cycle and timing have become more pronounced since the onset of the pandemic and is expected to strain an already taxed supply chain. An estimated $120 billion of goods is expected to be returned between Thanksgiving and the end of January, up from $115 billion in 2020, according to research firm Optoro. All this is happening during a strong year for e-commerce, with online sales expected to reach $207 billion, a 10% increase from 2020, according to the Adobe Digital Economy Index.
Some retailers have much lower projections for return rates, which could leave them unprepared should a large return volume occur, according to Chain Store Age. Others are not keeping pace with many industry best practices on handling returns, which are considered important to customer relations and sentiment. A 2021 Holiday Returns Insight survey from Inmar Intelligence notes that 39% of respondents expect a 10% or less return rate for the holiday season while another 30% expect that figure to reach 11% to 20%. Approximately 60% of the respondents accept the return of online purchases in their stores or offer instant credit for returns, while only 66% provide customers with one or two updates on their return status, a measure seen as critical for customer allegiance.
Buy online, return to store
The overall return experience, particularly in-store, has become an area of heightened focus for many retailers. Some have set up dedicated return centers with additional staff to keep lines moving quickly. Additionally, savvy retailers are realizing the importance of converting those return events into in-store sales.
While customers may be shopping more online, 69% of consumers prefer to make their returns in stores even if they bought the item online, according to research from the National Retail Federation. In-store returns can provide opportunities for positive interactions with customers and allow retailers to build brand loyalty. Also, the flow of returns to the stores reduces the strain on the logistics network, having to process, inspect or liquidate returned items.
A vast majority (97%) of shoppers have increased loyalty to a retailer after a positive return experience, while 42% said they would never buy another item from that business after a bad return, according to a survey from Optoro. Services such as online return portals and third-party return locations or drop-off points are increasing these positive return experiences and reducing the negative impact of returns.
Retailers focus on technology
Some retailers are also experimenting with virtual reality technology that can help shoppers choose the right size of clothing online -- and reduce the risk of returns. Gap Inc., for example, acquired a fit technology company in August in an effort to address the biggest reason for returns -- improper sizing.
Saks Fifth Avenue, Sephora, Bed Bath & Beyond and others are using advanced technology to facilitate more efficient return processes in their stores or through other businesses. Some are using boxless returns that reduce the need for cumbersome packaging.
This holiday season is sure to be one for the record books on many levels. The challenges and lessons learned from managing returns -- and focusing on customer relations and the potential for generating additional sales -- will reverberate for years to come.
Sources: Chain Store Age, National Retail Federation, NBC News, Supply Chain Dive
Click the image for Economic Indicators.
Erik Foster joined host Mariam Sobh and Oxford Properties Group's Jeff Miller to discuss the latest in warehouses. Listen to the full epsiode here.