A variety of circumstances have led to increased reshoring initiatives, although early signs point to a set of distinct industries moving first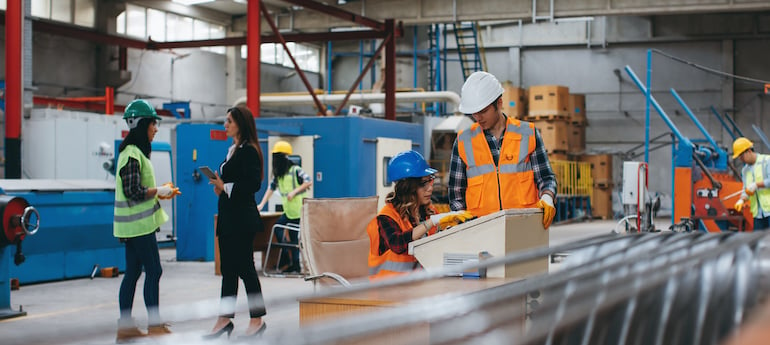 September 23, 2022
The longstanding movement to bring manufacturing back to the U.S. has heated up in recent months and is expected to generate additional demand for production and warehouse space across key U.S. markets. The passage of the $52 billion CHIPS Act and other legislation is giving businesses new incentives needed to move forward with new facilities to help reduce reliance on the often unpredictable and volatile global supply chains. Here's how reshoring is shaping the industrial sector heading into year-end.
Erik Foster
Principal
Head of Industrial Capital Markets
[email protected]
+1 312.273.9486
Manufacturing gains boost warehouse usage
Industrial warehouse utilization has seen significant gains during the pandemic -- and those numbers are expected to continue to increase with the current focus on expanding manufacturing in the U.S. These reshoring efforts have been ongoing for several years, with 1.3 million manufacturing jobs brought back to the U.S. since 2010.
During the pandemic, while sectors such as office and hospitality saw a decline in construction activity, manufacturing grew by 21.6%, according to the U.S. Census Bureau. Notably, construction of new manufacturing facilities in the U.S. has soared by 116% over the past year, overshadowing the 10% gain on all building projects combined, according to Bloomberg. With the recent passage of the $52 billion CHIPS and Science Act and the Inflation Reduction Act, the reshoring movement has gained additional momentum. Both bills include incentives and tax benefits for companies that build and invest in domestic manufacturing.
Many companies are investing in domestic facilities based on lessons learned during the pandemic, as product shortages disrupted their business flow. Recent intense pandemic lockdowns in China took many businesses by surprise and threw another jolt into the already disruptive supply chain. By locating facilities in the U.S., they can mitigate risk and gain more control over the production, quality and distribution of their products.
Among the industries moving to increase domestic production are those tied to technology, which has been dealing with ongoing chip shortages due to pandemic-related factory closures in other countries. Samsung has started construction on a $17 billion chip factory in Taylor, Texas and has plans to build up to 11 additional chip-making plants in Texas for an investment estimated at $192 billion. The plan calls for nine plants in Taylor and two others in Austin. Among the other new technology-related facilities planned or in the works are Intel's $20 billion facility in Ohio and Taiwan Semiconductor Manufacturing Company's $12 billion chip factory in Arizona.
Many small- to mid-sized companies are also reshoring or expanding domestic manufacturing. Aside from the supply chain benefits, companies are also trying to work around skyrocketing shipping costs and other transportation costs. And, geopolitical issues related to China are prompting some companies to reduce their reliance on those foreign labor ties.
While this is all good news for the manufacturing industry, it also is expected to provide benefits to the warehousing sector, as companies look to add storage and distribution space near their new manufacturing facilities, as well as attract various tiers of suppliers that may want to locate near primary production sites. Despite the higher labor costs of operating in the U.S., it can be more cost-effective to manufacture products closer to the customer base, when reduced shipping and distribution costs are factored in.
The shift toward reshoring, or even nearshoring, may boost warehouse activity in areas with strong transportation infrastructure, as companies expand their truck and rail usage. Texas and the Southeast are markets that are expected to see an increase in warehouse usage, both are seeing an influx of businesses and population surge. Other markets to watch include Chicago and Louisville, Kentucky.
Managing labor issues
One challenge with reshoring is the higher cost of labor, which can be three to five times the amount paid in foreign countries. With an already tight job market and a shortage of skilled construction and manufacturing labor, companies face the prospects of increasing training and wages -- and investing in automation to mitigate the labor gap.
According to a study by Deloitte, even with full employment of higher skilled workers, there would still be 35% more unfilled jobs in the durable goods manufacturing sector than skilled workers able to fill them. The consulting firm predicts a shortage of at least two million American manufacturing workers by 2030, which translates to an opportunity cost of a $1 trillion per year. With 40 million Baby Boomers retiring in the near future, the industry is left to try to recruit aspirational younger workers who are not as willing to move into manufacturing jobs.
As companies balance the many variables related to onshoring, the industrial sector is poised to gain from even moderate shifts in product back to the U.S. This could make the warehousing space crunch a little more challenging -- and support additional development as well.
Sources: Bloomberg, CNBC, Deloitte, Dodge Construction News, U.S. Census Bureau

Weekly Economic and REIT Indicators