Cold storage development activity, as well as investment, remain strong as much of existing real estate is dated and less functional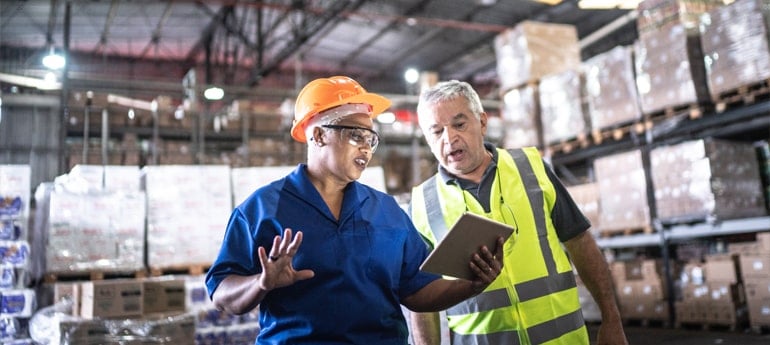 October 7, 2022
As online grocery deliveries and fresh food options have proliferated around major U.S. cities in recent years, cold storage facilities have emerged as important investment options. In this issue, we look at the opportunities and challenges in building and investing in these facilities that support the growing grocery business.
Erik Foster
Principal
Head of Industrial Capital Markets
[email protected]
+1 312.273.9486
Cold Storage Drives Complex Food Prep and Delivery Infrastructure
In addition to a complex, interconnected supply chain of U.S. food production, retail and grocery networks like Doordash, Instacart, Postmates, and HelloFresh, the influx of food delivery services that can pick up and drop off food within an hour is just one sign of consumers' growing reliance on proximate location services for climate-controlled food storage and transportation. The backbone of that food production and distribution system is a network of cold storage facilities designed to store food at optimal temperatures. These facilities have become a popular investment option over the past several years. Still, they face some challenges in today's economic climate as inflation persists and food security becomes an even more acute issue.
The cold storage sector was on the rise before the pandemic and saw a surge of expansion as food related businesses looked to fill demand for groceries and at-home deliveries during statewide lockdowns. The entrance of Amazon and other companies into the fresh grocery and delivery markets also boosted activity. Industry experts predict that the e-commerce share of total U.S. grocery sales will increase by more than 20% by 2025, up from just 13% in 2021. This activity will fuel additional demand for buildings with refrigerator and freezer capacity.
USDA data from 2021 lists the total gross refrigerated storage capacity in the U.S. at 3.7 billion cubic feet. The exact figures are difficult to track, however, given wide variation in building configurations -- from fully refrigerated/cooled to partially refrigerated/cooled or dry buildings that were converted to cold storage. Regardless the numbers, demand for cold storage facilities is expected to outpace supply for the near future.
Speculative Pipeline Grows but BTS Dominates
Much of the cold storage construction activity is generally focused on build-to-suits by corporate food entities, given the specialized space and power requirements. On the development side, industry estimates show there is approximately 3.3 million square feet of speculative cold storage space in the pipeline in the U.S. While that is a sizable increase from previous years, it is still not enough to support demand in some markets.
Cold storage space is more concentrated in high population centers and markets that offer proximity to major transportation routes and logistics networks. Top locations range from Los Angeles and other parts of California to Dallas-Fort Worth, Chicago, and Philadelphia. While new facilities are built with state-of-the-art equipment, tall ceiling heights to optimize racking, automation and other advances, most of the U.S. inventory of cold storage properties are older facilities with outdated infrastructure.
Heading into the third quarter, there are signs that the robust cold storage activity seen in recent years is moderating due to shifting economic conditions, labor issues and other headwinds. Many operators face labor supply issues due to the physical demands of working in cold storage facilities. This can lead to higher employee turnover rates, despite efforts to boost wages and add other incentives.
Cold storage facilities are also very energy dependent and impacted by the current increase in energy prices. In its second quarter earnings call, Americold Realty Trust noted that power and warehouse supplies costs were the top inflationary pressures impacting their operations, prompting the company to adjust pricing and add power surcharges to cover added expenses. The company, which is the second largest owner of cold storage facilities, also reported that rent and storage revenue increased by 6.6% from the first quarter.
This inflationary period is also benefitting some cold storage operators, however. As inflation has increased the cost of groceries and other goods, food producers are seeing slower demand and the need to store more goods in warehouses. This is increasing occupancy in warehouses for the short term, but leaves food businesses with lower revenue from the slower movement of goods through the supply chain.
A Look at South Florida
The South Florida market, with its strong population growth and ties to port activity, is one of several U.S. markets where available cold storage facilities are in limited supply and strong demand is pushing up pricing. In the Miami area this year, Truist Securities purchased a 173,000-sf food distribution facility built in 2001 for nearly $60 million. Quirch Foods of Coral Gables, FL sold the property in a sale leaseback transaction that provided the buyer with an attractive yield and guaranteed cash flow while allowing the company to secure capital for business operations.
In May, Vertical Cold Storage of North Sioux City, Iowa paid $66 million for a 275,000-sf Miami area freezer warehouse. Acme Smoked Fish Group purchased a cold storage and food processing facility in Pompano Beach for $15.8 million in December of 2021, paying about $366 per square foot for the 43,000-square-foot building.
Given long-term shifts in consumer food buying habits, the cold storage sector is expected to generate significant demand and benefit from a low vacancy environment for the foreseeable future. While economic headwinds, particularly labor, energy and construction costs, are softening projections in the near term, there appears to be plenty of long-term demand to support new construction and investment for the foreseeable future.
Sources: Bisnow, The Real Deal
Weekly Economic and REIT Indicators