Sightlines - United States
Economic woes push against a freight recovery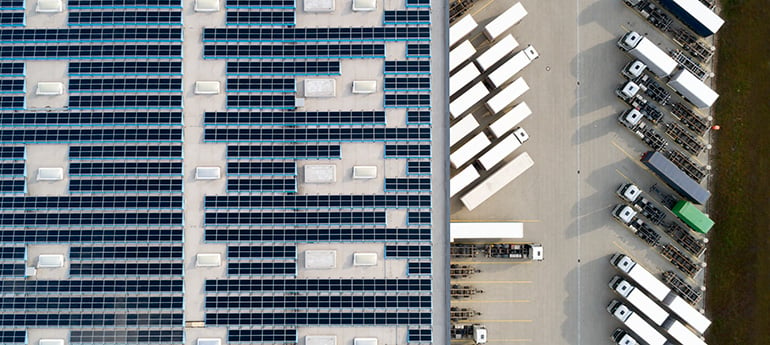 October 11, 2023
As consumer demand has slowed, the freight industry is experiencing a loosening of capacity. While that might be a good sign for the industry's ability to support more deliveries, rising operating costs are creating notable headwinds. Higher inflation and interest rates, ongoing labor shortages, and rising fuel costs are pushing back against a more stabilized freight environment. Here's a look at how economic factors are impacting the freight industry as we head into the busy holiday season and look ahead to 2024.
Erik Foster
Principal
Head of Industrial Capital Markets
[email protected]
+1 312.273.9486
The freight industry experienced significant demand during the pandemic consumers increased their spending on everything from groceries to home goods. Many freight carriers struggled to keep pace with the intense demand, as they also battled persistent supply chain disruption that slowed deliveries from the ports and other locations. Today, as consumer demand has cooled amid higher inflation and rising interest rates, freight demand has moderated significantly.
While capacity has loosened, allowing freight businesses to support more deliveries, operating costs have increased considerably. U.S. trucking and parcel companies are concerned over higher operating costs -- such as higher inflation, interest rates and fuel costs -- and the upward pressure on rates going into 2024. Higher labor costs are a significant issue as well, with companies grappling with rising rates for behind the wheel drivers as well as warehouse workers.
Elevated diesel prices and a shortage of cross-docks in major metros across the country are also pushing up costs across transportation networks. Attendees at a recent Journal of Commerce Inland Distribution Conference noted that warehousing demand is growing across the country despite forecasts of a recession. That demand is leading to freight piling up in warehouses and in trailers and containers. The warehousing market in Chicago, for example, was characterized as particularly problematic.
Trucking and shipping executives weigh in
A survey of freight companies by Inbound Logistics found that trucking company executives have a cautious view of the economy, with only 12% saying the economy is trending downward (the same proportion as in 2022) and 22% saying it is improving. Two-thirds said conditions are somewhere in between.
When asked to name their top concerns, truckers surveyed cited driver-related costs (66%), rising equipment costs (58%), insurance costs and liabilities (52%) and fuel costs (51%) as the top four concerns. Only 13% of truckers noted providing capacity -- a hot button during the pandemic -- as a concern.
While shippers also noted concern for transportation costs, that impact is lessening. In this year's survey, 70% listed those costs as a top challenge, down from 84% in 2022 when freight rates were higher. In this year's survey, 51% of shippers cited price pressures from customers and competitors as a concern. This was an increase from 30% in 2022. Seventy-four percent of shippers surveyed noted having to pay higher rates from motor carriers, on top of additional fuel charges. While that is a significant percentage, it is lower than the 85% level recorded in 2022.
Shipping capacity has increased notably since last year, with only 47% of shippers surveyed reporting a shortage this year, compared with 60% in 2022 and 70% in 2021.
The freight industry is expected to see some additional cost increases due to the recent shutdown of The Yellow Corp, a leading business in the less-than-truckload (LTL) sector. The nearly 100-year-old company had 30,000 employees and was a preferred choice of many shippers, who will have to transition to other, more costly carriers.
Air cargo rates dip as volume shrinks
A look at air cargo data from the summer shows capacity is up and global air cargo rates continue to decline. In July, global air cargo volumes shrunk by 2% month-over-month while the general cargo global airfreight spot rate fell by 40% or more for the fourth month in a row. This is expected to lead to a tough winter for airlines given the consistent month-to-month declines in average rates and the quick pace of the declines since the start of 2023.
Given current economic conditions and the level of uncertainty around interest rate levels and the potential for a recession, freight conditions are not expected to moderate in the near term. Economists are not expecting a freight rebound until late in 2024, which adds pressure on transportation providers and shippers to manage costs.
Sources: Journal of Commerce, Inbound Logistics, Tank Transport