How much does complicated cost? - United States
How much does complicated cost?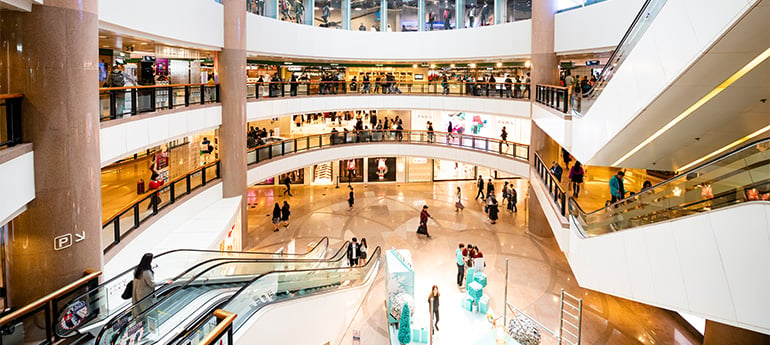 November 18, 2022
As the peak shopping season begins, the retail sector is facing many competing and diverse forces that will shape this sector's trajectory into 2023. From economic turmoil and uncertainty to pent up consumer demand and positive sentiments around holiday spending, retailers could see it all this year. Here's a look at what to expect this holiday season.
Erik Foster
Principal
Head of Industrial Capital Markets
[email protected]
+1 312.273.9486
All eyes on Black Friday and beyond
The official start of the holiday shopping season is a week away, but shoppers are already out in force as early promotions spread out the shopping season, sometimes even before the Halloween candy is all sold out. The retail sector is facing many competing and diverse forces this year, from economic turmoil, inflation and uncertainty to pent up consumer demand and positive sentiments around holiday spending on gifts, experiences and travel.
This year could provide an indication of what's ahead for retailers, as they work many strategies to win over consumers. The National Retail Federation (NRF) is predicting a 6% to 8% increase in holiday sales this year over 2021, reaching $942.6 billion to $960.4 billion. Holiday shoppers estimate they will spend an average of $833 on gifts and holiday items, on track with the 10-year average but slightly lower than projections for last year.
Many shoppers are already buying goods, but are also tracking the Black Friday sales, which often have the deepest discounts of the season. Super low doorbusters remain a favorite retail strategy, given the lure of Black Friday and the historic pull it has for shoppers.
This holiday season has several unique variables given the dramatic shift in the economy over the past several months. Shoppers are feeling a mix of pent-up demand for holiday shopping and the economic impact of rising inflation and higher interest rates. This is particularly true for many lower-to-middle income shoppers who have indicated the need to shift toward budget-minded purchasing this season. Many also started shopping early to spread out their shopping budget and take advantage of retailer promotions that began around Halloween.
A study by Deloitte found that about half of consumers expect to spend the same amount this year as last. Given high inflation, those shoppers will have to cut back on the number of items purchased or shop the sales to make up the difference. Others expect to cut back on spending due to the increased costs. And, another twist comes from high earners, who are planning to spend more, but shift purchases toward travel instead of traditional gifts and retail purchases.
Port congestion and labor issues linger
Another wrinkle in this retail narrative comes from the supply chain, where ocean shipping rates, port congestion and labor issues continue to linger. Containerized retail imports started dropping in July as retailers cancelled orders due to already excessive inventories and other factors. In the past, many retailers relied on ocean shipping ahead of the holidays, often paying higher rates. This year has been different, however, given China's zero--covid policies and other factors that pushed some shipping volumes to earlier in the year to also mitigate the risks from last year where some retailers didn't have enough inventory – or the right mix of products to sell.
Ocean shipping delivery rates are still below pre-pandemic levels. According to Supply Chain Dive, the shortage of shipping containers has moderated and shipping capacity is healthy, although reliability remains below normal. This scenario could impact deliveries for the holidays and more so heading into 2023.
Retailers have once again faced a complicated demand planning and buying season in 2022, as they tried to buy enough to satisfy expected demand while trying not to overload warehouse space as they did earlier this year. Many retailers are still struggling to clear mountains of excess inventory, an issue that is leading to price cutting among some major brands. Nike recently admitted that, despite strong demand, it will follow a policy of aggressive markdowns to reduce the backlog of inventory and make way for newer items.
Nike reported that inventory was up 44% companywide at the end of Q3, blaming the excess inventory on late deliveries for the past two seasons and earlier ordering by retailers this year due to strong demand and more-unpredictable delivery timelines. It's a similar story with many other leading U.S. retailers, including Walmart, Target, Gap and Kohl's, as they try to clear a glut of merchandise piling up in stores and warehouses.
We are also starting to see some stress from major retailers, as Target just announced it was cutting its fourth quarter outlook due to slower sales in late October. As families dealt with rising inflation, many scaled back on purchases in a "need" versus "want" tug of war. Target plans to cut up to $3 billion of costs over the next three years.
The retail turning point
As the retail industry continues to evolve, this is a turning point for physical retail locations. According to Avison Young's Vitality Index, an interactive dashboard that dynamically measures weekly mobility patterns, consumers have shown a strong preference for experiential retail and that shift is expected to continue. The big question this year is whether Black Friday will mark a turning point for bricks and mortar retail. Can retailers find the right mix of in-store and experiential retail and entice shoppers to return?
Sources: Forbes, National Retail Federation, Supply Chain Dive