AVISON YOUNG CLOSES SALE OF A TWO BUILDING MEDICAL OFFICE PORTFOLIO FOR $11.55 MILLION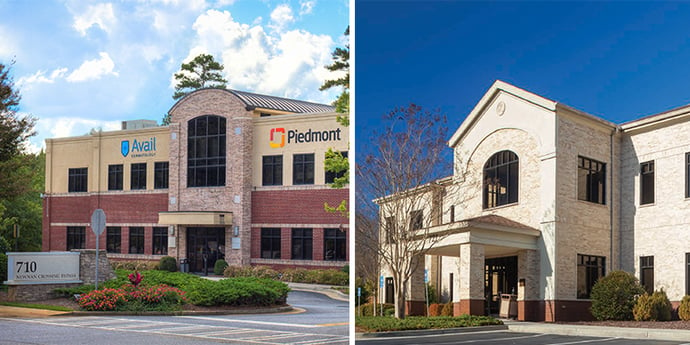 March 25, 2019
Out-of-state buyer purchased the facilities based on their prime location and high-quality medical tenants
ATLANTA – March 25, 2019 – After only a three-week marketing period, Avison Young Atlanta Capital Markets Group today announced the sale of 721 Wellness Way and 710 Newnan Crossing Medical Office Building on behalf of a private partnership group for $11.55 million. Casey Keitchen, a principal in Avison Young's U.S. Capital Markets group, led the team to close the sale of the two medical office buildings totaling more than 45,000 square feet, which sold to an out-of-state buyer that is new to the Atlanta market.
"Based on Casey's 18 years of office investment sales expertise, we knew he would be an invaluable addition to the Avison Young team after joining us last October," said Steve Dils – principal and managing director, Avison Young Atlanta. "He and the team reviewed multiple offers from across the U.S., and in fact, shortened the marketing term due to overwhelming demand," he added.
The two assets were in close proximity to the dominant hospital in each respective area and were 100 percent occupied at the time of sale, 26 percent of which were by Northside Hospital and Piedmont Hospital.
"The medical office investment sector continues to thrive as demand outpaces supply and new buyers, both institutional and non-institutional, enter the space seeking quality medical assets with hospital credit such as these," said Casey Keitchen, principal – Avison Young Atlanta.
Avison Young's Capital Markets group offers comprehensive real estate transaction services to a global client base. A trusted advisor to real estate owners and operators for more than 30 years, Avison Young sources investment opportunities and provides investment sales execution for clients throughout Canada, the U.S., Mexico, Europe and Asia.
For images of the two buildings, please click here for 721 Wellness Way in Lawrenceville, Georgia and here for 710 Newnan Bypass Crossing in Newnan, Georgia.
About Avison Young
Avison Young is the world's fastest-growing commercial real estate services firm. Headquartered in Toronto, Canada, Avison Young is a collaborative, global firm owned and operated by its Principals. Founded in 1978, with legacies dating back more than 200 years, the company comprises approximately 5,000 real estate professionals in 120 offices in 20 countries. The firm's experts provide value-added, client-centric investment sales, leasing, advisory, management and financing services to clients across the office, retail, industrial, multi-family and hospitality sectors. For more information, please visit Avison Young Atlanta or follow them on Twitter.