News Item - Atlanta
4 Burning Questions For Atlanta CRE As Recession Signs Mount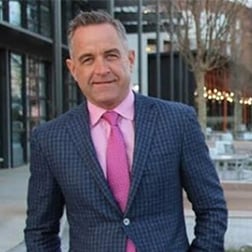 August 15, 2019
Kirk Rich Featured in Bisnow Article
Bisnow - If the inverted yield curve in the U.S. bond market were a character from literature, it would be Jacob Marley from A Christmas Carol, warning Ebenezer Scrooge that he will be haunted by three spirits.
In this case, the yield curve is portending two ghosts: consecutive quarters of negative gross domestic product output, the common definition of a recession.
For a brief period on Aug. 14, short-term bond yields were offering better returns than the 10-year treasury, a sign that investors were fleeing to safe havens. Typically an investor will demand a bigger return, or yield, for a bank to hold its money for a longer period of time. When the opposite happens, it sometimes means investors are concerned about future economic growth.
This spooked markets on Wednesday, sending the Dow Industrial Averages tumbling some 800 points, because an inverted yield curve has preceded every recession since 1955.
Over the past few years, Atlanta has experienced a renaissance economically and within commercial real estate. The urbanism trend has spurred a multifamily sector boom, especially in hot markets like Midtown and Buckhead. Big corporate names have either moved to or expanded in Atlanta, launching new office buildings.
That has pushed Class-A office rents to levels unseen in Metro Atlanta before: rents at Atlanta's premier office spaces in Midtown and Buckhead have risen 14.2% since last year, breaking the $50/SF ceiling for the first time. And while 6.3M SF in 28 office buildings are scheduled to deliver between now and 2021, over half of that space is already pre-leased to tenants, according to a recent Newmark Knight Frank report.
But the memories of the Great Recession are deep scars for Metro Atlanta, especially in the commercial real estate community. After all, Atlanta was one of the last of the major U.S. cities to heal after the Great Recession.
Bisnow asked a host of Atlanta commercial real estate experts on their views about the economy today and a recession's potential impact on the market. Here's what they said:

Do you believe that the U.S. economy is now at the precipice of a recession?
Transwestern Eastern Region President Bruce Ford: The U.S. is 10 years into its longest economic expansion in history. We know this can't last forever, but some of the data that traditionally predicted a downturn in the past is less determinative today. For instance, this week's yield curve inversion is typically seen as a warning sign, but even Janet Yellen — the most recent past Fed chair — said that it might not mean what it used to. The U.S. economy is increasingly based on technology and knowledge workers, and some of the rules are changing. I personally don't think a recession is right around the corner, but no one can really know for sure.
Real Professionals Network founder Rick Lackey: Yes, we are at the precipice of a recession. We've had a good run for longer than expected. We have just too many indicators and too much instability telling us what's getting ready to happen. If it's too good to be true, it's normally not true.
Marcus & Millichap First Vice President Michael Fasano: An inverted yield curve is a commonly perceived sign of a recession coming in the next six to 24 months. So, while recessionary risks continue to mount, there is still considerable runway to work with and a recession is not yet a foregone conclusion. Strong underlying economic drivers including job creation, steady consumption and elevated discretionary income will support growth over the near term, and if the yield curve quickly moves back into positive territory like [Thursday] morning, a recession could still be averted. Should a recession come, many economists believe it will be mild and relatively short, with a modest impact on Atlanta.
Avison Young Principal Kirk Rich: Yes, that the political environment we're in and the global pullback, a recession is somewhat inevitable. If history proves itself, yes. Sadly, history has been correct a lot lately. But there are multiple signals, and that is one. And a pullback is overdue.
Dermody Properties Partner Greg Ryan: I don't believe that we are standing on the edge of a cliff, so to speak, but we should all remember that the economy does have cycles. Are we at the top? I don't think so. We have some — but there will be dips over time.

How do you envision this recession affecting Atlanta's commercial real estate market?
Lackey: I think Atlanta's extreme employment growth will taper off like it did in most past cycles. I don't think we're going to get hammered like we did the last time because Atlanta's fundamentals will make it outperform other smaller cities in the Southeast for corporate growth.
Fasano: Should a recession come, its impact on Atlanta will likely be very modest. The Atlanta region is in the midst of an expansion cycle that is delivering solid economic growth and job growth. In addition, Atlanta has become an increasingly attractive destination for highly educated millennials from across the East Coast. This combination will continue to spur local economic growth, mitigating some of the drag generated by a recession.
Cortland CEO Steven DeFrancis: How Atlanta fares in the next recession will depend in part on what causes it. Atlanta was hit particularly hard in the Great Recession because the metro suffered from the excesses of the housing bubble. We don't see anything Atlanta-specific today, though a demonstrable slowdown in in-migration is always a negative for Sun Belt markets, and this would likely occur with a material recession.
Ryan: People, especially financial institutions, generally learn from their mistakes — at least in the near term. In many ways, the last recession is still fresh in most everyone's minds. Lenders, for example, have been much more conservative this time around, which will help the larger market as a whole.
Ford: I'm not sure I see much of an effect at least in the long term, to be honest. While we may see a shift in investment sales activity over the short term, Atlanta has gotten the attention of domestic and international investors. Even in a downturn, Atlanta will be a stable and safe location to invest in quality assets.
In terms of leasing, Atlanta has the advantage of a very diverse industry base, making it more recession-proof than markets with a strong emphasis on one sector.
In particular, I think that demand for office and industrial space in metro Atlanta will continue to be healthy even if we see a recession in the next couple of years. And with the discipline we have seen in new construction, the impact would not be like it was in 2008.
Which asset classes — office, industrial, multifamily, retail — are most insulated this time? Which are most vulnerable?
Lackey: Office, industrial and retail are probably in pretty good shape because there hasn't been an enormous amount of overbuilding. The new office buildings on the horizon may see some challenges, but may also deliver just under the wire.
Fasano: Construction remains moderate for most property types, with the most notable oversupply risks being in the larger scale industrial warehouse segment. That said, demand for these large industrial warehouse facilities remains strong, supported by the logistics sector and the continued growth of e-commerce. As long as companies continue to expand their Atlanta footprint and the metro continues to support quality-of-life improvements that attract talented personnel, Atlanta commercial real estate should remain sound.
DeFrancis: Multifamily has proven to be a resilient asset class, historically. Today, multifamily appears relatively insulated due to an undersupply of housing and pent-up demand from still elevated rates of adults living at home. In the U.S. today, there are plenty of people who have jobs, but who do not live independently. We think demand for housing from this group has the potential to fuel multifamily even if job growth slows considerably.
Rich: The sectors most at risk, especially for Atlanta, will be multifamily and retail. It feels that we overbuilt multifamily, and with the changing world of retail, there's will be a lot of big boxes that don't fit today's retail model.
Madison Marquette President Bill Weghorst: Clearly, it's retail is the most vulnerable. The disruption in retail is here to stay whether or not we go into a recession. Industrial is probably the safest sector.

Ryan: The most insulated product type is always industrial. Why? Because of the timing of the development cycle. We can turn the development spigot on and off quicker than all other product types. Start to finish, an industrial building takes six to seven months to build on average, while office buildings take two-plus years. If a dip were to begin, industrial has the quickest reaction time. More nimble, so to speak.
Ford: As I said, Atlanta, in general, is pretty well-insulated due to the diversity of industries in the region. The office sector may feel a pinch, but is well-positioned to withstand any economic headwinds.
We are a less-expensive city in which to do business than many major metros, and compared to previous cycles development has been relatively restrained this time around. Much of the recent industrial construction has been demand-driven, and many of those users are expected to remain very successful under most economic conditions.
For instance, Amazon sells a wide variety of items that consumers will always need, from diapers and groceries to household cleaning products. And Lowe's, Home Depot and Wayfair sell home furnishings and improvement products, and the last recession taught us that when people aren't prepared to buy a new home, they often work to spruce up or add to their existing one.
Retail is vulnerable for systemic, structural reasons that don't have much to do with the economy. But the trend toward more experiential retail will help that sector.
Multifamily will continue to do well in Atlanta because we remain one of the fastest-growing populations in the nation. In fact, given our low cost of living compared to New York, Chicago and the West Coast, a recession might even encourage more movement of young professionals to our area.

Do you envision this next recession derailing any Atlanta projects? If not, why not?
Lackey: If a recession does occur, the big new mixed-use projects in unproven areas will need to be put on hold, but the deliberate projects in dependable locations will move forward as planned and just have to fight a little harder to compete with each other.
Fasano: Most of the projects that are underway are unlikely to stop because so much capital is already been invested and no developer wants to stop a project midway. Considering the runway before the next recession it's likely that most projects that are in process will be completed and build some momentum before any potential downturn weighs on performance.
DeFrancis: If there is a recession, it's likely that projects underway at the time would face obstacles, probably as a result of a breakdown in refinancing or bridge loan opportunities.
Rich: Any recession derails real estate projects. So yes, especially the multifamily sector and anything where price has been pushed higher than Atlanta has been accustomed to, such as multifamily and some office development positions around high-end retail.
Weghorst: If we do go into a recession, it will not be as deep as the last one. If anything, numerous projects that are on the drawing boards will not happen.
Ryan: Not specifically, but any newly commenced office or retail projects would be at greatest risk.
Ford: Developers keep an ear to the ground for user needs as well as market and lending conditions, so I think any concerns they may have are already baked into their research.

And most major developments have been driven by companies making long-term investments in the city. Think of NCR, Anthem, and of course State Farm, which is transforming the Central Perimeter neighborhood. Some smaller entrepreneurial projects may go into a holding pattern if they have trouble obtaining financing, but those would be around the margins. Honestly, I'm very bullish on Atlanta and the growth we see continuing on the horizon.

Read the full article here