Avison Young completes $13 million sale-leaseback of Ranger Energy Services Mission Critical industrial facility in Milliken, CO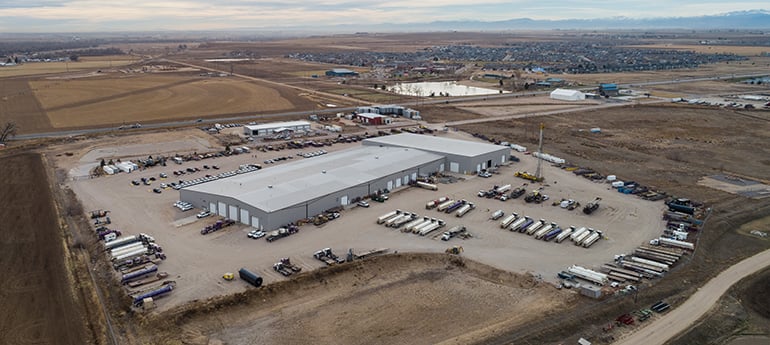 April 16, 2021
Denver, CO – Avison Young announced today it has brokered the $13 million sale-leaseback of Ranger Energy Service's Mission Critical facility located at 3333 E. Center Drive in Milliken, CO.
Avison Young's Industrial Services team in Denver comprised of Principals Rick Egitto, CCIM and Dawn McCombs, and Associate Kevin Hann, together with Jonathan Hipp and Rich Murphy of Avison Young's Net Lease Group in Washington DC, represented the seller Ranger Energy Services, and sourced the Salt Lake City-based buyer, The Ninigret Group, L.C., who was in a 1031 exchange. The Ninigret Group has secured a new long-term lease with Ranger Energy Services that will provide market-driven cash flow.
Built in 2000, the 131,389 square-foot industrial property is situated on 23.32 acres. The building is utilized for oil and gas operations including fleet maintenance and storage supporting the operations of the company's regionwide DJ Basin energy services business. The tenant, Ranger Energy Services (NYSE: RNGR), is an independent provider of well service rigs and associated services in the United States, with a focus on unconventional horizontal well completion and production operations. Ranger has become one of the largest providers of high specification well servicing rigs and ancillary equipment in the oil and gas industry today.
"The buyer was seeking a 1031 exchange property earlier this year, and we were able to quickly negotiate price and lease terms," said Egitto. "The Denver industrial market is attractive to investors throughout the nation, and we expect to see strong demand for industrial space continue over the next 12 to 18 months."
The Ninigret Group, formed in 1993 by Randolph Abood, has completed more than $350 million of real estate transactions over the last 25 years and currently owns and manages a 30-building portfolio in Utah, Florida, Arizona, North Carolina, Georgia, and Rhode Island. The Ninigret Group's investment strategy focuses on identifying attractive markets, and within these markets, high-yielding properties that trade below replacement cost. The portfolio has encompassed primarily industrial warehouse and manufacturing, office, medical office, self-storage, stand-alone retail, and multifamily.
The Avison Young broker team used its collective network to bring the opportunity to the market and secured a buyer for the property shortly after going to market in late 2020. The quick sale enabled the seller, Ranger Energy Services, to retain its mission critical facility while at the same time reducing its real estate holdings, a key component to its go-forward strategy amid the pandemic.
"Avison Young ran an extremely competitive process forcing us to shorten our due diligence timeline to win the deal. Our familiarity with the oil and gas industry and Ranger Energy's excellent financial position and first-rate management team allowed us to get comfortable with the transaction fairly quickly. Rick and his team were instrumental in promptly providing us with the due diligence materials we needed as well as demonstrating the current and expected growth along the I-25 corridor," said Randolph Abood, President of Ninigret Group
"Since the onset of the COVID-19 pandemic, 100 percent leased, single-tenant assets subject to new, long-term net leases have seen a major boom in demand. As a result, the Ranger Energy Services Mission Critical facility offered a rare blend of surety tied to a proven operator of 20-plus years, that not only survived the latest economic downturn, but has continued to thrive," said McCombs.
"The Avison Young team's targeted strategy to identify qualified local, regional and national buyers as we started 2021 provided a number of interested parties within the first few weeks of being on the market. The principals of The Ninigret Group aligned with our business goals and objectives and allowed us to rapidly monetize the asset," said Brandon Blossman, Chief Financial Officer of Ranger Energy Services.
Avison Young creates real economic, social and environmental value as a global real estate advisor, powered by people. As a private company, our clients collaborate with an empowered partner who is invested in their success. Our integrated talent realizes the full potential of real estate by using global intelligence platforms that provide clients with insights and advantage. Together, we can create healthy, productive workplaces for employees, cities that are centers for prosperity for their citizens, and built spaces and places that create a net benefit to the economy, the environment and the community.
Avison Young is a 2020 winner of the Canada's Best Managed Companies Platinum Club designation, having retained its Best Managed designation for nine consecutive years.
Follow Avison Young
Twitter (News) │ Twitter (Deals) │ Blog │ LinkedIn │ YouTube │ Instagram
For more information: