Avison Young receives NAIOP's Houston 2018 Industrial Deal of the Year award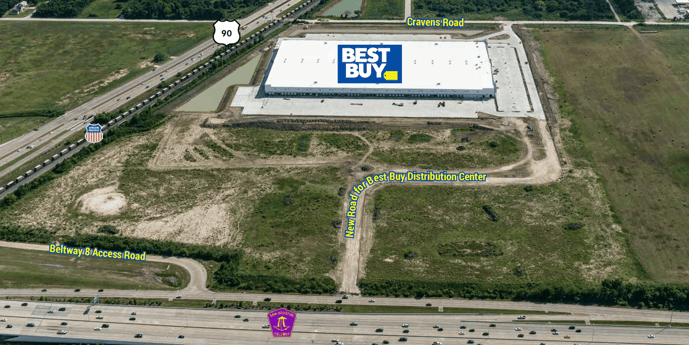 25 Feb 2019
Houston — Avison Young, the world's fastest-growing commercial real estate services firm, announced today that the firm's Houston office has received the 2018 Industrial Deal of the Year award from NAIOP's Houston chapter.
The firm's Mason-Lindenberger team represented the tenant, Best Buy, on the lease of a 554,536-square-foot building, including 10,600 sf of office space on 36.4 acres at Beltway Crossing in Missouri City, Texas. The team consists of Avison Young Principals Todd Mason and Jeff Lindenberger, Senior Associates Andrea Gardner, Richard Mason and Taylor Wilson, and Associate Faith Pate. Atlanta-based Seefried Industrial Properties represented themselves.
"This was a complex deal with unique challenges, and I am incredibly proud that our team collaborated to find the best solution for our client," comments Mason. "When we put the client as the primary focus of our decision-making and service, we produce award-winning results."
NAIOP is the leading organization for developers, owners and investors of office, industrial and mixed-use real estate. NAIOP recognized Avison Young not just for the size of the deal, but also the complexity of the transaction and its impact on the Houston market. The organization celebrated Houston's top commercial real estate professionals at its 31st annual NAIOP Broker of the Year Awards at the River Oaks Country Club on February 19.
"Our creative and innovative, client-centric approach is resonating in the marketplace," notes Lindenberger. "We are truly humbled to receive this award from NAIOP Houston."
Avison Young is the world's fastest-growing commercial real estate services firm. Headquartered in Toronto, Canada, Avison Young is a collaborative, global firm owned and operated by its Principals. Founded in 1978, with legacies dating back more than 200 years, the company comprises approximately 5,000 real estate professionals in 120 offices in 20 countries. The firm's experts provide value-added, client-centric investment sales, leasing, advisory, management and financing services to clients across the office, retail, industrial, multi-family and hospitality sectors.