Avison Young completes three-parcel land acquisition in Perris, CA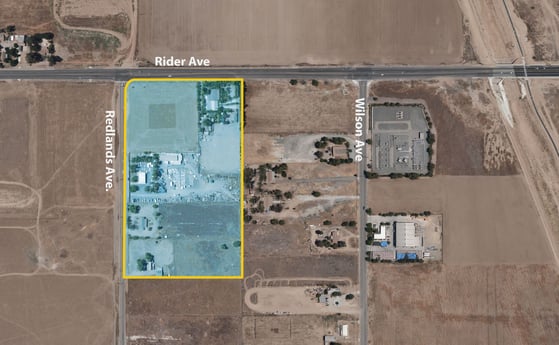 October 10, 2019
Buyer of 16.26-acre site plans to develop 315,000-sf industrial property
Inland Empire – Avison Young, the world's fastest-growing commercial real estate services firm, announced today that it has completed three acquisitions covering 16.26 contiguous acres of industrial zoned land in Perris, CA.
The buyer, First Industrial Realty Trust, plans to develop a 315,000-square-foot industrial distribution center at the site.
Avison Young Principal Stan Nowak, who is based in the company's Inland Empire office located in Ontario, CA, and Cody Lerner, a Vice President in the Inland Empire office, represented First Industrial Realty Trust, a leading owner and operator of industrial real estate across major markets coast-to-coast. The three individual sellers of each land parcel were private owners.
The site is situated at the southeast quadrant of Rider Street and Redlands Avenue in Perris, a city in Riverside County that continues to be a hotbed for industrial development. The 215 freeway runs through it, providing convenient access for distribution. Over the next 12 to 16 months, First Industrial will be working on executing the entitlements for its planned state-of-the art industrial development, which is being designed for one or two users. Once the entitlements are finalized, construction will commence.
"This was an off-market transaction that involved a fast-paced negotiation with multiple suitors for the assemblage," says Nowak. "Ultimately, we utilized our long-standing relationship with one of the land-parcel owners that won the deal for our client versus other higher-priced offers on the table."
He adds: "First Industrial builds some of the most technologically advanced, state-of-the-art buildings in the market and will design a modern facility that addresses the specific needs of occupiers in the region."
"With the Inland Empire West submarket being severely land-constrained, land prices there are increasing rapidly, causing many developers to look for opportunities further east and south in the Perris/Moreno Valley area, where land values are not as costly," says Lerner. "However, as competition increases in the Perris/Moreno Valley submarket, we are seeing prices rising here as well."
Avison Young is the world's fastest-growing commercial real estate services firm. Headquartered in Toronto, Canada, Avison Young is a collaborative, global firm owned and operated by its Principals. Founded in 1978, with legacies dating back more than 200 years, the company comprises approximately 5,000 real estate professionals in 120 offices in 20 countries. The firm's experts provide value-added, client-centric investment sales, leasing, advisory, management and financing services to clients across the office, retail, industrial, multi-family and hospitality sectors.