Insight Article - Net Lease
SQRL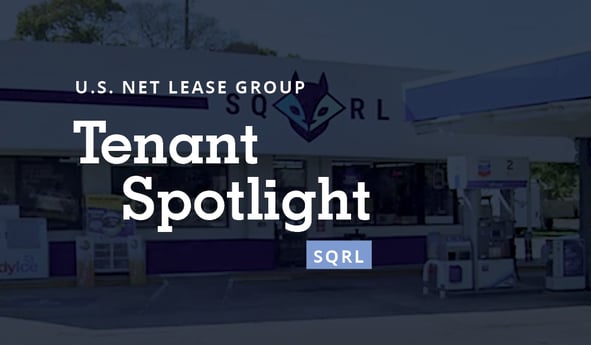 September 26, 2023
SQRL Holdings – Fueling the Movement
SQRL Fuels has got our attention. With roughly 40 net-leased locations currently on the market, we decided to dive in and see who and what they're all about.
Established in 2013 with a mission to revolutionize the convenience store (c-store) industry, SQRL Fuels operates under the SQRL Holdings brand and is making its mark. Headquartered in Little Rock, Arkansas, they now have over 160 locations throughout the United States, primarily in the south. SQRL is focused on sustainable, environmentally friendly buildings and products, all delivered with a Chick-fil-A approach to service.
Our research is showing us that SQRL locations have been trading at 6.57% average cap rate, 200 bps higher than its competitor Wawa, and 184 bps higher than 7-Eleven. With the average cap for c-stores that have traded in the trailing 12 months being at 5.10%, there's more risk with SQRL Fuel, and they don't have an investment grade rating.
Falling in line with typical long-term fee simple 20-year leases they are corporately backed by SQRL Holdings. They seem to be buying up existing, well-located c-stores and renovating to the new SQRL brand.
Keep an eye on them. There might be a great opportunity to get in at a 7.0% cap (current average ask) as they build their awareness and achieve goals of revolutionizing the c-store arena.