Suburban Maryland office market reports
Q3 2021 Suburban Maryland office market report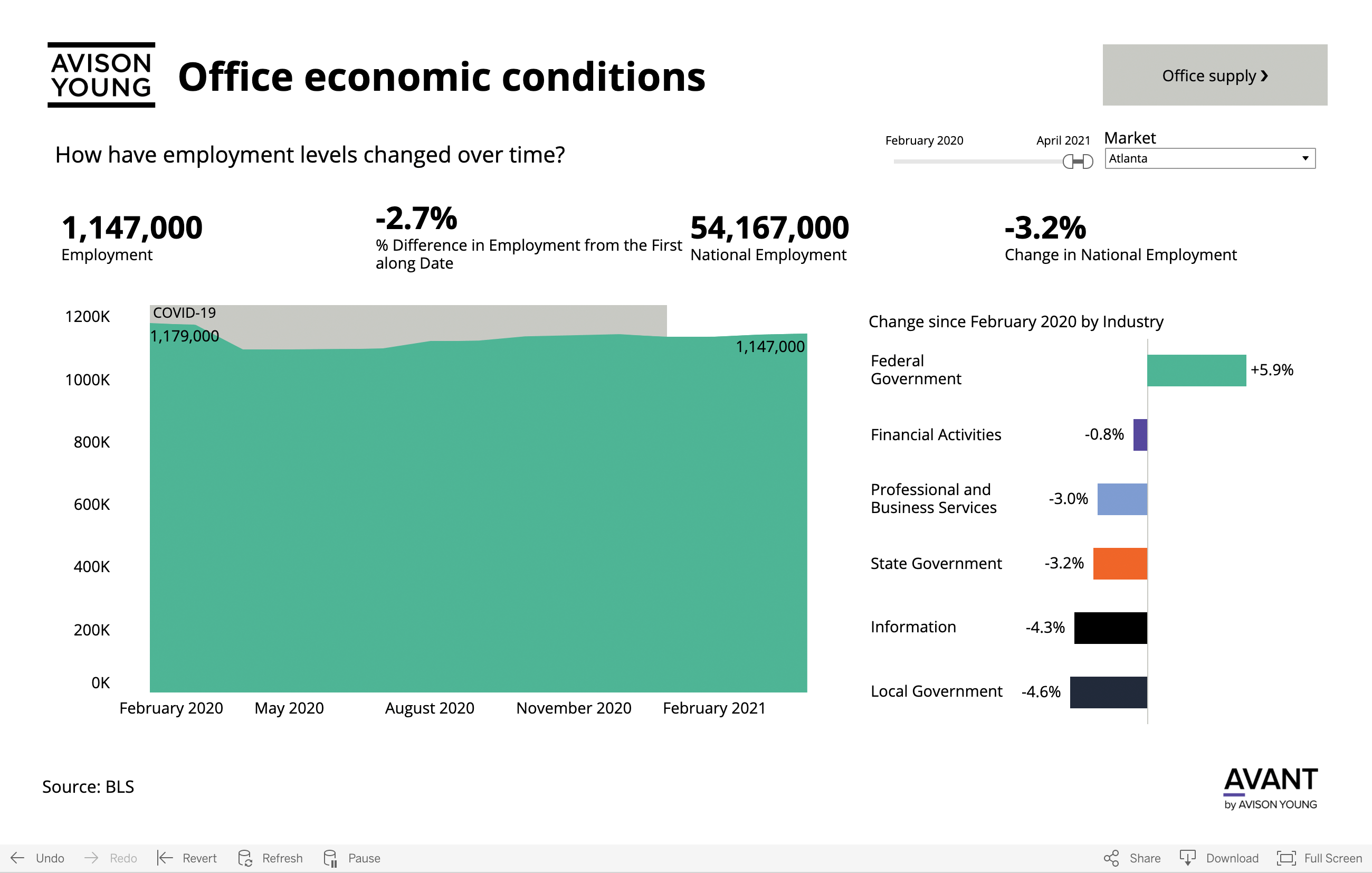 This dashboard is best viewed in a wider browser window.
Suburban Maryland is experiencing historic lows in office demand as the pandemic continues to weigh heavily on leasing activity. Longer-term outlooks are bolstered by a burgeoning life sciences sector that continues to cushion the market. Increased levels of government R&D investment, including NIH funding, have been a strong driver of activity within the region, and may act as a tailwind alongside recovery to pre-pandemic norms.
6.6%
Economic conditions
After rebounding from a pandemic high of 9.1 percent, Suburban Maryland's unemployment rate stands at 6.6 percent, although well off historic lows.
36.0%
Recovery rate
As measured by extrapolated mobility data, overall activity across the DC Metro region is 64.8 percent of pre-COVID levels, while visitor traffic at office locations specifically is only 36.0 percent of pre-COVID levels.
20.9%
Office demand
Year-to-date leasing activity is down 20.9 percent compared with the same period in 2020. While the rate of decline appears to have slowed, the annual total remains on pace to be lower than in 2020.
Biotech sector
Office supply
Activity within the biotech sector clustered along Suburban Maryland's I-270 Corridor remains elevated. With demand outpacing supply, more developers and landlords are turning their attention towards lab product types.
1.7%
Pricing trends
The average direct base rent has edged up by 1.7 percent in 2021, but the increase is being offset by high concession packages, as landlords compete for a shrinking pool of tenants.
$0.3B
Capital markets
Suburban Maryland total office sales volume stands at $0.3B year-to-date, lagging 2020's total volume.
Your source for the latest Suburban Maryland office market reports
Get in-depth office market reports and insights from commercial real estate experts in the Washington, DC Metro area. Avison Young advisors look at Suburban Maryland commercial real estate activities and the latest Suburban Maryland statistics to provide you expert market research on Suburban Maryland's office properties.
Explore different topics like the latest office market pricing trends and analysis of Suburban Maryland's current office real estate market conditions. Gain a better understanding of Suburban Maryland's office real estate outlook and stay ahead of current office space trends. Make smart decisions when it comes to investing in office properties in Suburban Maryland's competitive office real estate market. Avison Young is your trusted source for commercial real estate office market insights in Suburban Maryland.
The dashboard was delivered through AVANT by Avison Young: leveraging real-time data and analytics to make cities and location-based decisions more transparent and efficient. Learn more about AVANT.
Get the latest Suburban Maryland office market reports right in your inbox