New Market Activity Index Shows an Upward Positive Trend in Commercial Real Estate Around the Globe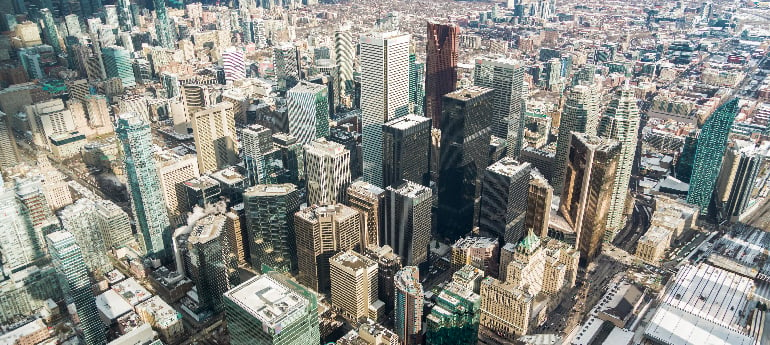 20 Jul 2020
Data from Avison Young's newly launched Commercial Real Estate Market Activity Index, which will be shared on a bi-weekly basis, revealed that recent market activity increased by 47 points, into a positive territory.
Avison Young today announced the launch of the Commercial Real Estate Market Activity Index, a research index based on a bi-weekly survey of its 630 Principals across the globe. The survey measures the impact of COVID-19 by taking the pulse of the market based on what the firm's leading practitioners are seeing and hearing from its clients spanning investors, owners, occupiers and developers across the private and public sector. As the commercial real estate industry continues to feel the effects of the COVID-19 pandemic, Avison Young's findings show significant sentiment improvement across multiple industries.
Avison Young began surveying its Principals in April 2020 to get their insights on the state of the market and has repeated the surveys periodically to build a consistent data set of market sentiment. With unique pan-market insights as multi-discipline advisors that operate across various industries, respondents assign a score to several aspects of market activity, with the aggregate results used to compile a variety of indices reflecting different geographies and types of market activity.
Since Avison Young began the surveys, sentiment has improved significantly across most areas of the market. Overall, the Pre-COVID Index (of market activity compared to pre-COVID levels) has improved from -49 in late April to -25 in the latest survey. Whilst overall activity remains clearly down on pre-crisis expectations, some business areas including industrial/logistics, appraisals and real estate management have experienced elevated levels of demand as clients seek advice on dealing with the impact of COVID-19 on their business.
Other highlights from the latest survey, conducted from July 6-10th, include:
The Recent Market Activity Trend Index (reflecting the trend over the previous two weeks) has risen from -40 in April to +7 in early July, and is now in positive territory;
This has been particularly driven by a rebound in Canada, where the RMAT Index has jumped from -61 to +16 over the same period.
New business discussions have started to recover, moving from -49 to +4 over the period of the surveys, with advisory work and industrial/logistics activity picking up most strongly. Interestingly, discussions with retail clients have shown one of the biggest increases in the most recent survey.
"As communities around the world continue to struggle with the challenges of the COVID-19 outbreak, the human cost of the crisis remains uppermost in our minds," said Dr. Nick Axford, Global Head of Research at Avison Young. "However, that cost has an economic as well as a health dimension. Economic recovery is vital to the health and wellbeing of people and places, so it is encouraging to see positive signs of improvement in sentiment across the global real estate markets."
About Avison Young's Commercial Real Estate Market Activity Indices
Avison Young's Commercial Real Estate Market Activity Survey is conducted bi-weekly among more than 630 Principals across North America and Europe. Indices compiled by the firm are designed to reflect absolute levels of activity as well as the short-term trend, including
Market activity relative to pre-COVID levels
Market activity compared with two weeks prior
Client new business requests compared with two weeks prior
Each Index is scaled from -100 to +100, with zero representing a neutral "no change" score.
The next Commercial Real Estate Market Activity Indices will be available on July 29, 2020.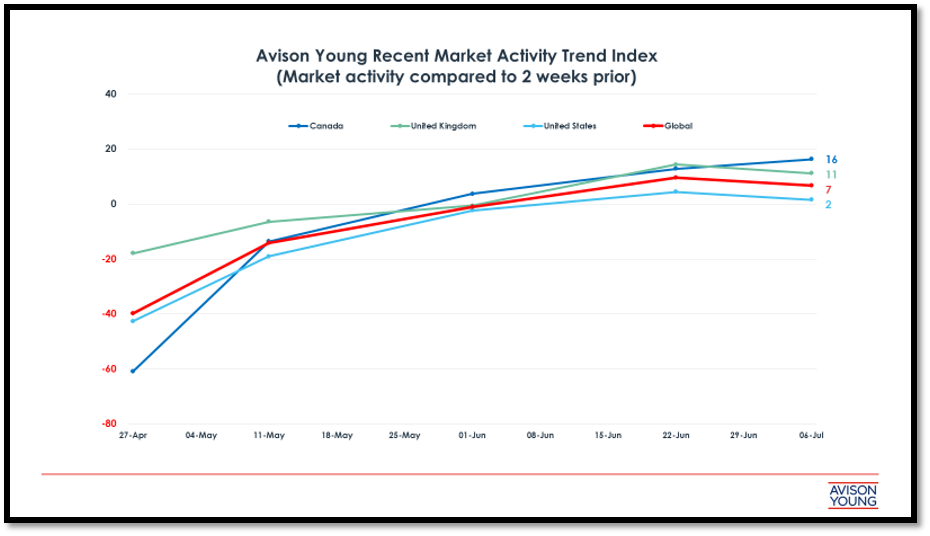 | | | | | |
| --- | --- | --- | --- | --- |
| Index | Global | Canada | US | UK |
| Pre-Covid | -25 | -28 | -15 | -29 |
| RMAT | 7 | 16 | 2 | 11 |
| New Business | 4 | 13 | 19 | -6 |
Avison Young is the world's fastest-growing commercial real estate services firm. Headquartered in Toronto, Canada, Avison Young is a collaborative, global firm owned and operated by its Principals. Founded in 1978, with legacies dating back more than 200 years, the company comprises thousands of real estate professionals in more than 100 offices around the world. The firm's experts provide value-added, client-centric investment sales, leasing, advisory, management and financing services to clients across the office, retail, industrial, multi-family and hospitality sectors.
Avison Young is a 2020 winner of the Canada's Best Managed Companies Platinum Club designation, having retained its Best Managed designation for nine consecutive years.
Follow Avison Young
Twitter (News) │ Twitter (Deals) │ Blog │ LinkedIn │ YouTube │ Instagram
For more information:
Kate Murphy, Global Director of External Communications: +1 704.413.0234