Avison Young Lists Hotel Becket Lake Tahoe - Lake Tahoe, CA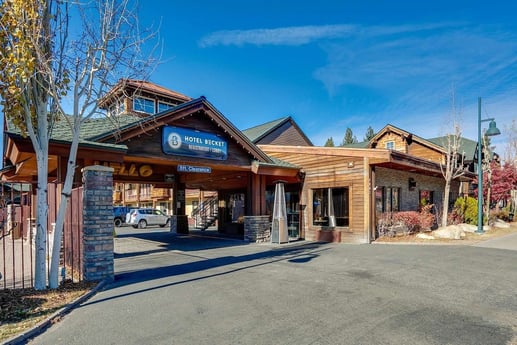 January 19, 2022
The Hospitality Group just announced a new listing well positioned in South Lake Tahoe's tourist corridor
Avison Young, is pleased to offer the fee simple interest in the Hotel Becket Lake Tahoe (hereinafter "Property" or "Hotel"), a full-service hotel located in South Lake Tahoe, California.
The Property is in the heart of South Lake Tahoe, situated just across the street from the Heavenly Village and adjacent to the Heavenly Gondola.
Heavenly features Tahoe's highest summit, longest vertical drop, and longest run coming in at five miles. Conveniently located a short walk from the scenic shore and pure blue water of Lake Tahoe, the deepest alpine lake in North America, hotel guests have access to a private beach and a variety of water sports, boating, and fishing. Located less than a mile down the road from the hotel, the Edgewood Golf Course boasts a pristine course with scenic views, as well as hosting the annual American Century Celebrity golf tournament. The restaurant, music, and casino scene of Nevada is a few blocks down the street, featuring shows and live entertainment by world-renowned performers.
The Hotel, well-positioned in South Lake Tahoe's tourist corridor, is within easy walking distance to numerous restaurants, bars, and shops. Several popular restaurants, a seasonal ice rink, and a movie theatre make the nearby Heavenly Village a family-friendly destination. Local culture is reflected in high-end jewelry, wine, and art boutiques. Nature enthusiasts can avail themselves of mountain biking, hiking, and trail running for months on end, in addition to the seasonal sports, Lake Tahoe provides.
The Property reflects the union of two boutique properties in its focus on sustainable materials and custom design. The Property has a seasonal pool, indoor spa and sauna, and two massage rooms. Outdoor amenities include an open-air courtyard with games, fire pits, and private
lakeshore beach access. Approximately 2,000 square feet of group and meeting space with multi-function breakout rooms and brand new highspeed Wi-Fi throughout the Hotel make it ideal for executive and corporate retreats. The two properties have been re-imagined, offering a choice of 167 guestrooms decorated with rustic alpine charm or newly renovated and contemporary lines.
The on-site full-service restaurant, Ten Crows, features authentic southern comfort food, with seating for 100, and the ability to serve or cater in-house events of 200 people. The Property boasts two bars to take advantage of its full liquor license, focusing on serving craft cocktails and local beer and wine. The Property is spread out over 2.54 acres, and comprised of approximately 71,402 square feet across three buildings, creating a truly unique resort experience. The Hotel Becket Lake Tahoe was adversely affected by the forest fires that hit the Tahoe region in the summer of 2021. The fire's initial impact began in mid-August and lasted through the month of September. The hotel performance was on an amazing trajectory.
Historically, August financial performance is nearly identical to that of July. July 2021 NOI was roughly $510,000 in 2021. August actual was around $170,000; as such the fires effectively displaced an estimated $325,000 of NOI for August and an additional $250,000 in September. While the T TM NOI is just under $1.7m, when you account for the displaced NOI due to the fires the NOI would have been in the range of $2.3m+. While we have not made any adjustments to the financial information in the OM, we would hope this note helps justify the 2022 forecast as provided by the seller's management team and reflected in our financial models.
Property Highlights:
167 non-smoking guestrooms, three buildings featuring rustic alpine charm or newly renovated contemporary design
Restaurant, offering southern breakfast, lunch, and dinner, and
featuring an outdoor terrace, as well as two separate bars offering full beverage service
Two brand new communal spaces in the lobby, with fireplace and game library, and the open-air courtyard, featuring games and fire pits
Outdoor pool, indoor spa, and custom massage treatments
including hot stone and sports massages
Prime location in South Lake Tahoe, adjacent to Heavenly Village and Gondola
The Hotel provides guest passes to the private beach at the lake during the summer months.
The Lake Tahoe shoreline/beach is a short walk (2 blocks) from the Property as are scores of shops, restaurants, and casinos Unparalleled outdoor adventures, with 15 world-class ski resorts, hiking, golfing, and water sports nearby
Buildings are situated on two separate parcels, which makes this an excellent opportunity to dual-brand the asset.

If you would like more information on this offering please get in touch:
Andrew Broad
Principal - Hospitality Group
917 553 4267
[email protected]